Gaining the proper amount of weight is important for your health as well as your baby's health during pregnancy. The right digital smart scale will ensure that your pregnancy weight gain is on track!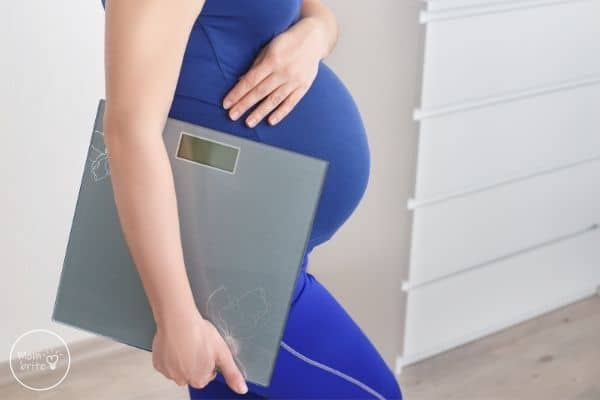 Being pregnant is a time in your life for constant changes. One of the biggest changes you will probably notice is your own body.
You have spent your entire life understanding what works for one person, but now you are eating and exercising for two. It can be hard to know what is healthy and what isn't.
Keeping track of your weight can help you to make sure you are gaining weight in a steady manner and following your doctor's guidelines. Some smart scales will take the guesswork out for you with a special pregnancy mode.
It is really important to find something accurate that you can trust. The article below reviews nine of the best models to show you what to look for. Let take a look at what they have to offer!
10 Best Pregnancy Scales
1) FitTrack Beebo Maternity Smart Scale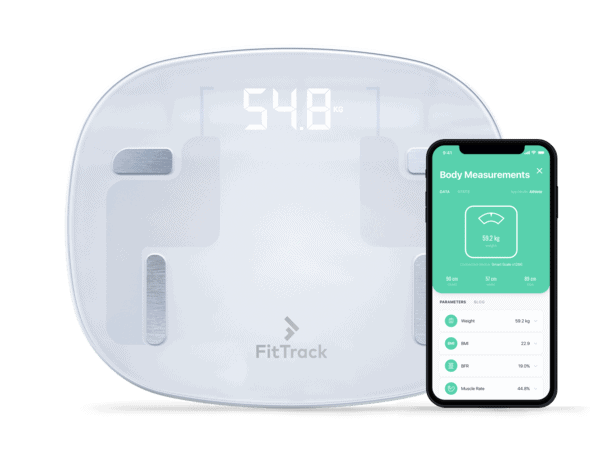 A body composition scale designed for moms-to-be, the FitTrack Beebo is the most comprehensive maternity scale on the market. It's a smart scale that is family-friendly and can last long after pregnancy.
The scale has Pregnancy Mode that will help monitor your 17 body health vitals throughout each trimester. Then after you give birth, you can switch the scale to Baby Mode so that it can keep track of your infant's growth and weight.
The Beebo scale recognizes up to 8 users automatically so that the entire family can stay healthy together. And FitTrack even can help you lose the baby weight and reach your fitness goals by measuring and tracking your progress.
2) FITINDEX Bluetooth Body Fat Scale
Precision is high priority with the FITINDEX. They have four sensors to get a better reading when you step on the scale.
There are 13 different measuring functions to track everything from body fat to bone mass. With all of these different options, you can get a more complete picture of how your body is changing during your pregnancy.
This scale has an app that can track your data on iPhones and Androids. It works with many health apps as well. You can have as many users as you want tracking data.
3) Withings Body+
The Withings Body+ is a smart scale for the digitally-inclined. It can work with your smartphone when you download their app. Data from each weigh-in gets automatically synced so you can track it over the course of your pregnancy.
This scale is not just for pregnant women, so the whole family can use it to track their data. You can have up to eight profiles.
You can keep track of your weight throughout pregnancy to ensure that you are in a healthy weight range. And after your little one is born, you can weigh them using the baby mode.
This smart scale is compatible with many apps and fitness watches for more convenient tracking. It can make sure you are situated correctly on the scale for better reading.
Update: On Amazon, it states that Withings Body+ has pregnancy mode, but it seems like they have encountered a bug as of August 2019. As of today (1/1/2021), the pregnancy tracker has not been fixed. It's still a good scale, but if you are looking specifically for a scale with pregnancy mode, this one might not be it.
4) EatSmart Digital Bathroom Scale
For when you want a simpler option, EatSmart is a good choice. This is just a digital scale that works well – no apps or data tracking.
Instead, you get four high precision sensors for consistent measurements. The glass design was made to be very durable. For under $30, you can have the most accurate information with this digital scale.
There is no pregnancy mode so you would need to be familiar with the guidelines for healthy weight gain by consulting with your doctor. Keep track by simply taking notes with paper and pen. This one is for the journal fans out there.
5) Guina Bluetooth Digital Scale
No products found.
The Guina is another option for people who are obsessed with stats. You can download their app and all data will be transferred to help you keep tabs on fluctuations. It works with several popular fitness trackers.
There are 14 different functions within the app so you can view your data under a specific lens. The Baby Weight Mode is for checking on your baby's weight once they are born.
As many people can use this scale as you would like, so it can track for a range of concerns. And at under $25, this device is not a high price for a smart scale.
6) RENPHO Smart Digital Scale
The RENPHO is beautifully designed. It is minimalist and made of tempered glass. Auto-calibration makes it more convenient and there are four high precision sensors for more accuracy.
This scale comes with 13 body composition analysis trackers. Although there is not a specific pregnancy tracker, you can use the data against your doctor's guidelines.
This scale even lets you set a goal for yourself. If you have certain healthy guidelines you need to keep in mind, create goals to compare yourself against. Unlimited users have access here for an infinite number of goals.
7) Etekcity Digital Body Weight Bathroom Scale
This Etekcity scale is another simple digital scale for those who want to track their weight accurately and nothing more. It is a slim scale made of tempered glass.
The thick 6mm glass can handle up to 400 pounds. It has a large platform for anyone to use without a problem. The anti-skid padding keeps it from moving around and giving you inaccurate measurements.
This is an easy-to-use device with high precision sensors. The backlit display gives you easy reading whenever you step on. It does need to be calibrated each time, so you have to place some weight and then remove it until it reads at zero.
8) Arboleaf Bluetooth Digital Scale
If you want a truly minimalist design, the Arboleaf will surely impress you. It is made from completely clear tempered glass, only obstructed by the four metal precision sensors and digital reading.
This smart scale can send your measurements by Bluetooth to any of your favorite fitness apps. There are 10 body composition analysis programs built into the scale to help you notice trends.
The automatic abilities of this scale make things more convenient. It can automatically connect to your phone and there is no need to calibrate. It can even identify who is using the app by comparing weight and body fat to past uses.
9) My Weigh SCMXL700T Talking Bathroom Scale
No products found.
The best way to describe the My Weigh scale is intense. This one has an industrial sleek black design. It can weigh anyone up to 700 pounds and is extra long.
Instead of having to strain to see your weight without messing up the measurement over your pregnant belly, this scale will talk to you in four different languages. You can also change the weight mode to different units depending on what you use.
You won't be able to use this scale with an app. It is a rugged scale that can handle a lot of weight with accuracy. It will help you personally track your weight, but it won't store the data for you.
10) ABYON Bluetooth Smart Bathroom Scale
The ABYON is a black glass scale with a red digital reading. You can sync your data up with your favorite fitness apps and track your progress.
With each reading, the scale will give you a full-body analysis for your particular goals. There is no specific pregnancy mode so you will have to know your doctor-recommended guidelines for how your weight should progress.
ABYON has its own app for you to use. It tracks for 13 different body composition modes to give you a better sense of your health. You can use it to see how your data trends over time. You also don't have to worry about losing data, as everything is backed up by the Amazon cloud.
Are Smart Scales Safe for Pregnant Women?
As you can see, there are a lot of options out there for people who want to track their weight through pregnancy. Some of the most popular scales will sync up with your smartphone, but all on this list are digital scales.
The number one concern when using any new device is whether it is safe for you and your baby. Because digital scales make their measurements by using bioelectrical impedance analysis (BIA), many are concerned about safety.
The reason why has to do with how this data is taken. This method sends a low electrical signal through your body using the electrodes on the scale.
Most scales will even come with a warning for pregnant women. This is more of a safety precaution on the part of the company. There are no known side effects, but there is not much definitive research on it at all so they want to cover their bases.
This really comes down to your comfort level. Pregnancy can be very stressful as you consider all the choices you should and should not make for the health of your baby.
If you feel like you are not comfortable with the lack of research on digital scales' effect on pregnant women, don't use it. Find an analog scale and track your measurements manually. If it reduces stress for you during a high-stress time, that is the most important part. 
Final Thoughts on the Best Smart Scale for Pregnancy
Embarking in the journey to motherhood is a truly special time. It can also be stressful and difficult to make sure everything is being done in the best way for your baby.
If you are choosing to use a digital scale to track your health over the length of your pregnancy, there are many styles and features to consider. The best feature is what will make your life easier.
Sometimes that's a scale that syncs to your smartphone and sometimes it's a scale with the best possible accuracy. No matter what you choose, we hope this list has helped you figure out exactly what you are looking for in a scale.
---
Related Posts: