Halloween is coming up, which means it's time to make some fun decorations with your kids! Create an easy and cute bat handprint craft that is perfect for toddlers, preschoolers, and elementary-aged kids.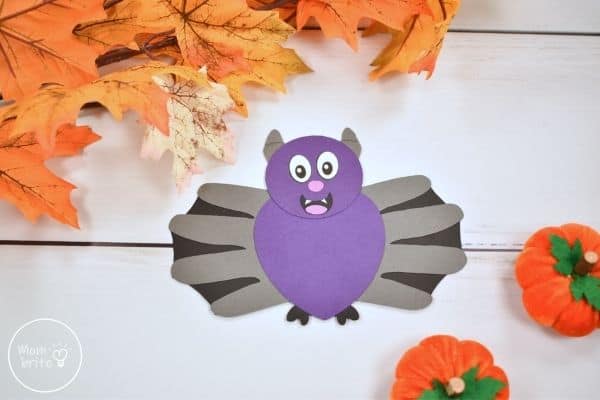 Handprint crafts for kids are a fun and easy way to keep the little ones entertained during holidays or any day. These arts and crafts projects are also great for teaching children about their handprints, how they're all different from one another, and making them feel special.
This handprint bat craft is the perfect way to celebrate Halloween with the kids. With just a few materials and a free printable template, you can do this Halloween craft with your kids at home or with a group of kids in a classroom.
Why Handprint Crafts?
Handprint crafts are a fun and engaging way for kids to get involved in art projects. Kids love creating their own artwork, and when they see their handprints on the finished product, it makes them feel more accomplished.
Handprint Crafts for Toddlers
While kids of all ages will enjoy making something that's personal to them, even the littlest of children can do Halloween arts and crafts! Little ones don't have to be able to trace and cut to be able to do this type of art project.
Handprint crafts for toddlers (and even babies!) can be done with the help of a parent and shared with family who lives far away. Especially during this time when we can't all be together, grandparents can not get enough of sweet handprint crafts.
How to Make a Bat Handprint Craft
Have fun with this adorable handprint bat that can be displayed throughout the month of October or sent to family members as a personalized Halloween decoration at their homes.
Materials:
Construction paper or cardstock (white, grey, black, dark purple, and medium purple)
Pencil
Glue stick
Scissors
Printable bat handprint craft template (find the download instructions at the end of this post)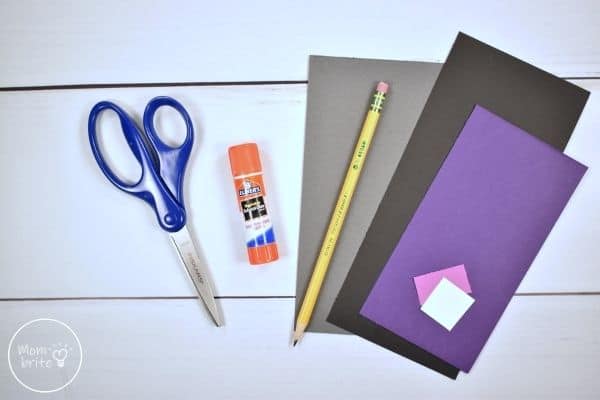 If you are a busy parent or teacher, you can save valuable time by downloading all 8 Halloween handprint craft templates in one convenient PDF for the very low price of $1.29!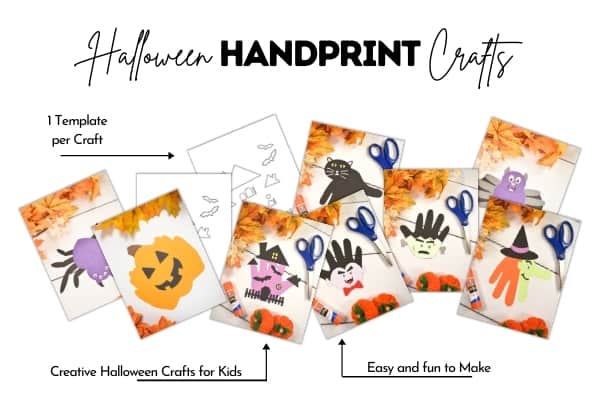 I WANT THIS!
Instructions:
1. Trace your child's hand with a pencil on the grey paper and cut it out.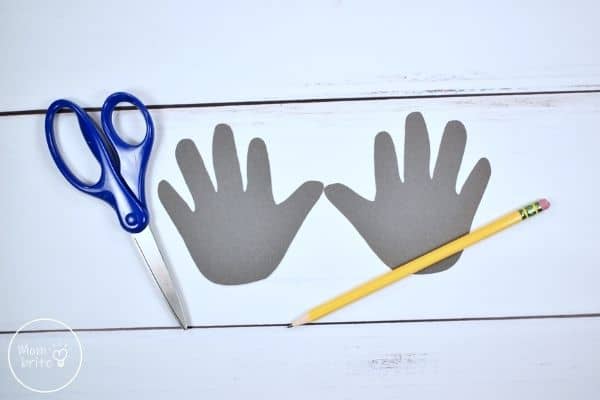 2. Print and trace the templates on each color of craft paper as shown in the photo.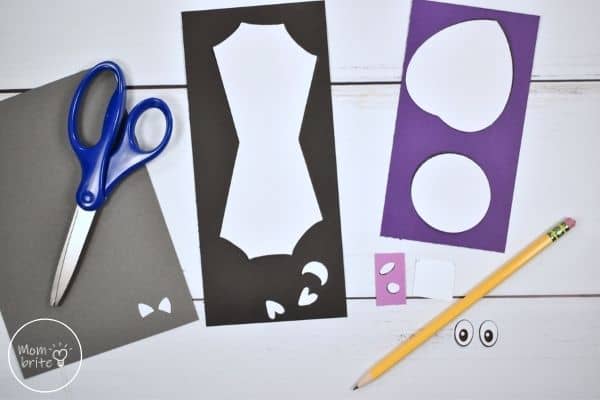 3. Cut out all the traced template patterns.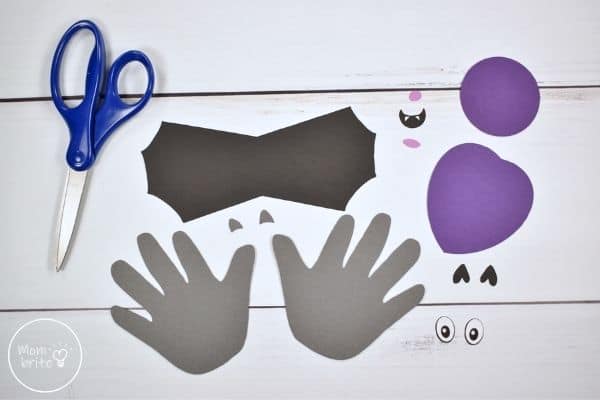 4. Cut two small triangles from the corners of the white paper. These will be the fangs.
5. Glue hands facing apart with overlapping palms over the black wings so that the fingertips overlap the endpoints.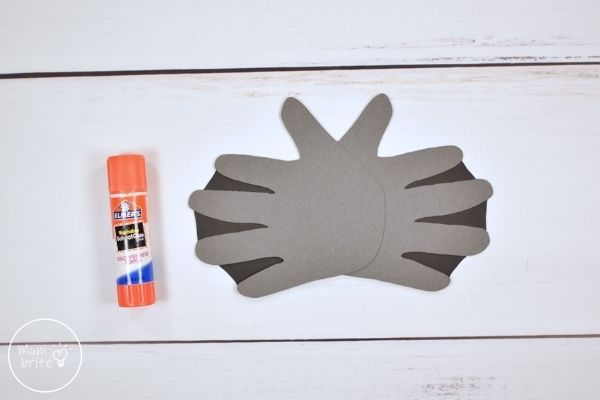 6. Glue the purple head and body in place over the thumbs and palms.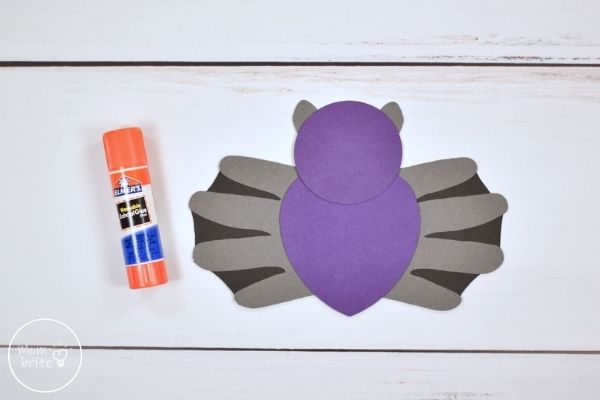 7. Glue the feet under the body.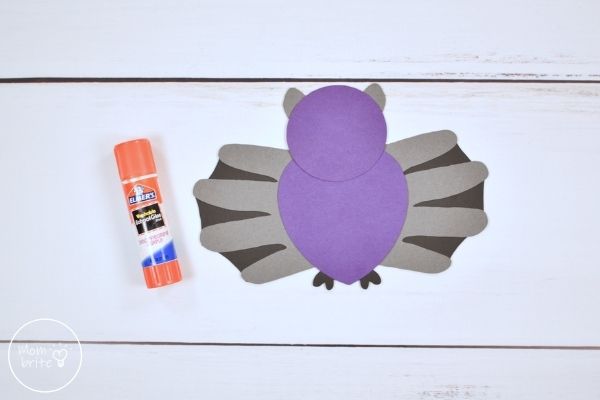 8. Glue the ears onto the tips of the thumbs.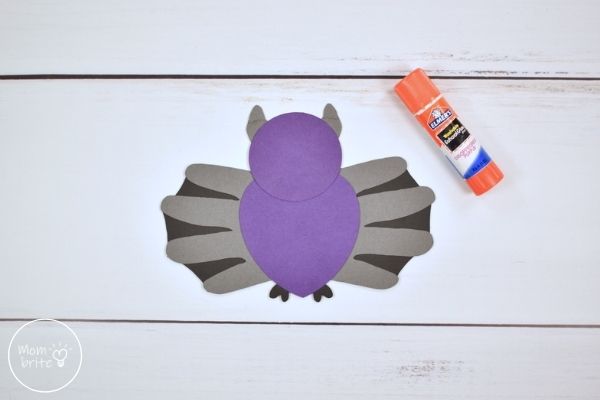 9. Glue the printed eyes to face.
10. Glue the nose underneath the eyes.
11. Finally, glue the fangs (small white triangles) and tongue to the mouth, and then glue the mouth to the face.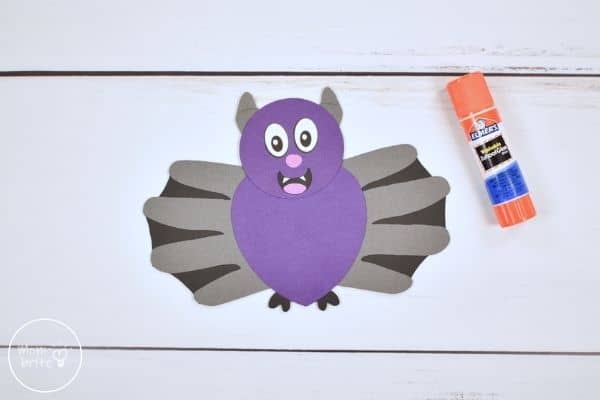 You are done with the handprint bat craft! Isn't it adorable?
Ways to Display Your Halloween Handprint Craft
There are lots of creative ways to show off your special artwork, and I'm not talking about hanging it on the refrigerator. Here are a few ways you can set up a fun scene that your child will be proud of the whole month of October- all the way until Halloween!
Make a few sets of the craft and display them on their door as if they are flying past the moon.
Add them to a Farmhouse tray stand and display on a table.
Create the look of the bat hanging upside down from the ceiling or from a tree limb using string to suspend it in mid-air.
Add a bat to the corner of the mirror about child height as a silly touch they'll see as they brush their teeth.
Tie the bat to the ceiling fan so it can "fly"
There are so many ways you can showcase this cute little decorative item. Let the kids help come up with a fun place to display their funny handprint bat craft.
Other Ways to Use Hands to Create
Any kind of handprint art makes a cool gift for relatives or friends! If you want to do one as a craft activity with your child, try printing out a picture of something they enjoy doing – like playing soccer or dancing – then let them use their hands to paint over it.
You can even make these into keepsakes by framing them after the project is complete! And don't forget to let your child sign their work. That is a precious memory you'll love in 18 years.
I hope you enjoyed this handprint bat craft and all of the creative ideas for using your child's hand to make fun gifts, crafts, decor, and best of all… memories! If you want to make more handprint crafts this Halloween, add this spider craft to your to-do list!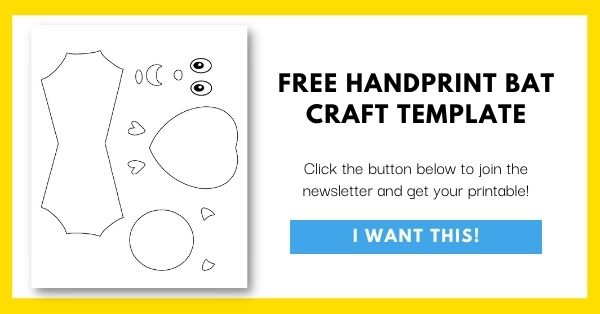 ---
Related Posts: