Enjoy using these free printable snowflake templates for your next craft project or winter-themed activity. They also make wonderful coloring pages your kids can enjoy on a cold, snowy day.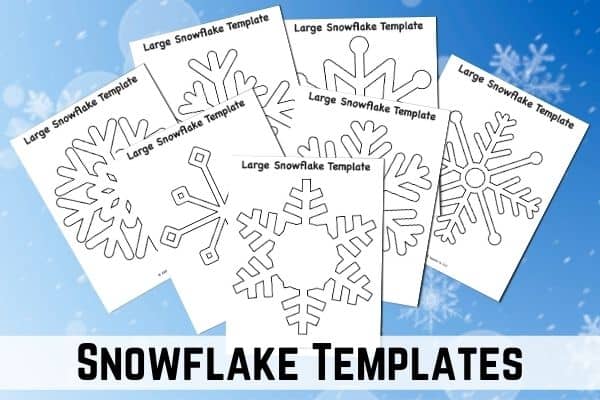 Snow is so much fun, and you can do lots of fun things with it. My favorite is building a giant snowman, and my kids love to have epic snowball fights.
Have you ever stopped and thought about how snowflakes are made? Snowflakes are created when crystals of ice form from the water in the atmosphere. And if you look at snowflakes under a microscope, you will notice that they come in interesting patterns and shapes.
If your kids love snow, they will love these free printable snowflake templates. With these snowflake cutouts, you can easily create fun winter-themed crafts with your kids. You can also use them as coloring pages for toddlers or preschoolers or stencils to trace on colorful pieces of paper or cardboard.
The free snowflake templates come in different patterns, just like a real snowflake. Show them all to your kids and let them pick which snowflake outline they like the best. I also included small snowflake templates that you can decorate and stick on holiday cards or gifts.
Snowflake Craft and Activity Ideas
These snowflake outlines can turn a cold, wintery day into a fun day filled with crafts and activities. Here are some creative ways to use these templates:
1. Popsicle Stick Snowflakes
Have your child select the snowflake pattern they would like to build and print out the template as a guide. Then, using his or her spatial skills, he or she can arrange the popsicle sticks to recreate the target snowflake shape. You can use the templates as puzzles for your kids to solve, or you can glue the popsicle sticks together and hang up the snowflake as decoration.
Hot glue is the best when it comes to adhering the craft sticks to each other, but you can also use white school glue – just make sure you wait until the glue is dry before moving your snowflake.
2. Paper Snowflake Garlands
Your kids can practice their scissor and fine motor skills by cutting out their favorite snowflakes. Place all the snowflake cutouts on the table in a straight line. Then simply take a long piece of thread and lay it across all the snowflakes. Using small pieces of tape, stick the thread to the back of the snowflakes. Now you have a snowflake garland you can hang drape across the top of a window or a mirror, or you can display them vertically.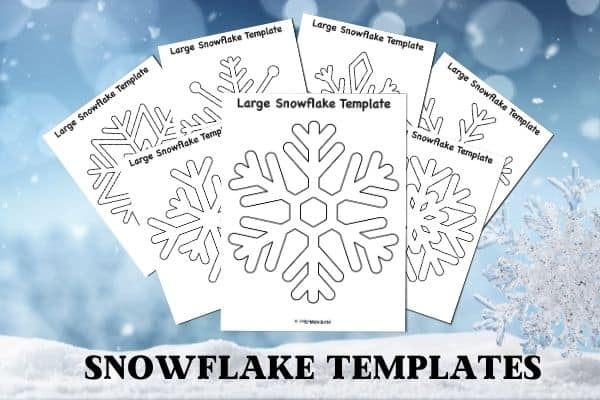 3. Shredded Paper Snowflakes
Decorate a snowflake outline with shredded paper! Do you have a drawer full of scrap paper? It's time to put them to use for this snowflake craft.
Take out the papers you would like to use and give them to your kids to tear up. The pieces should be smaller than the outline of the snowflake pattern, but otherwise, it doesn't matter what shapes they turn out to be. Then give your kids some glue to stick the pieces of scrap paper to the snowflake.
4. Snowflake Painting with Salt
Print out the snowflake stencils and draw over the outlines with white school glue. Pour salt onto the glue and tilt the paper to let the excess salt run off. After the salt and the glue are dry, dip the paintbrush in some watercolor paint and gently touch the salt with the tip of the paintbrush. The salt will soak up the watercolor and spread throughout the pattern.
5. Frozen Snowflake Wand
Do you have a kid who is obsessed with Frozen? I sure do! With the small snowflake templates, you can create a simple Elsa-inspired snowflake wand perfect for any princess.
All you need is one of the small snowflake templates. Print it on cardstock and cut it out nicely. Give it to your kid to decorate with glitter, stickers, ribbons, etc. Then simply glue the snowflake pattern on a popsicle stick or wooden dowel rod to complete the Frozen wand.
Free Printable Snowflake Templates
Below you'll find images of all my snowflake templates. Scroll to the bottom of the post for instructions on how you can get all of the templates in one downloadable PDF file.
Large Snowflake Patterns
These large snowflake templates are great for simple projects with your toddlers or preschoolers. You can also use them as coloring pages for your kids to color with crayons, markers, or colored pencils.
Traditional Snowflake Stencil
This large snowflake is what I picture a real snowflake looks like.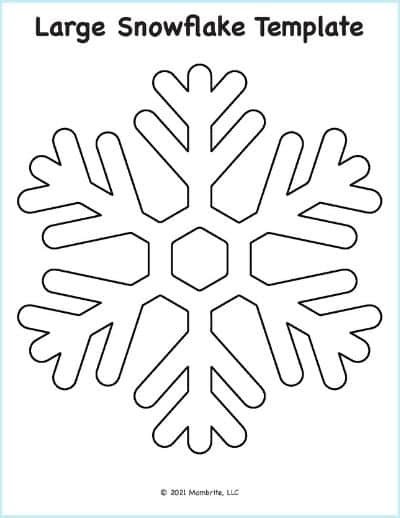 Complex Snowflake Patterns
Here are some more complicate snowflake patterns for older kids. They can be used to discuss symmetry, angles, and other geometry concepts. And if you have a kid who loves tracing, then he or she will have a lot of fun tracing these more complex snowflake shapes.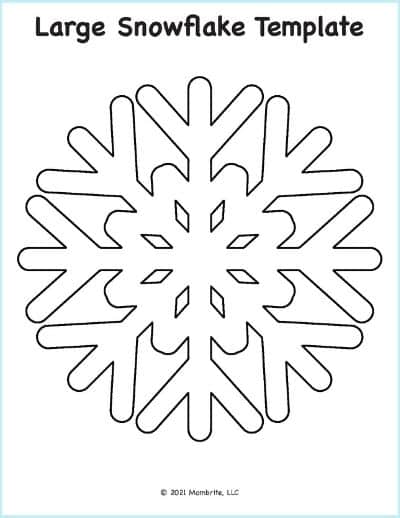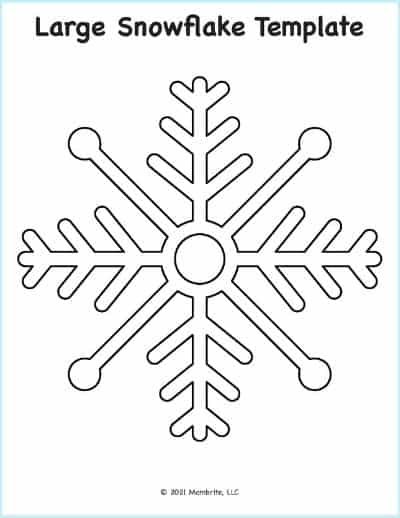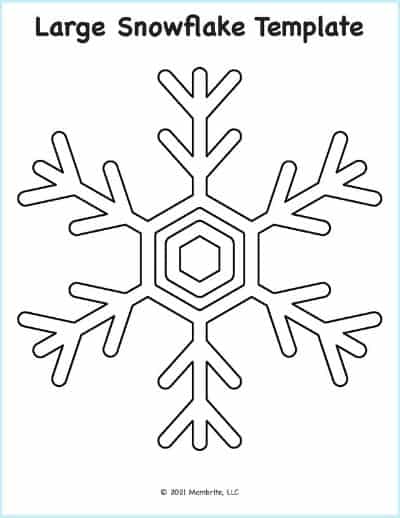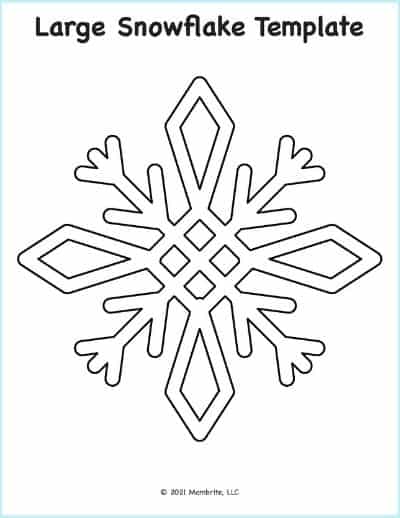 Simple Snowflake Patterns
This one is simpler than the other templates above with less spikes. You can use it as a sewing pattern or easy crafts.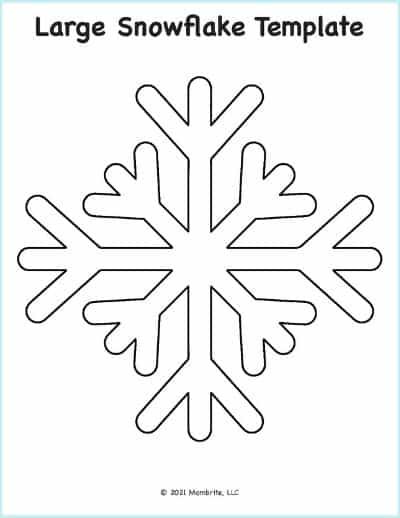 Diamond Snowflake Printable Templates
The next 4 snowflake templates contains diamonds in the patterns.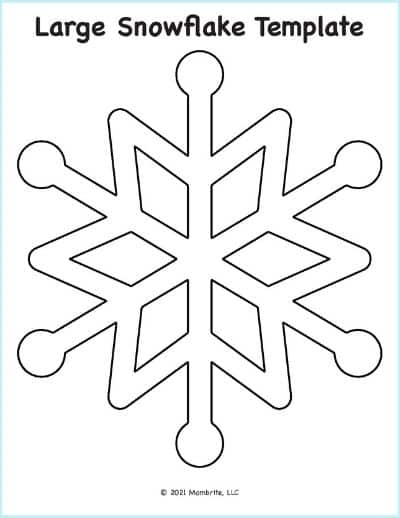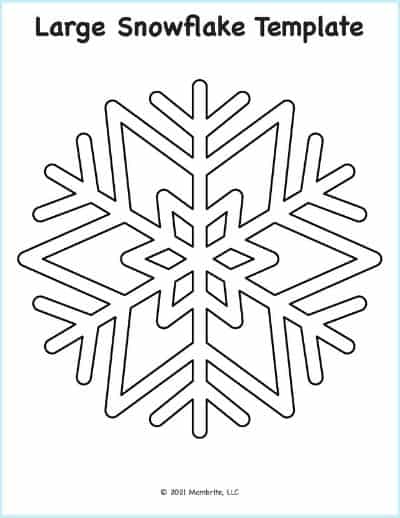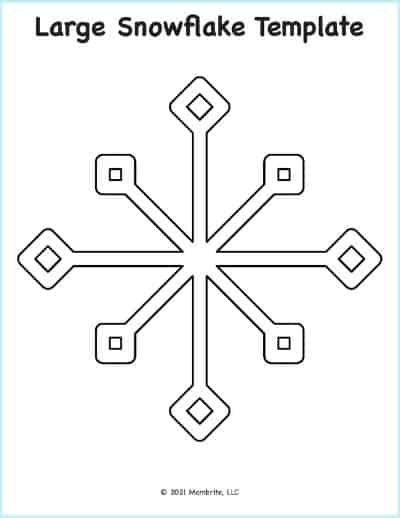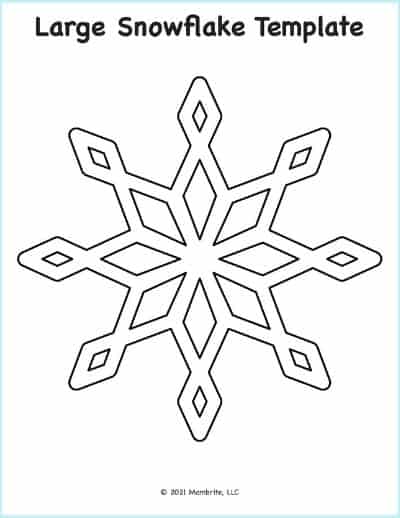 Customizable Snowflake Printable
With a big area in the center of the snowflake, this snowflake pattern is perfect for drawing faces or write names. In a classroom setting, you can have the students paste a small picture of themselves in the center and write their names underneath. Then you can hang all the snowflakes up on the wall to show off all the great kids in the class.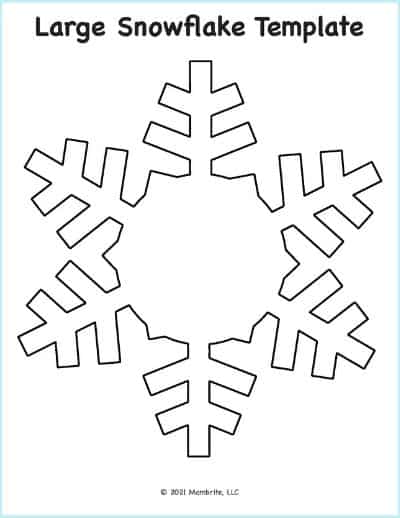 Small Snowflake Templates
These small snowflake templates contain all the snowflake patterns shown above, except in a much smaller size. You can use them for making holiday cards and other winter-themed crafts.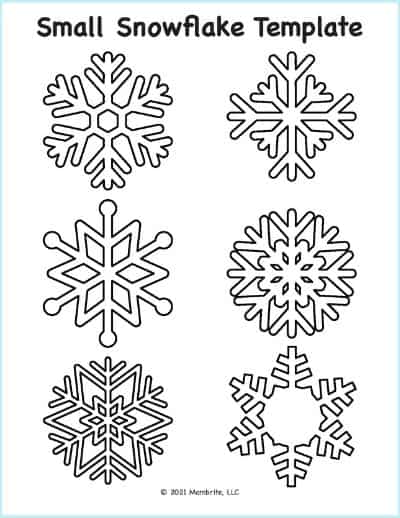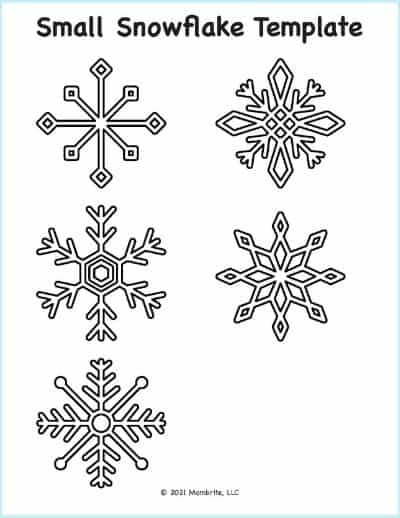 How to Download the Snowflake Templates
To get all the snowflake templates listed above, simply click on the form below.
All of the templates are printable on 8.5″x11″ paper. Please note that these printables are for personal and classroom use only.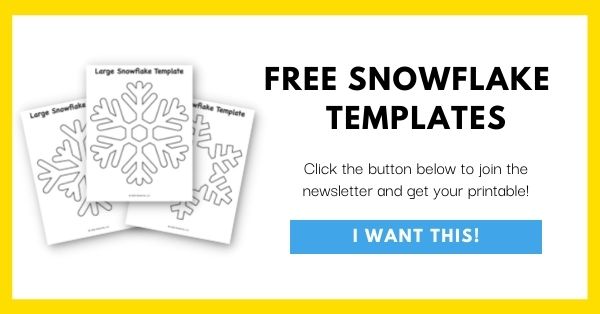 ---
Related Posts: