Perfect for the holidays, this adorable and easy-to-make popsicle stick snowman ornament will bring a smile to your face. This winter craft is quick to make and fun for kids!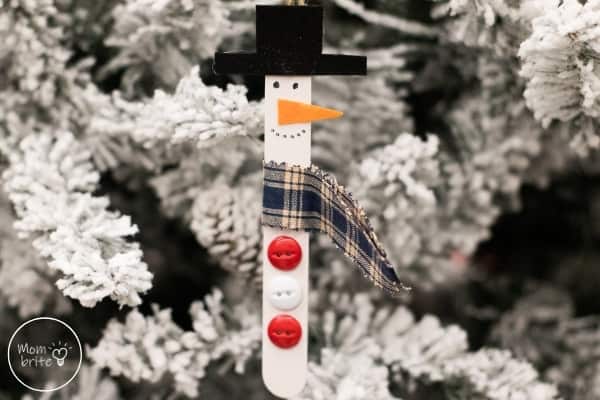 Winter crafts are a great way to entertain the kids over the holiday break.  One craft that your kids will love to do is a popsicle stick snowman ornament. This cute little guy will make a great addition to the family tree or he can be used as an ornament on a gift.
Crafting is not only fun, but it is a fun way to spend time with your kids. Plus, crafting is a great way to get them to use their imaginations and be creative. Practicing scissors and safety skills are a great benefit as well.
So gather up your supplies and let's get started with this winter craft for kids.
How to Make a Craft Stick Snowman Ornament
Supplies
Craft sticks
White acrylic craft paint
Craft brushes
Craft foam or felt
Rustic fabric cut into a 7"x ¾" strip
Buttons
Ribbon or twine
Glue gun
Tacky glue and/or a glue gun
Black fine point marker
Floral wire cutters
Craft scissors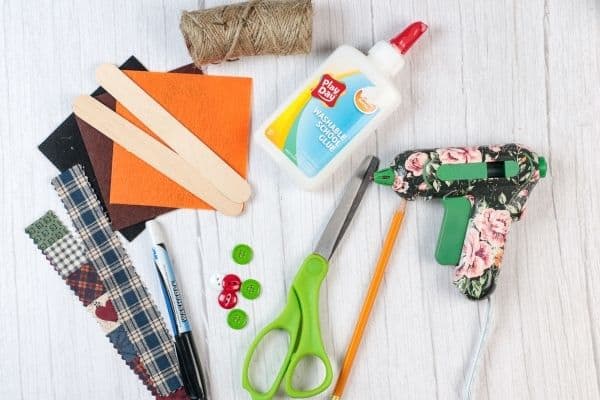 Instructions
Step 1: Cover your craft stick evenly using the white craft paint.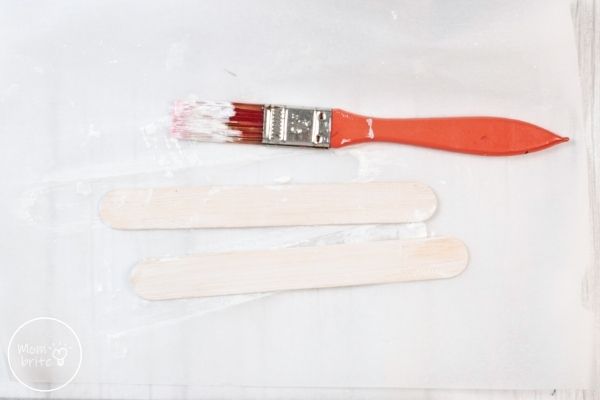 Step 2: After the craft stick has dried completely, cover with one more coat of white acrylic paint, making sure to cover all of the stick well. Allow to dry completely.
Step 3: Cut a top hat shape and the snowman's nose out of the foam or felt.
Step 4: Using the school glue or tacky glue, attach the hat and nose onto the craft stick.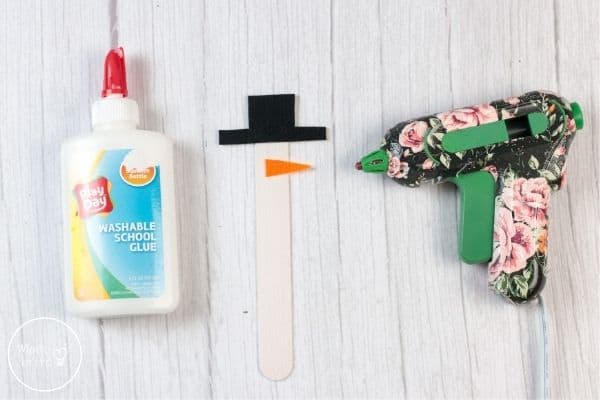 Step 5: Using a black fine tipped marker draw the snowman's eyes and mouth as pictured.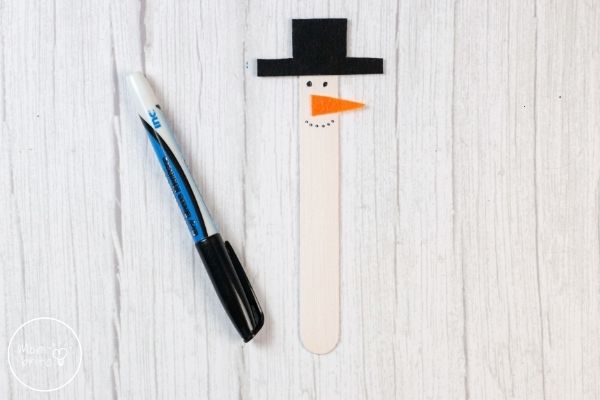 Step 6: Place the snowman's scarf piece a bit below the snowman's mouth. When you get it where you want it, use a small dot of glue in the middle of the fabric strip, and press the craft stick in place and allow to dry.
Step 7. Add three small buttons to the front of the popsicle stick craft and adhere with hot glue or strong tacky glue.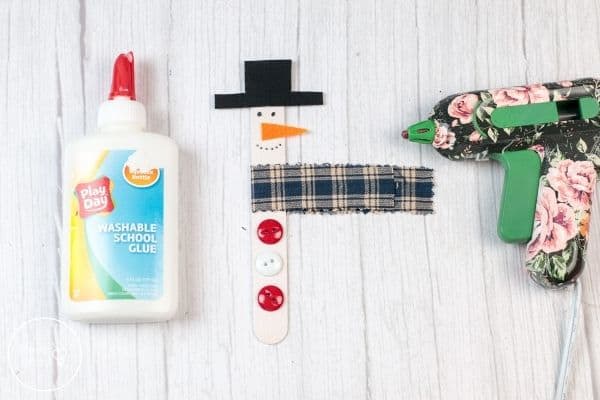 Step 8: Cut a length of ribbon or twine approximately 6", form a loop and tie in a small secure knot at the end.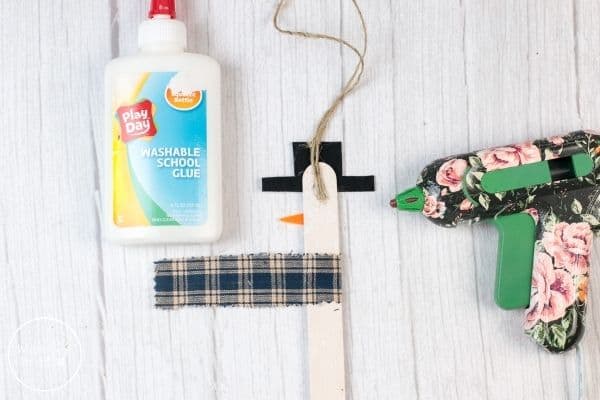 Step 9: Use the tacky glue or hot glue to attach the ornament's hanger. Allow to dry completely. Hang on your tree and enjoy!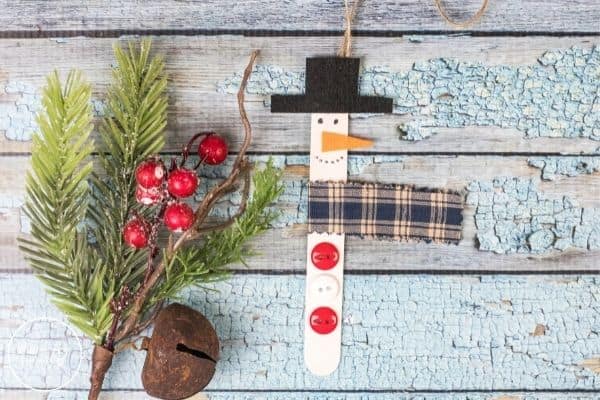 Popsicle Stick Christmas Craft Variations
This cute snowman could use some friends. Why not try making a few different kinds of Christmas ornaments?
A few ideas to try:
Snowman Family – Decorate each snowman as a member of your family. You can use brown felt to create stick arms for each snowman and have them holding hands. Cut a red felt heart and write the year on it for a special keepsake.
Christmas House Craft – For this craft use the glue gun to attach two popsicle sticks together in an "L" shape, then add the last side of the house. Glue two popsicle sticks in an upside down V shape for the roof. Decorate the house with holiday touches, or even make it look like a Gingerbread house with brown paint and white frosting lines.
Snowflake Craft – For this craft, use white, silver, or ice blue paint for the snowflake body and glue them with the glue gun in a snowflake shape. Add ribbon, glitter and fun buttons to make each one unique.
The craft stick snowman ornaments make the perfect gift for far away friends and family, a fun craft for your child's classroom, or an easy to make idea for a Christmas bazaar!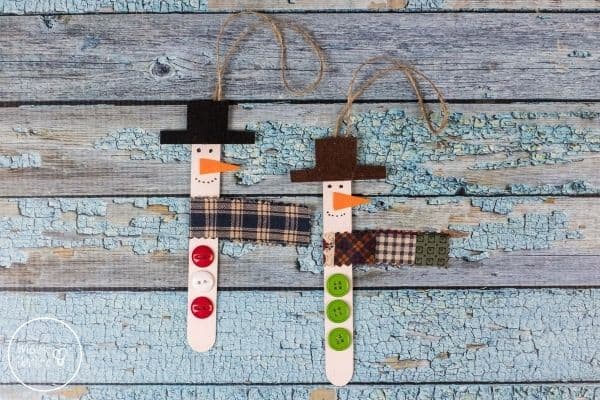 No matter how you use them, these popsicle stick ornaments are bound to be adorable!
---
Related Posts: