Make cute star-shaped button ornaments with your kids to decorate the Christmas tree this holiday season! Your kids will love gluing the buttons for this craft.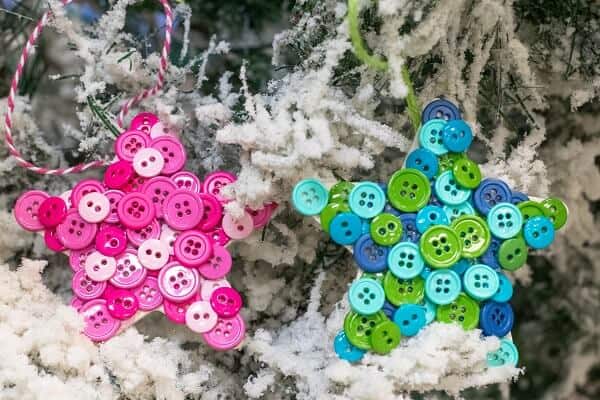 Do you have a collection of random buttons at your home? We save all our buttons that came with clothes and ones we use for crafts. Our button drawer contains a whole variety of buttons with different shapes, colors, and sizes.
We are going to put those buttons to good use with this star-shaped button Christmas tree ornament. Your kids will love gluing on the buttons layer by layer to create a 3D ornament this holiday season.
Pick Your Button Ornament Color Scheme
Sort your buttons into different color groups. For example, all the light pink, dark pink, and perhaps even red go in the same pile, while olive green, dark green, and light green go in another.
This is a great color-recognition and sorting exercise for the kids. Categorizing the buttons by color also introduces the different shades of primary and secondary colors to your kids.
Then pick out what color scheme you want your ornament to be! This may depend on how many buttons you have of one color scheme. We ended up using pink buttons and blue/green buttons (there wasn't enough of one color).
How to Make Button Christmas Ornaments
Supplies
Glue gun, school glue, or tacky glue
Craft brush
Scissors
Step-by-Step Instructions
1. Cover the Wooden Star with Glue
Use the hot glue gun, school glue, or tacky glue, cover the wooden star with a layer of glue. Hot glue seems to work the best, but you may want to stick with school glue or tacky glue with the kids.
2. Layer on the Buttons
Here is the fun part! Cover the wooden star with buttons before the glue dries. Your kids can layer on as many layers as they want, but just wait a few minutes to allow the previous layer to dry. The more layers of buttons, the more 3D the Christmas ornament will look.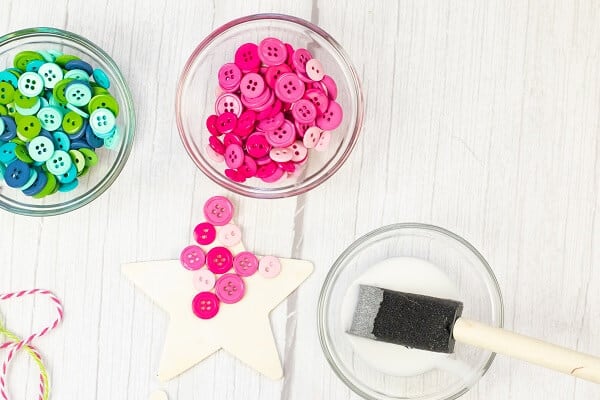 3. Attach the twine.
Cut about 7″ of the baker's twine and tie in a small, secure knot. Flip the wooden star over and glue the tie about 1″ down from the top of the star.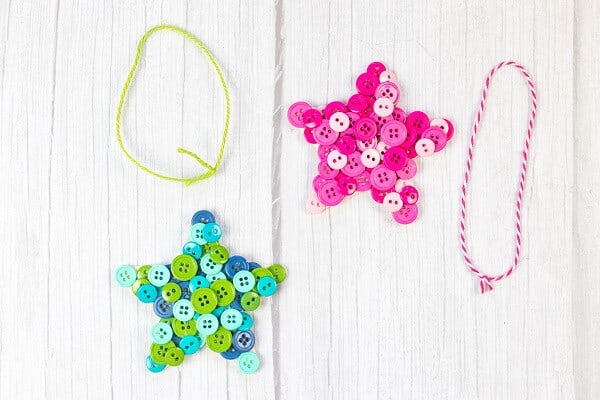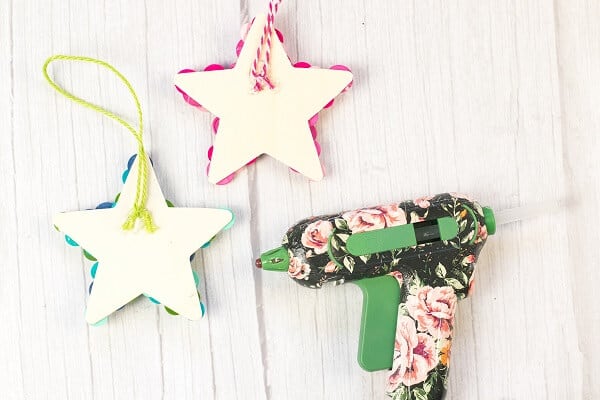 4. Hang the Ornament on the Christmas Tree
After everything dries, you can hang the wooden star ornament on your Christmas tree!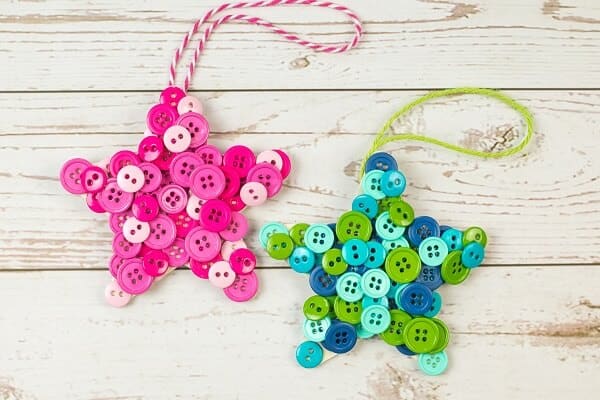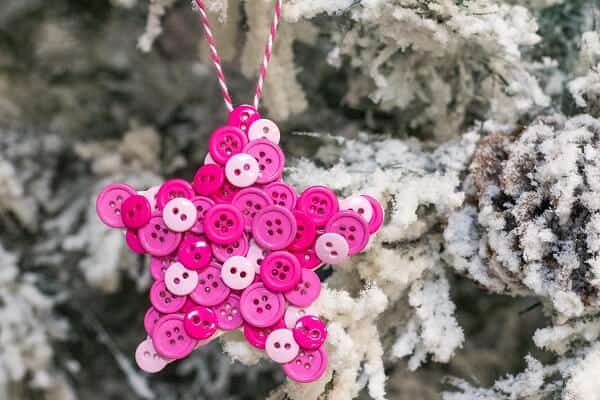 Isn't this just the easiest and cutest Christmas ornament craft? If your kids love glue as much as mine do, then they will love making this button ornament. You can also let your kids go wild and make one with whatever buttons they choose!
I suggest reading Song of the Stars: A Christmas Story with your kids before doing this Christmas craft. It's a great story that will get your kids in the Christmas spirit with adorable animal characters.
If you like this wooden star button ornament, make sure you check out the birch tree branch slide snowman ornament and jingle bell ball ornament!
Make sure to tag me @mombrite if you try this button ornament with your kid. I would love to see your kid's beautiful work!
---
FOR MORE FUN CRAFTS, CHECK OUT: