Your kids will love making and decorating their own Pom Pom Christmas Tree Ornament with this fun holiday craft. Hang it on the tree and enjoy it with the whole family!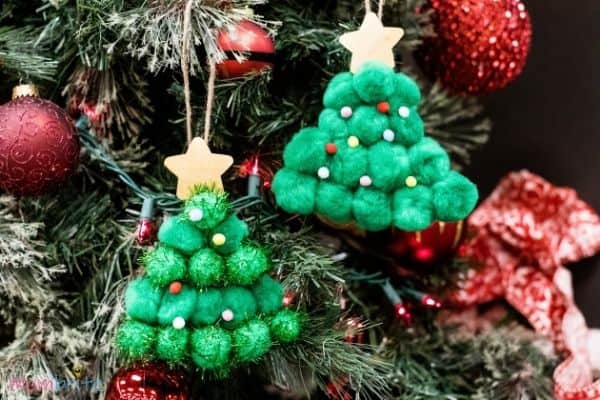 We just love pom poms in this house! They are nice and fluffy and easy for the kids to pick up. Plus, when they end up throwing pom poms at each other (because that always happens eventually), they can't get hurt!
This Pom Pom Christmas Tree Ornament is simple and easy to make, and my kids loved decorating the pom pom tree with tiny pom pom ornaments. It makes a wonderful keepsake that you can hang up on the real Christmas tree and enjoy with your family every holiday season.
How to Make Christmas Tree Craft for Kids
Materials:
Ribbon or twine
White school glue or tacky glue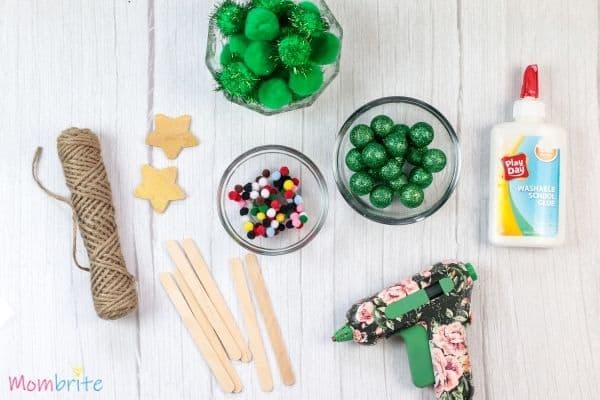 Pom Pom Christmas Tree Ornament Instructions
1. Position two craft sticks so that they form an upside-down "V". Glue the popsicle sticks together with the hot glue gun.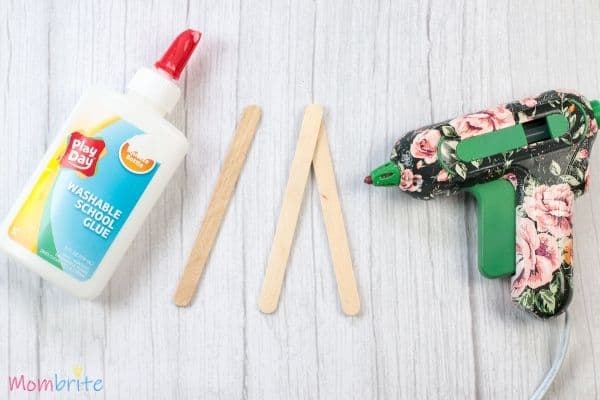 2. Glue a third craft stick to the first two so that it bisects the upside-down "V".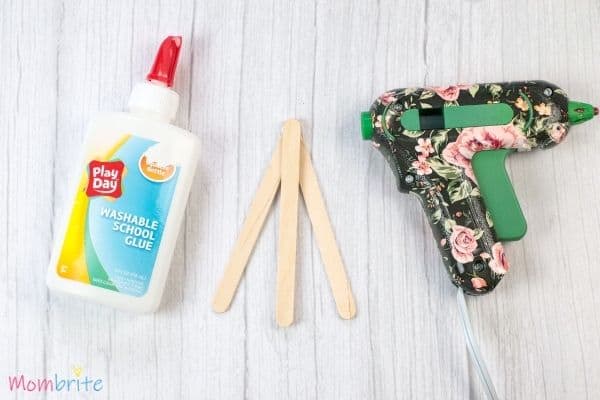 3. Paint the wooden star with the gold acrylic paint and allow it to dry. If you don't have a wooden star, you can substitute with a star foam sticker. Glue the wooden star to the top of the inverted "V" and allow the glue to dry.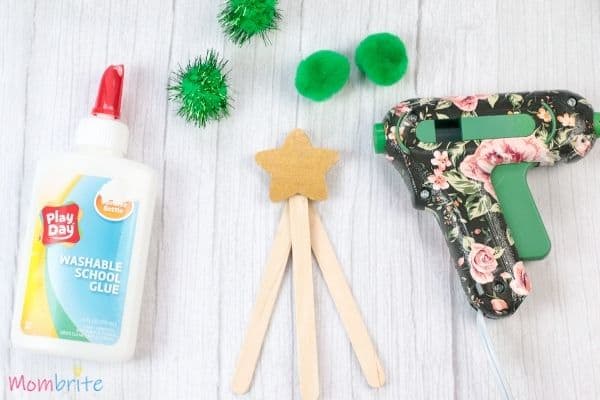 4. Start gluing pom poms to the popsicle sticks. You can start from the top or the bottom, but I suggest starting from the top right underneath the star. This ensures that there is no gap between the pom poms and the star. Allow the glue to dry completely.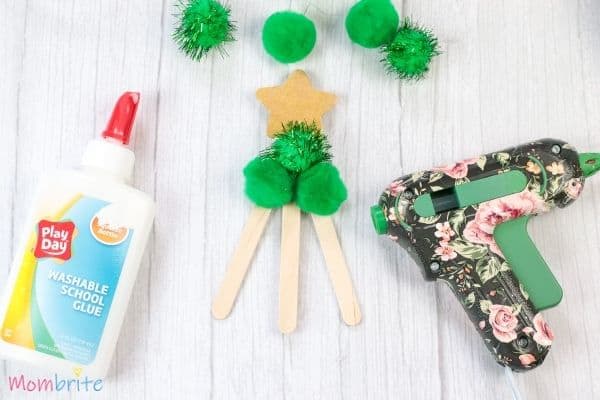 5. Decorate your pom pom tree with mini pom pom "ornaments"! Allow the glue to dry completely.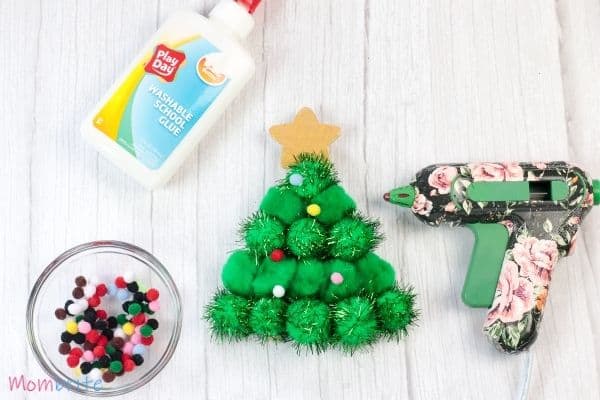 6. (Optional) You can make the upside-down "V" wider if you want a larger tree. All you have to do is add a wider upside-down "V" to the back of the original one (see picture below). That's what we ended up doing.
7. Cut about 7-8″ of ribbon or twine, form a loop, and tie in a small secure knot at the end. Flip your tree over with the pom poms facing down and glue the knot to the popsicle sticks. Allow to dry completely.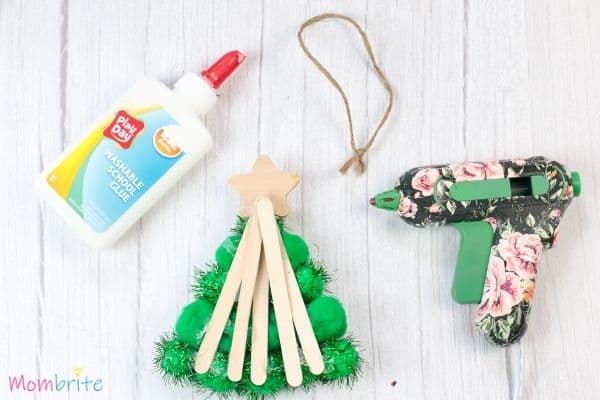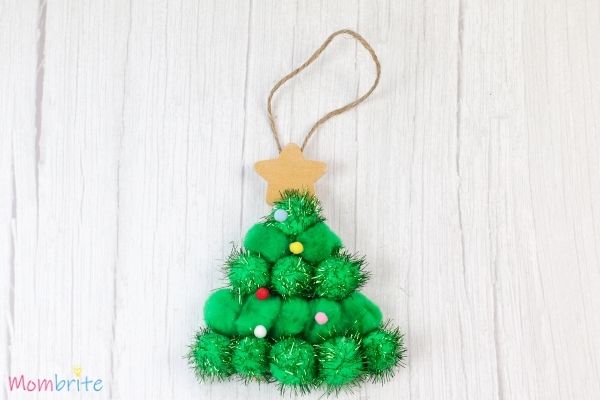 8. Hang the pom pom Christmas tree ornament on your real Christmas tree and display it proudly!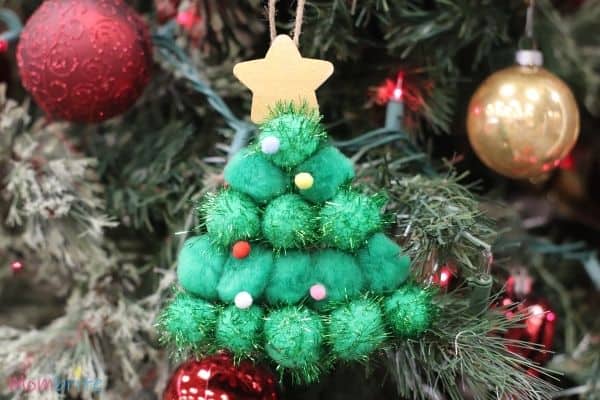 This Pom Pom Christmas Tree Ornament Craft is a fun and simple activity that your kids can enjoy this holiday season. They can even make it as homemade gifts for grandparents and friends. If you enjoyed this pom pom craft, make sure you check out the handprint Christmas tree craft and ugly Christmas sweater craft, where we use pom poms again to decorate the tree and paper sweater. You can also use the fluffy balls to make this pom pom ball ornament to go alongside this Christmas tree!
If you are making this with multiple kids, I suggest preparing the popsicle sticks ahead of time and gluing them together. This way the kids can just focus on gluing the pom poms on the craft sticks and decorating their own little tree!