Learn how to make a wreath out of candy canes! This unique candy cane wreath makes a beautiful Christmas decoration for your front door, is easy to make, and uses budget-friendly supplies.
We never had a wreath for Christmas, and my kids are old enough now to notice that we are the only house with a bare front door on our street. Since we had lots of candy canes leftover from the candy cane bridge STEM challenge, we decided to make a wreath out of candy canes!
And guess what? This candy cane wreath craft doubles as a STEM activity for the kids. You can have them arrange the candy canes and figure out a repeating pattern that would go all the way around in a circle. You might be surprised what they come up with!
Ready to get some compliments from the neighbors for this unique candy cane wreath hanging on your door? Read on for instructions on this fun candy cane craft.
How to Make a DIY Candy Cane Wreath
Materials:
22 candy canes (you can also use plastic candy canes if you want to make sure these wreaths last)
Hot glue gun
Pom poms (optional)
Candy Cane Wreath Instructions:
Place two candy canes back to back.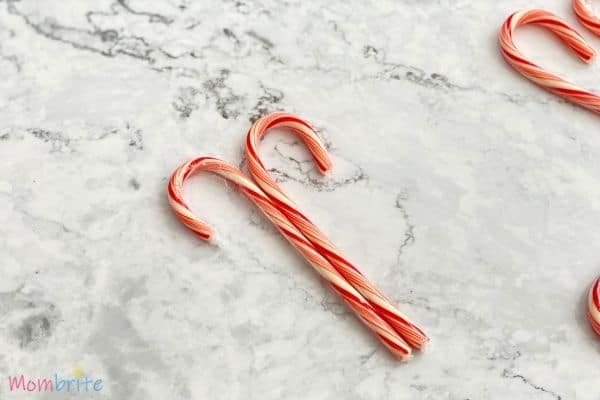 2. Tie a ribbon around the two candy canes.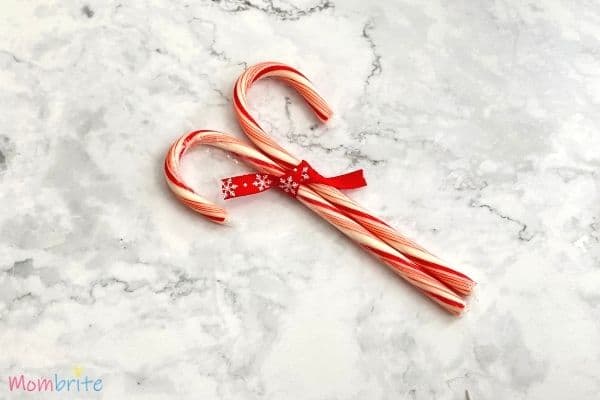 3. Repeat with the other 10 pairs of candy canes.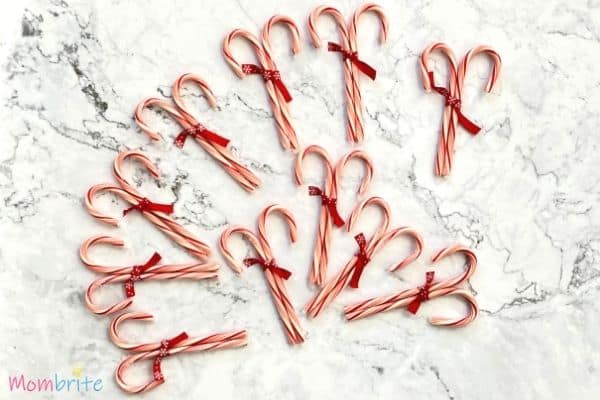 4. Arrange the candy canes in a circle.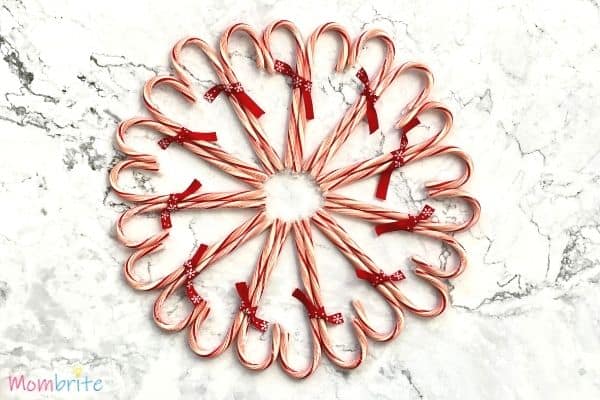 5. Squeeze hot glue on the snowflake ornament where it will attach to the candy canes. Carefully place the snowflake ornament on top of the candy canes, glue side down. Press gently and allow the glue to dry.
Go around the wreath and carefully hot glue the candy canes together (where the hooks touch) by spreading the candy canes apart slightly and squeezing just a dot of hot glue. I also squeezed a little bit of hot glue underneath the ribbons to make sure they don't come apart. This step might not be necessary, but I am paranoid that the wreath will fall apart without some more reinforcement.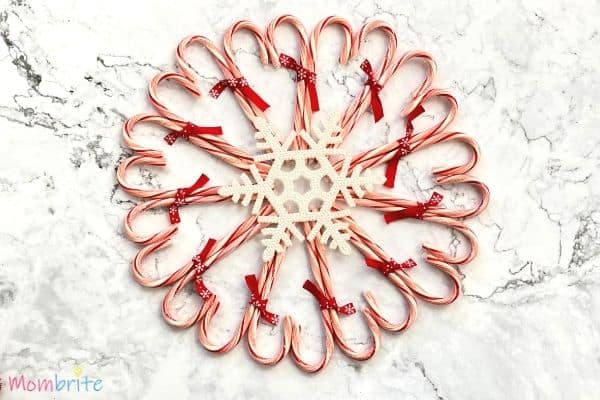 6. You are done with the candy cane wreath at this point, but there is always room for more decoration! We glued pom poms on the snowflake ornament. Feel free to use whatever you have around the house to decorate the candy cane wreath. You can even use more candy canes!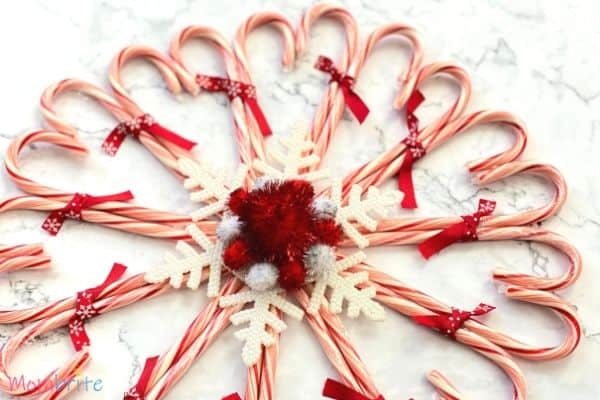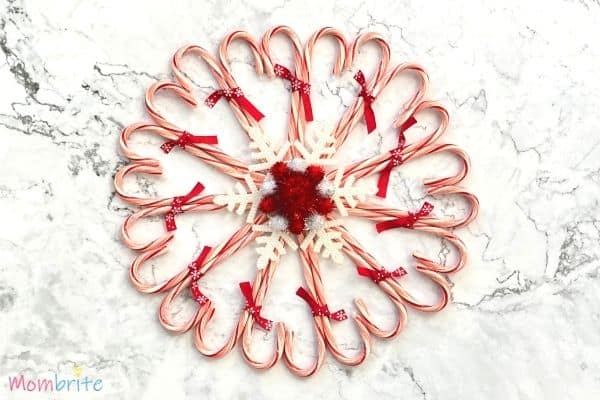 7. Loop a piece of ribbon around two candy canes and tie a secure knot. The length of the ribbon depends on the height of your door and the over-the-door wreath hanger.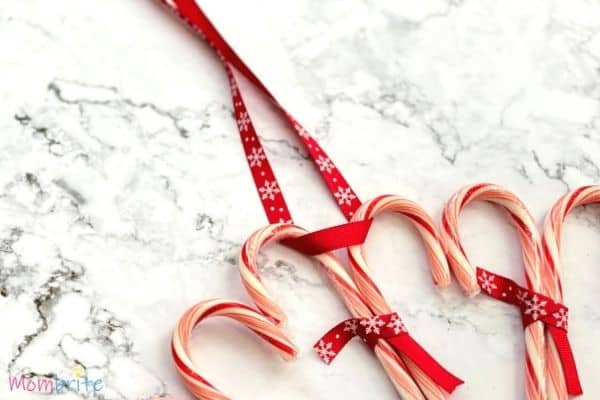 8. Hang the wreath on your door for all to admire!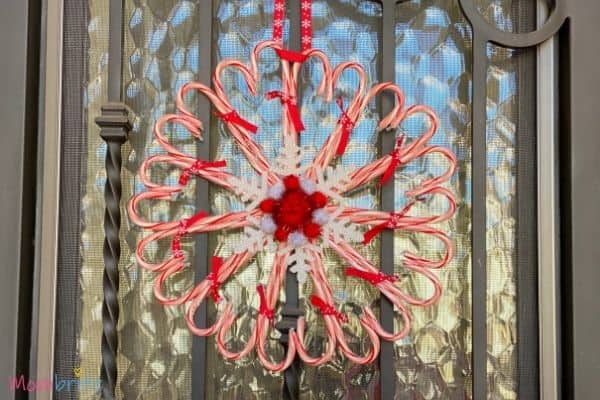 Isn't the candy cane wreath so pretty? I really love it! The red and white colors really make our otherwise boring front door pop.
I do want to point out that you probably don't want to eat the candy canes after this project. Even though we kept the plastic wrapping on the candy canes, the hot glue could have easily melted the plastic and get on the candy itself.
Also, make sure you store this candy cane wreath in a dry, cool area during the year if you want it to last until next Christmas! It would be hard to rescue the wreath once the candy canes melt in the hot summer months.
I hope you and your kids have a lot of fun making this candy cane wreath! Make sure you tag me @mombrite on Instagram or Facebook if you take a picture of your candy cane wreath craft on your front door so I can see your amazing creations!
---
FOR MORE FUN CRAFTS, CHECK OUT: