If your kids are LEGO® fans, then there are unlimited things they can learn with their favorite toys. With so many different types of products to choose from, your kids can really let their creativity run wild with LEGO bricks.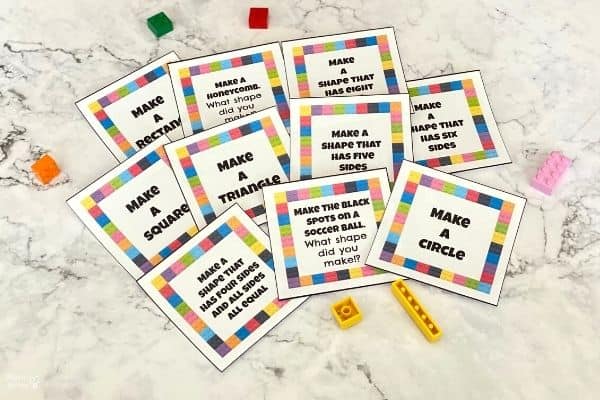 The LEGO 2D shape task cards set comes with 36 cards that help preschoolers and kindergarteners learn 2D shapes with LEGO bricks. You can use them as part of your math center, and they work extremely well in a Montessori classroom where kids can pick their favorite geometry activity to play.
How to Use the LEGO 2D Task Cards
Materials:
Instructions:
1. Print out the LEGO 2D shape task cards on cardstock paper. You can also print them on regular printer paper, but if you expect to use them multiple times, then I recommend using the thicker cardstock paper.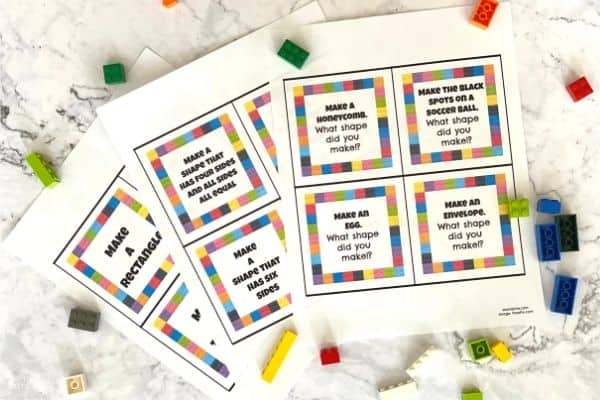 2. Optional: You can laminate the sheets prior to cutting. This will help prolong the life of the cards by preventing damage from repeated use.
3. Cut out the LEGO 2D shape task cards. You can place them in a bowl, store them in a resealable bag, a utility storage box, or use these nifty book rings to keep them together.
3. Set out various LEGO bricks. Depending on the age of your kids, you can give them only the bricks they need to complete the task. For older kids, I suggest giving them an assortment of LEGO bricks and let them figure out which ones they could use to construct the shapes. There are so many different ways!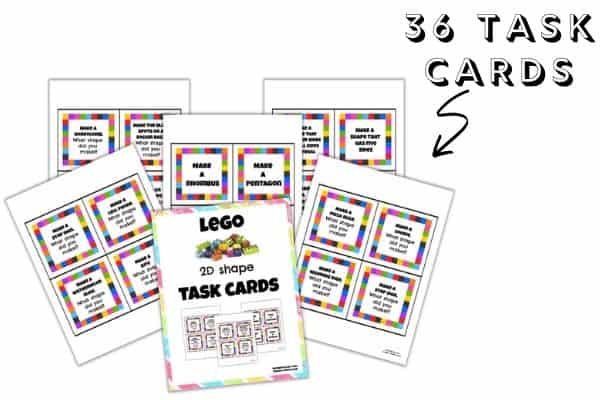 The 36 task cards are divided up into 3 different types. There is a set that is straightforward and asks your child to build the shape, such as "Make a Triangle."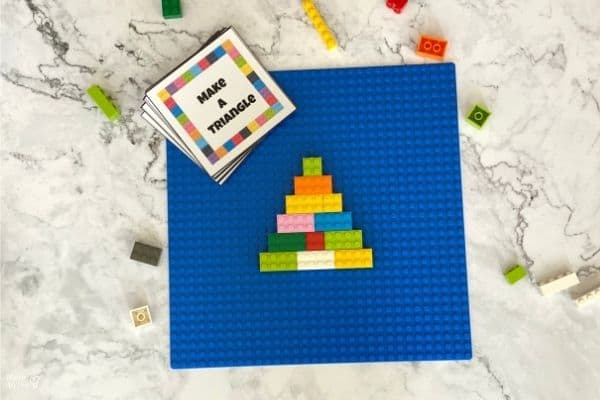 There is another set that describes the shapes instead of giving your child the name of the geometric shape. For example, "make a shape that has four sides and all sides are equal."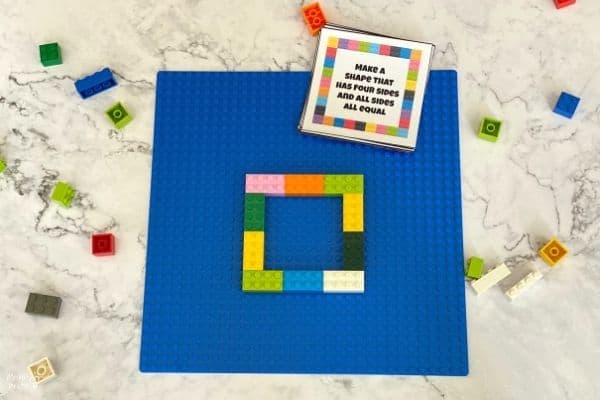 Finally, there is a set of task cards that gives your child a common item such as a stop sign or a pizza, and asks him to construct the shape of the item. These cards also ask your child to name the shape that he made.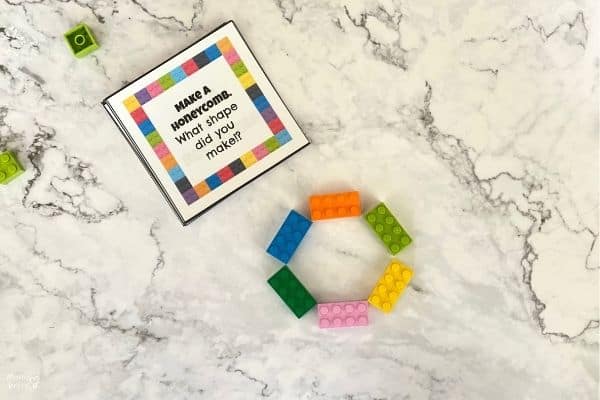 Your child can build the shapes by placing the LEGO bricks on a baseplate. If you don't have a baseplate, your child can simply arrange the LEGO bricks in the correct shape on a flat surface.
There are multiple right answers to the task cards. Your child can choose to only build the edges of a shape, or he might decide to fill in the middle as well with LEGO bricks. He might want to turn the bricks sideways or even upsidedown to construct the shapes. And who knows, he might decide to build the shapes vertically like what we did with the LEGO rainbow challenge!
For your little LEGO lovers, these 2D task cards are the perfect way to motivate your child to learn geometric shapes. For more advanced learners, check out the marshmallow 2D and 3D shape cards for some yummy geometric fun!
For more educational LEGO activities, check out:
Do you kids love STEM? Make sure you check out the free 30 day LEGO STEM calendar for a month of LEGO STEM fun!