This post may contain affiliate links. That means if you click and buy, I may receive a small commission (at zero cost to you). Please see my full disclosure policy for details.
This Halloween, get your kids involved in the festivities with this free printable Halloween word search! They'll love searching and finding all of the words related to Halloween. It's a great way to keep them entertained while also learning about Halloween vocabulary.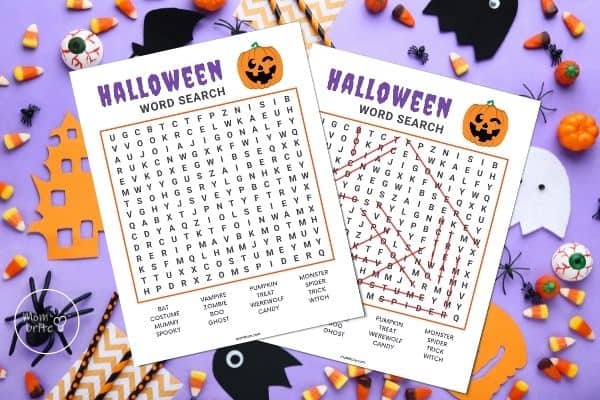 This Halloween word search puzzle is fun for children of all ages and a great activity for Halloween parties. You can also print out a copy for all the students in your classroom and challenge them to hunt down all the words as fast as possible.
Halloween is such a fun time of the year for kids. Whether you decide to go all out with trick-or-treating and dressing up in costumes or stay at home to celebrate the holiday, your children will have a great time working on this word search game.
Halloween Word Search Puzzle
Word searches are a fun way for kids to spend time while practicing word recognition skills. While searching for the Halloween-themed words in the grid, your kids will learn vocabulary by finding new words they may not have known before.
When your kids find a word in the puzzle, they can circle the words or highlight it with a marker. You can make it a relaxing game and have your kids find all the words without setting any time limit. If you have older kids, you can make the puzzle more challenging by having them race against a timer to see how many words they can in a short period.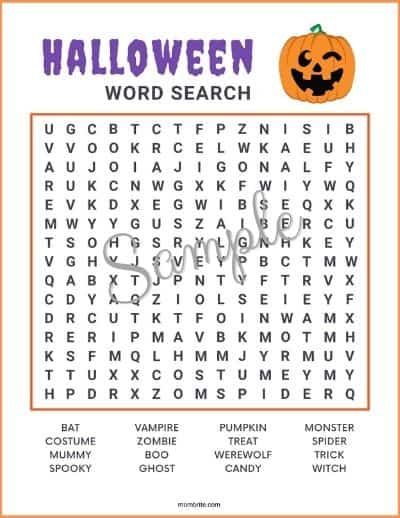 The hidden words in this Halloween word search can be horizontal, vertical, or diagonal. They can also be written left to right or right to left.
There are 16 words for your kids to find:
BAT
CUSTOME
MUMMY
SPOOKY
VAMPIRE
ZOMBIE
BOO
GHOST
PUMPKIN
TREAT
WEREWOLF
CANDY
MONSTER
SPIDER
TRICK
WITCH
The printable comes with an answer key in case you are having trouble locating any words in the grid.
How to Download the Halloween Word Search
You can print out this Halloween word search on any 8.5″x11″ printer paper or cardstock. Please note that this free printable is for personal or classroom use only, and may not be edited or redistributed in any way.
If your coworkers or friends would like their own copy of this game, please direct them to this post.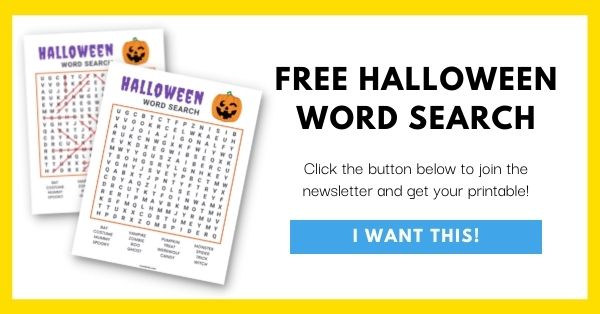 Happy Halloween!
---
Related Posts: