These cute free printable cactus coloring pages for kids are fun to color and a great tool to teach your kids about the interesting succulent. Check out the fun cactus facts that you can share with your kids below!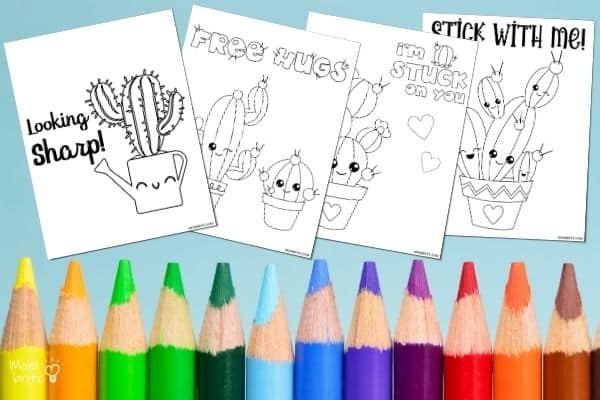 Kids will absolutely love having fun expressing themselves with these cute cactus coloring pages.
Coloring is a fun activity for children of all ages. Why not print these cactus coloring sheets for your kids to color with crayons, colored pencils, or markers. It will help the little ones explore their creativity, all while learning new things.
Besides keeping the kids busy (cue peace for mommy), coloring is a great teaching tool.
Here's why:
It teaches kids to concentrate and complete an activity. This will help them focus and improve their attention span.
Children will practice their fine motor skills, which helps to improve handwriting and coordination.
Interesting Facts About The Cactus
Did you know that the cactus can live for up to 200 years! I'm betting your kids didn't know this either and will find it quite interesting.
Print out the free cactus printable and use it as an opportunity to teach these fascinating scientific facts. Your kids will be too busy having fun to notice the science lesson.
Here are some other interesting facts about the cactus:
Cacti (plural for cactus) can absorb and store gallons of water in their stems.
Cactus plants have spines instead of leaves.
Ants and cacti are good friends and the ants help the plant to keep away bigger bugs, bacteria, and fungi.
Some species of cacti can grow to 27 feet tall.
Click here for more interesting and fun cactus facts to share with your kids!
Free Printable Cactus Coloring Pages
Ready to break out the fun science lesson? All you have to do is download and print these free cactus coloring pages and you're ready for some fun teaching and learning.
It's not all about science with these succulent coloring pages. You can also help your kids learn how to express their emotions and manage their feelings.
Cacti look different from other plants. But with their thorns, they still look beautiful and are a great way to adorn the home. Therefore, you can use the succulent coloring pages to teach your kids some life lessons. Here are a few great ones:
Embrace your difference. Just like the cactus shines despite its thorns, embrace who you are and don't fight to fit in. Teach them they are perfect just the way they are.
Accept other people. Cacti may not look like other plants but love them anyway. Help them embrace people that look, talk, or walk differently.
Stay strong. The cactus can live without water for years but still have such a long lifespan! Teach them about staying strong and not letting the world bring you down.
How To Print the Cactus Coloring Pages
Simply fill out the form below to get the free printable cactus coloring pages delivered right to your inbox.
Then after you open the file attached to your email, all you need is a printer and 8″x11″ printer paper. You can choose which page(s) you would like to color, or print them all!
The free printable cactus pages include:
I'm stuck on you
Dare to be different
Free hugs
Hug me
Looking sharp
Stick with me
Emoji cactus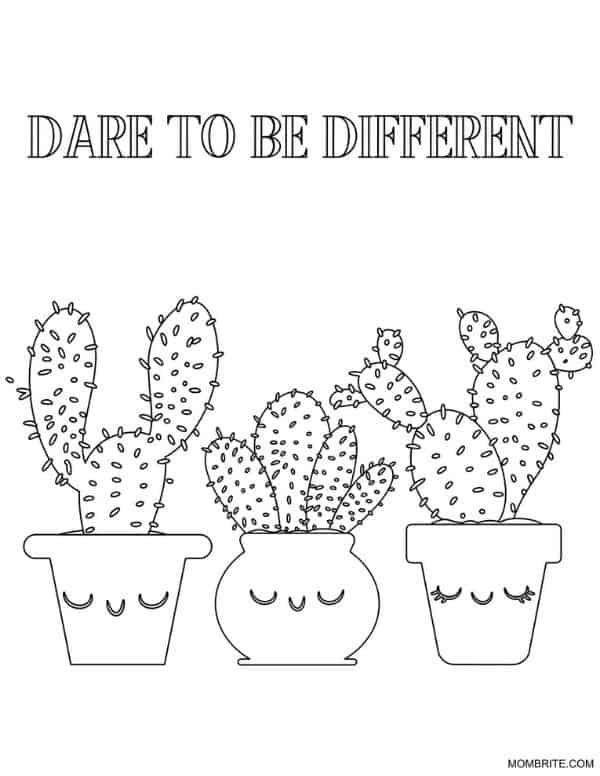 Print out these cactus coloring pages, let the kids color and use the time to teach some amazing science facts and great life lessons. Make up a story, create a cactus song; it will be a fun and worthwhile activity.
If your kids love coloring, make sure you check out these butterfly templates and space-themed coloring pages. They are free to download and easy to print just like the cactus coloring pages!
---
Related Posts