This post may contain affiliate links. That means if you click and buy, I may receive a small commission (at zero cost to you). Please see my full disclosure policy for details.
Your little engineers will love this sweet Valentine's Day STEM challenge that involves building a heart jelly bean and toothpick structure. See what kind of creative structures your kids can come up with!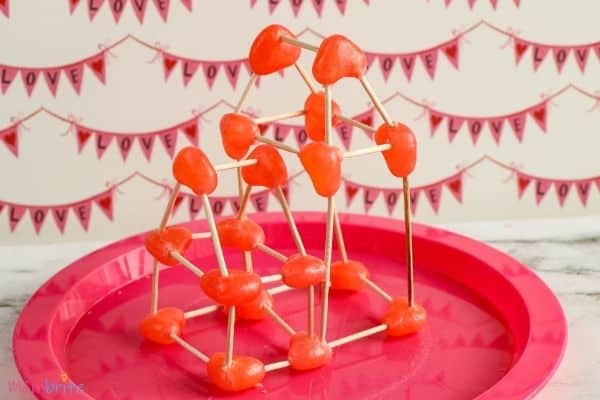 Kids love engineering STEM challenges because there is no right answer. They get to use their problem-solving skills and spatial reasoning to come up with the tallest, the most weight-bearing, or simply the prettiest structures with limited materials.
For this Valentine's Day, we have an extra sweet STEM challenge for your little ones! Using only heart jelly beans and toothpicks, they will need to come up with…
… drumroll, please…
Home sweet home!
What kind of house would your kid like to live in with their loved ones? Perhaps the same house you are living in right now? Or perhaps they have a different idea?
Let's get building!
How to Make Heart Jelly Bean and Toothpick Structures
Supplies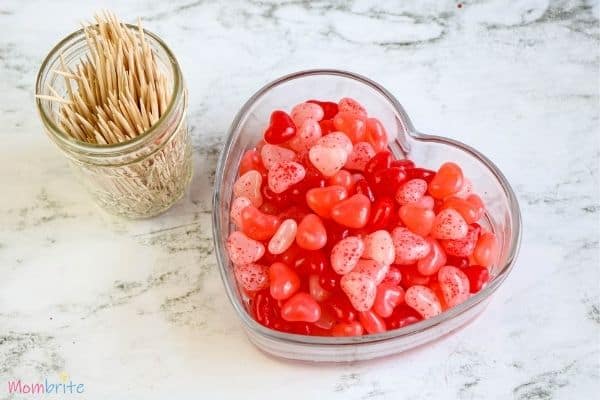 Instructions for the STEM Challenge
1. Set up the bowl of heart jelly beans and toothpicks on the table.
2. Give your kids 5 minutes to come up with the design of the house. It can be anything they want! If they wish, they can draw the house on a piece of paper for visualization.
3. Give your kids about 10 minutes to build the house they designed.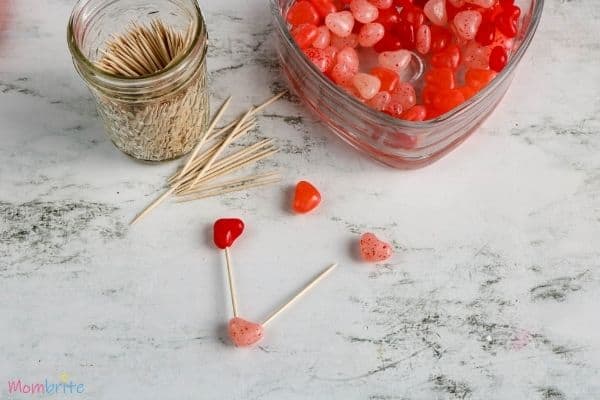 4. Admire the house they build out of heart jelly beans and toothpicks!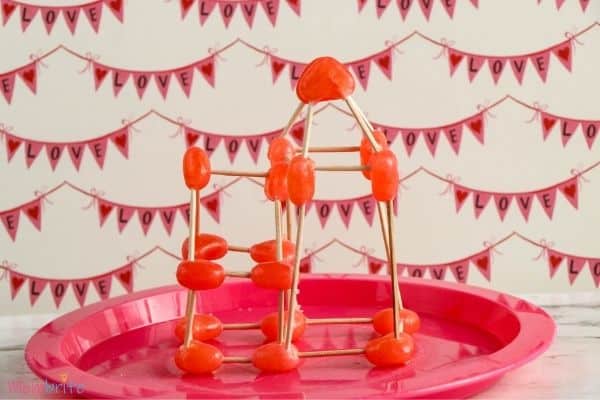 What kind of house did your kids build? If they get stuck in the design step, you can ask them questions like:
Do you want a tall house or a short house?
What kind of roof do you want your house to have? Pointy? Flat?
What shape do you want the door to be?
What extra features do you want on your house? Chimney?
Then after they build the house, you can ask them questions for reflection on their structure:
How many people will live in the house with you? Is your house big enough to fit all the people?
If I give you more jelly beans and toothpicks and more time, what would you add to the house?
Did the house turn out like your design?
What would you improve?
What do you like the best about your house?
Final Thoughts on the Jelly Bean and Toothpick Structure Challenge
Often times, the simplest STEM activities present the most opportunities to discuss and bond with your kid. Since this challenge only uses two materials, your kids just have to think about the design and how to use the jelly beans and toothpicks to build their dream house.
This is a great STEM challenge to do in a classroom or on a playdate with a group of kids on Valentine's Day. Just bring a large bag of heart jelly beans and lots of toothpicks, divide the kids up (they can work as a team or work individually), and let them create!
If your kids loved this challenge, make sure you check out the marshmallow and toothpick geometric structures. They can learn 2D and 3D shapes by building them with this hands-on method of learning geometry.
---
Related Posts