Whether you need a present for a birthday party, Christmas, or just because, here are the best gifts for 4-year-old girls that will make the little girl in your life feel extra special.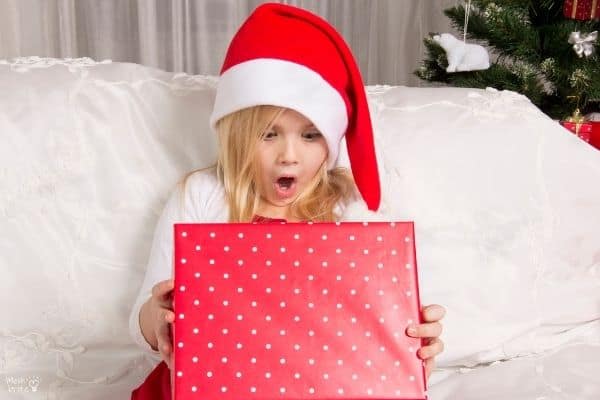 When a child hits 4 they aren't quite a baby anymore, are they? They are still an infant but will have a greater understanding of the world. This means they can enjoy more complex games, activities, and toys. So, let's take a look at some of the best gifts for 4-year-old girls.
Every child loves a toy and at 4 years old any little girl will be overjoyed to get something new! Whether it's for her birthday, Christmas, or simply a reward for good behavior, we'll be looking at a range of toys to suit any 4-year-old girl.
There is so much variety to toys these days that knowing what to get can be difficult. So, I've carefully chosen these toys to help ensure they provide both entertainment and education to any child. So, without further ado let's begin my countdown of the best gifts for 4-year-old girls.
8 Best Gifts for 4-Year-Old Girls
1. Electronic 37-Key Piano
Musical toys are one of my favorite choices when it comes to gifts for young children. And this Electronic 37-Key Piano is a great example of the educational value they can have while still being fun and entertaining.
Playing toy instruments will help young children develop an interest in sound and music and research has shown it can improve a child's memory and even help them recognize melodies. This toy piano comes with its own stool and bench and with just the push of a button can change its sound to 8 different musical instruments.
It also includes animal sounds and can be connected to an MP3 player for further personalization. The microphone isn't just for show either children can sing-along while they play! The colorful presentation and flashing LED lights add the perfect finishing touch.
Pros
Amazing educational value
Colorful and fun
Easy to assemble
Packed with extra features
Cons
Some features may be to complicated for young children
Is by design quite noisy
2. Kids Drum Set
I'm sticking with the musical theme with my next toy, this colorful Kids Drum Set. With 4 different play modes, and 15 built-in songs this drum set is a great way to improve your child's confidence while also giving them an entertaining toy.
This drum set features 3 drums, a symbol, and a microphone so your child will get the proper performance feeling while they play. It also comes with its own stool so they'll be comfortable while playing.
This drum set offers many great benefits. It will help improve hand-eye coordination and sensory engagement while being a fun gift for any 4-year-old girl. It's a large toy though so make sure you have room to properly accommodate it.
Pros
Colorful and fun
Comes with its own stool and child-friendly drum sticks.
Great education value
Cons
Will require enough space to play properly
Is by design quite a noisy toy
3. KidKraft Chelsea Doll Cottage
The KidKraft Chelsea Doll Cottage is a fun twist on a classic young girl's gift! With its large size and cute, colorful design any young girl will be sure to love having this doll cottage adorning her bedroom!
It features 3 levels, 5 rooms, and a balcony so there are plenty of places to explore, and the doors and windows open and close. Lots of furniture is included as well so any young girl will be sure to love decorating the house to their liking.
Professionally crafted from high-quality wood and with excellent detailed artwork this modern doll cottage has got it all. The cottage does require assembly though and doesn't come with any dolls included.
Pros
Sturdy high-quality wooden construction
Comes with plenty of furniture
Features beautiful and detailed artwork
Cons
Needs to be assembled
Doesn't include any dolls
4. Magnetic Tiles/Blocks
Both boys and girls alike love Lego but it's not really a suitable gift for 4-year-olds. The small size just makes it too risky but these Magnetic Building Blocks are the perfect, safer alternative for children.
These blocks are much bigger than Lego and use magnets to easily slot together. They are also made from non-toxic ABS plastic as well and are ideal if you're looking for a creative gift to give to your child.
With their colorful, vibrant colors, these blocks can make all kinds of shapes and structures. They are a toy that is both fun and educational. It really is down to the child when it comes to what they build making them a brilliant toy for increasing creative thinking skills in children.
Pros
103 blocks are included
Plenty of room for creativity
Made from non-toxic ABS Plastic
Cons
Will be messy if not properly stored away
5. Monobeach Princess Tent
When it comes to looking for the best gifts for 4-year-old girls a tent might seem a little unusual. But the Monobeach Princess Tent will be sure to make a great gift for any young girl because it offers so much room for versatility!
Children can use the tent outside to play in, use it for a sleepover indoors, turn into their personal den when playing, and much more. Any young girl will be sure to feel like a Princess when playing with this tent and it will provide hours of fun.
It's made from high-quality polyester taffeta which offers plenty of comfort and is both durable, and easy to clean. Whether you place it in your child's bedroom or front garden any young girl is sure to love this Princess tent and it has room to accommodate up to 3 young children as well. So, it's something your child can enjoy playing-in with friends and siblings.
Pros
Colorful, eye-catch design is perfect for young girls
Roomy, comfortable and easy to clean
Suitable for indoors and out
Cons
Requires enough space to setup
6. Fansteck Water Doodle Mat
Creative toys are great for young girls and one of our favorites is the Fansteck Water Doodle Mat! You simply fill the included magic pens with water and then draw on the mat to see your colorful creations come to life.
Drawing is something all children love and with this toy, children will be able to explore art in a whole new way. The mat is 40 by 40 inches and the drawing surface is 32 by 32 inches so there is plenty of room for young girls to draw.
The doodle mat also comes with a wide range of accessories including 3 magic pens, 4 stamps, 4 Templates, a wheel stamp, and a drawing booklet. Plus you also get 2 storage bags to keep everything safe and secure. A fun twist on your traditional pen and paper this gift will provide hours of entertainment.
Pros
Comes with plenty of accessories
The big size offers plenty of room for drawing
Very creative and educational
Cons
Requires enough space to set up
Pens do take some time to set up and get ready
7. GeoSafari Jr. Talking Microscope
STEM toys like the GeoSafari Jr. Talking Microscope are seeing a huge boom in popularity. These toys are designed to be more educational and are focused on one of (or multiple) STEM fields.
With the talking microscope, children can use the included slides to learn more about different animals and plants. There is even a fact and quiz mode so children can challenge themselves to answer questions about what they've learned.
The talking microscope features the voice of Bindi Irwin, Wildlife Warrior who helps children learn as they play! With 60 slides and over 100 questions, this scientific toy is excellent for at-home play and learning. It will help improve a child's knowledge of science and is ideal for parents who want a gift that is both fun and educational. 
Pros
Educational and fun
STEM-focused
Offers multiple modes of play
Cons
Requires 3 AAA batteries to use
May not excite every child right away
8. Cuddly Kitten Toy
Well, could any list of the best gifts for 4-year-old girls be complete without a cuddly toy? But this Cuddly Kitten Toy isn't just a simple stuffed animal. It comes with its own pet carrier purse which you can be decorated with numerous accessories.
You even have stickers included to get you started. The adorable kitten comes with its own accessories as well like wings and a unicorn horn. So, this gift is more versatile than you might first think and it's also a valuable educational tool.
You can use this toy to help children learn about caring for animals. At some stage, most children will likely want a pet and this cuddly toy is a valuable way to teach children about looking after animals. And it will be sure to delight any young girl at the same time.
Pros
Cute and fun
Comes with plenty of accessories
Can teach children about caring for animals
Cons
Small accessories could easily go missing
Things To Consider When Buying A Gift for 4 Year Old Girls
I think any of these toys would make a great gift for a 4-year-old girl but I know just how hard it can be has a parent to find the right gift. So, to further help I've put my own list together that looks at all the important things you need to consider before you buy something.
What Are Your Child's Interests?
This is one of the most difficult parts to get right when it comes to buying a gift. While you might find a great STEM-themed toy you need to ask yourself whether it's something your child will want to play with.
Toys can be a great way to introduce children to things like music and art. But if they have never shown interest in these subjects before there is an equally good chance they won't actually like the gift you get them.
So, to be safe especially when it comes to birthdays or Christmas presents try to find a toy you know they'll likely enjoy. For example, if your child likes animals the Cuddly Kitten Toy could make a great gift.
What's Your Budget?
Being a parent can be expensive and toys can certainly be pricey. So, before setting out to buy a gift make sure you have a budget in mind. It might take a bit more searching but you can certainly find plenty of suitable gifts for a 4-year-old girl on a smaller budget.
Do You Have Enough Room?
Some of the gifts on my list like the Monobeach Princess Tent while still being great for a 4-year-old girl will require plenty of space to set up and use. This is a much more common problem than you might first think as plenty of gifts can be quite big.
So, make sure before you buy anything that your child will have the room for it. This isn't just about the size either, some gifts might require a power source so you'll need enough room near a plug socket to give you just one example.
Health and Safety Considerations
Finally, to finish off our look into the best gifts for 4-year-old girls it is essential that any parent looks at the health and safety considerations before buying anything. All the gifts on my list have the age 4 and up recommendation from their manufacturers.
But you also need to consider any allergies especially to materials like plastic. And even if they have been given a 4 and up age rating, some gifts will likely require adult supervision to ensure children are playing with them safely.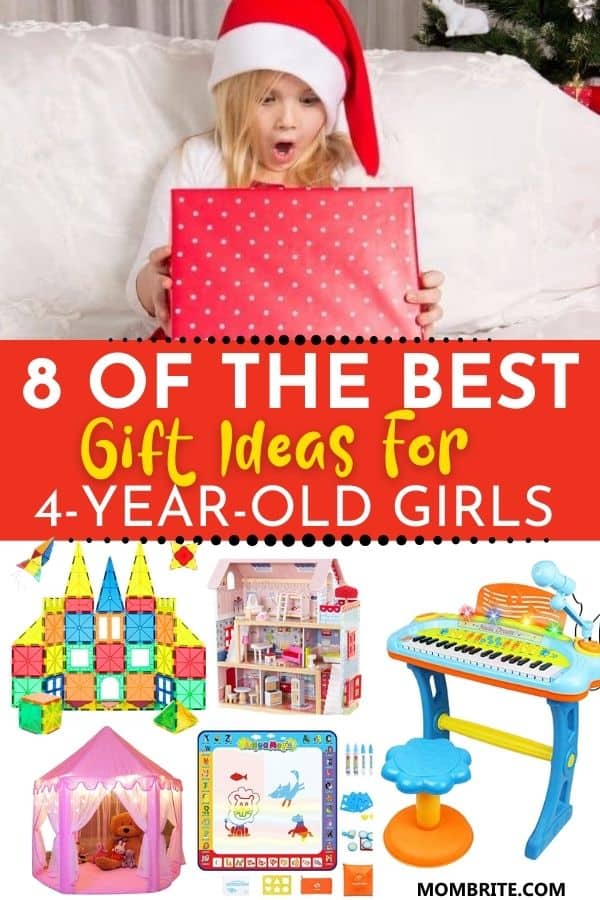 MORE POSTS: