COVID-19 has shut down the world for months. Nothing tests the bond of family quite like a quarantine, e-learning, and weight gain brought on by tubs of queso. It is understandable that people are eager to get out and travel. A change of scenery goes a long way.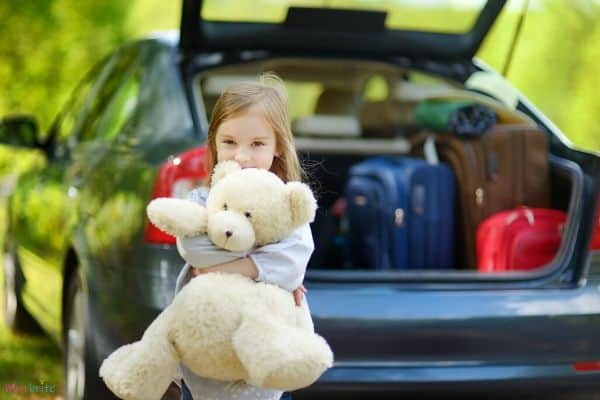 However, due to the pandemic, there are essential items you will want to add to your packing list that you might not have thought of before. Times are different now, and we must bring whatever is necessary to keep our loved ones safe.
If you feel ready to travel, there are five things you should be sure to pack to minimize your risk of COVID-19.
Travel Essentials for Traveling During COVID-19
1. Face Coverings
The CDC recommends face coverings for people ages two and up. They should not be worn by people who have trouble breathing or those unable to remove a face covering without assistance.
Depending on where you go, face coverings may not be optional. Some states mandate that people wear them in public. There are also plenty of establishments that require masks even if the government doesn't.
Pro tip: Bring more than one. I say this with the experience of not having had the good sense to do so. My sons got into a spirited brawl debate about who had to wear the face covering with Oreo on it (because why would we wipe our faces before we put on the masks?).
Oreos aside, face coverings get sweaty, smelly, and generally disgusting with prolonged use. Do yourself a favor and pack some fresh ones if you are not able to wash them during your trip.
Where to Bring Face Coverings: Everywhere
2. Disinfecting Wipes
Disinfecting wipes can be used to wipe down just about anything you want. This includes every inch of your airplane seat, hotel room, table at a restaurant, and any surface you will encounter on public transportation. If you are wiping down surfaces in your home, you should continue to do so during your travel.
Where to Bring Disinfecting Wipes: Anywhere you will touch things (so everywhere) such as hotels, airplanes, restaurants, and public transportation
3. Hand Sanitizer
It is important to note the CDC prefers handwashing to hand sanitizer. If you do not have access to a sink, hand sanitizer is your next best option. Sinks are not always readily available while you travel, so throw some hand sanitizer in your bag.
Where to Bring Hand Sanitizer: Anywhere you will not have access to a sink, like the beach or on a hike
4. Prepackaged Food
You may not yet be comfortable dining in a restaurant or allowing others to handle your food. You also may be traveling to an area where restaurants are closed or operating at a limited capacity. Finally, you may not want to bother with restaurants if you won't enjoy the restaurant experience with a face covering.
Prepackaged snacks and other food items can help you avoid public places. They also have the added bonus of being a huge money saver.
If you are feeding several people, even if they are people you know, consider food that is individually wrapped rather than family style to minimize contact. You don't all need to stick your hands into that big bag of chips, do you?
Where to Bring Prepackaged Food: Anywhere you may want to eat, including airplanes, hotels, and road trips
5. Bottled Water and/or Sports Bottles
You cannot count on access to clean water while traveling in general. That is doubly true during COVID-19. Plan on water fountains being turned off. Even if the fountain is on, you have no way to know what kid licked it ten seconds before you arrived. Said child has likely been wearing a smelly mask covered in Oreos all day. You get the idea. Bring water.
Consider a sports bottle to refill when you do locate water that is safe to drink.
Where to Bring Bottled Water and/or Sports Bottles: Anywhere you may want a drink, including road trips, hotels, and public transportation. Keep in mind you cannot bring a full water bottle through security at the airport, so you will need to purchase water once in the terminal.
Best Practices While Traveling
When you decide you are ready to travel, you should use good hygiene to keep yourself safe. Best practices include:
Frequent hand washing: Wash your hands for at least 20 seconds with soap and water. Washing hands is especially important after using the washroom, coughing, sneezing, and before eating. It is a good idea to wash your hands after you leave a public place and after touching any face covering.
Avoid touching your face with unwashed hands: Touching your face may seem almost involuntary as you don't realize you are doing it until it is too late. Face coverings will help protect you from yourself.
Do not share food and drinks: This may seem obvious, but it is easier said than done when children are around. Try not to share with anyone, but you should definitely not share beverages with people with whom you do not live.
Stay 6 feet apart: Maintain a social distance of 6 feet from people with whom you do not live whenever possible. This will be much easier to accomplish on a hike than it will while in line for Splash Mountain. You need to do what works for you and your level of comfort. Face coverings are always important, but they are particularly important when you cannot maintain this distance. If you decide to visit a crowded location, be sure to wear them.
Stay home if you do not feel well: If you do not feel well, stay home. It is not worth the risk to yourself or others.
Final Thoughts
Travel during COVID-19 may be intimidating, but it can be done. If you feel ready, take every precaution possible. Maintain social distance, wear a facial covering, wipe the Oreos off your kids' faces, and do what feels right to you.
If you don't feel ready to travel, that's OK too. Take a year off, find some fun things to do at home, and make memories. You'll be out there again before you know it.
** As of the time of this writing, you can go to most places. National parks are open for hiking, restaurants can serve you indoors, and hotels are operating at reduced capacity. You can even go to Disney World and Universal Studios. Of course, Florida is currently experiencing a surge in COVID-19 cases. Numbers are coming in as high as 10,000 new cases per day on some days, so you will need to determine your tolerance for risk before you head south.
This is a guest post by Adriane, the blogger behind Put on Your Party Pants and Keep Them on Until 8pm. She writes about planning and saving on family travel, as well as gluten-free options at each location. Her goal is to help others maximize their experiences while spending as little as possible.
For more tips on traveling with kids, check out: