Are you looking for a fun color matching activity for your toddler? Check out this adorable Snail and Mushroom Color Matching Activity. It is free to download, easy to set up, and great for toddlers to work on their color recognition.
Snails and mushrooms are common things that you can spot after showers during the months of April and May. So this activity is perfect to include in your list of things to do with your toddler in the springtime.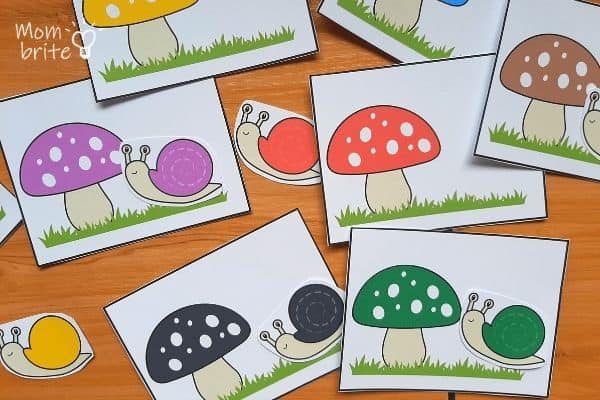 Color matching is one of the very first educational activities that you can introduce to your toddler. Young kids love learning about the different colors in the world all around them. Use this printable to teach your toddler eight colors and keep them busy indoors on a rainy day.
This printable has eight cards, but you can also use fewer cards if you feel it's advanced for your child. This way, toddlers can enjoy it without feeling overwhelmed. Once they master a few cards, you can make it more challenging by adding more cards.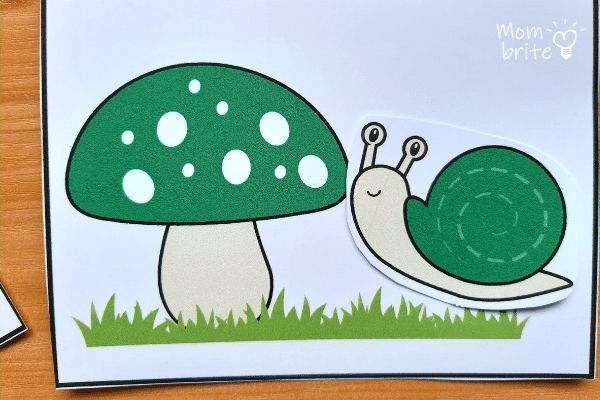 Skills Associated with a Color Matching Activity
Color recognition
Toddlers see the different colors, identify them, and learn the names of the colors.
Fine motor skills
Picking up small pieces with thumb and index finger improves pincer grasp, which is important for handwriting later on.
Independency
This activity helps toddlers play on their own with little guidance from adults. It also improves focus and concentration.
Cognitive skills
Toddlers need to think, compare, and match the pieces to complete the coloring matching activity, which is great for cognitive skill development.
Language development
This activity encourages toddlers to talk and ask questions about colors, snails, and mushrooms.
How to Set Up This Color Matching Activity
Download the printable
Print them on cardstock using high-quality printer settings.
Cut all the cards along the edges.
Cut out the matching pieces (the snails) along the dotted lines.
Arrange them randomly on a table and encourage your toddler to match the snails to the same color mushrooms. This is an excellent hands-on activity to learn colors and kids will have fun matching them up.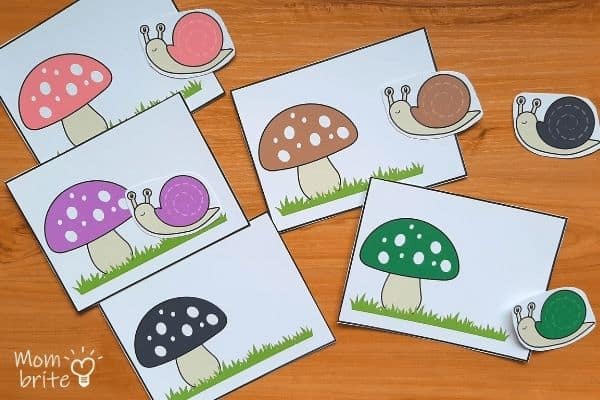 If you want the cards to be durable, I recommend laminating the cards and matching pieces after cutting them. You can also add self-adhesive velcro dots on the mushroom cards and on the backside of the matching pieces. Kids love to secure the matching pieces with velcro and then separating them.
How to Store the Color Matching Cards
The most common way to store these cards is in a pencil pouch or bag like the one in the picture below, which you can easily take along in your handbag or add to a file binder.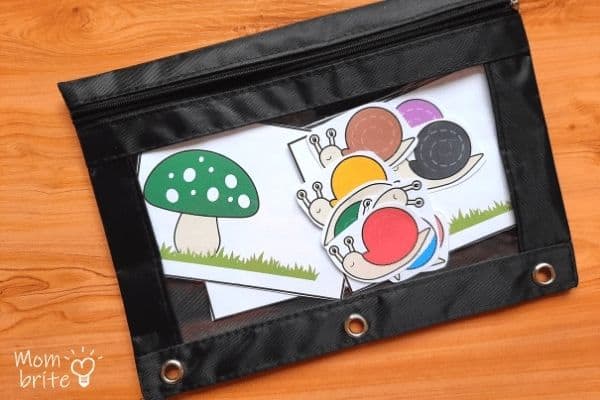 You can use this color matching printable as part of a busy bag. A busy bag is nothing but a sealable bag containing small things that can keep your child entertained during travel or at the doctor's office.
If you are looking for an eco-friendly way to store these cards, I recommend keeping them in letter envelopes as we do. The printable also has a label, which you can add to the envelope. This label will help you to find the activity without opening the pouch.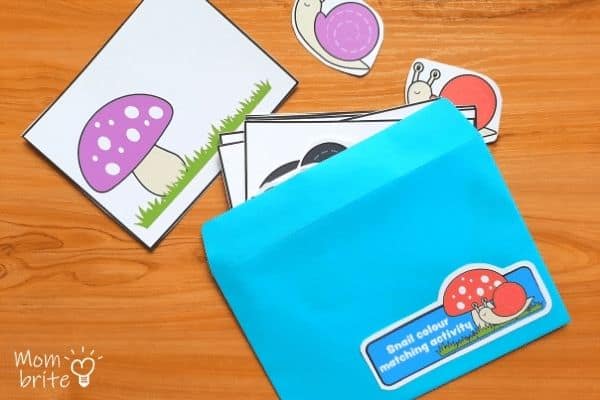 How to Download this Snail Color Matching Activity Printable
To grab your free color matching printable, fill out the form below. The printable will be sent right to your inbox.
This is a guest post by Madhumitha. Madhumitha is a former architect, craft enthusiast, and mom to a curious preschooler. She loves to create fun educational printables and DIY toys for little kids to play, learn, and have fun. You can find these ideas and resources at Littleladoo.com.
---
Related Posts: