These Easter coupons for kids make excellent Easter egg fillers. They are great candy alternatives and kids will love exchanging the coupons for the various rewards.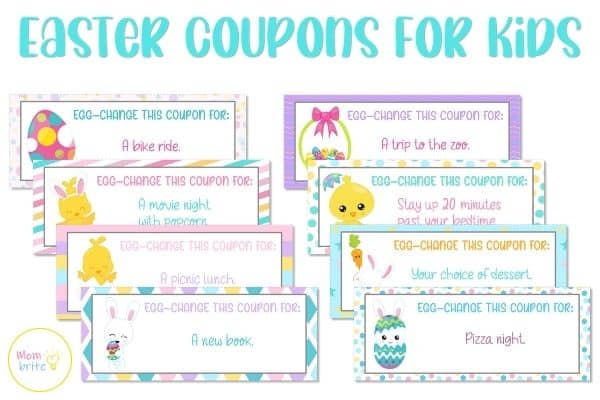 Easter is coming up, and you may be searching for fun items and treats to put inside the Easter eggs. After all, finding hidden eggs during the Easter egg hunt is the best part of the holiday for the kids!
Instead of putting sugary candies in the Easter eggs and end up with hyper kids bouncing off the walls all night, I decided to go with a more practical option. These free printable Easter coupons for kids are an inexpensive and fun way to celebrate the holiday and the kids will love having the freedom to redeem the coupons whenever they choose.
Read on to learn what's included in this Easter printable, and make sure you scroll to the end of the post to fill out the form for your free download.
Free Printable Easter Egg Coupons
These Easter egg coupons make wonderful Easter egg fillers because they reward kids with time and attention from mommy and daddy and promote family bonding. Use this opportunity and make coupons like "pizza night" or "a trip to the park" super fun for the whole family.
There are a couple of coupons that allow your kids to purchase a book or a board game. Even though these are material items, they are educational and not cheap toys that you know will end up at the corner of the room, collecting dust.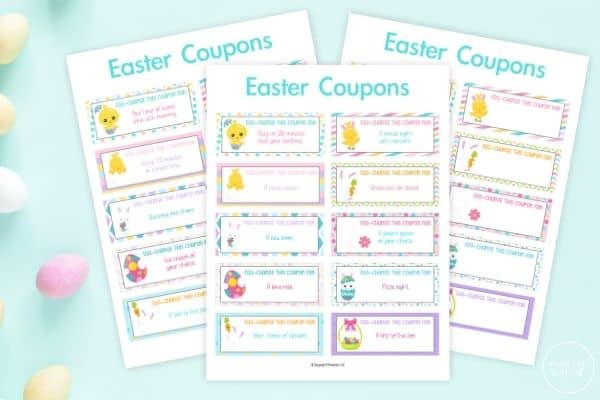 You may have noticed that there are a few coupons that allow your kids to get sweet treats. I suggest including at least a couple of these food-related coupons in the Easter eggs because kids do expect some kind of candy when they pop one open. However, in coupon form, at least your kids are not holding a bag of sugary food in their hands with the temptation to eat them all in one sitting.
These Easter coupons also empower your kids to make their own choices. They get to decide when to redeem the coupons, as well as specific rewards for certain coupons. For example, one coupon is for "skipping one chore." Now your kids will need to figure out what chore they really don't like and when they can make mommy and daddy do the chore for them!
I included 20 coupons pre-filled with fun ideas, such as "extra 15 minutes of screen time," "a trip to the zoo," and "stay up 20 minutes past your bedtime."
Blank Easter Coupons
Different families have different values, and I respect that. I filled in the coupons with what is okay for my family, but I understand that not all families allow sugar, screen-time, etc.
Therefore, I created 10 blank coupons for you so you can fill in your own ideas. They have the same adorable Easter-themed design, but you have space to write in what rewards you would like your kids to receive.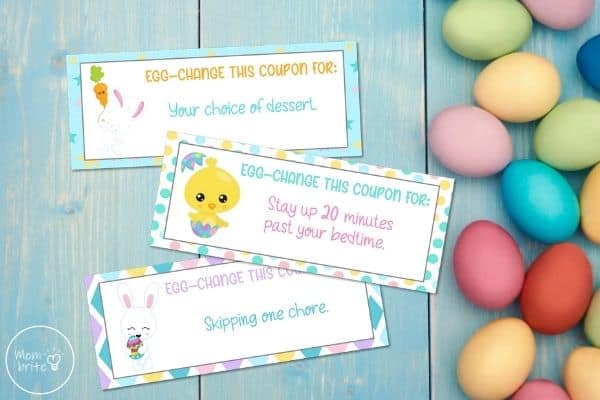 I hope you and your kids enjoy these Easter coupons. You can use them for kids of all ages, from toddlers to even adults. The rewards on the coupons will change according to age. The pre-filled ideas in the free printable are more geared toward preschoolers, kindergarteners, and elementary school kids.
---
Related Products: