This post may contain affiliate links. That means if you click and buy, I may receive a small commission (at zero cost to you). Please see my full disclosure policy for details.
Are your kids obsessed with slime? We have an easy Christmas tree slime recipe for your kids to make at home this holiday season. The best part is that your kids can "decorate" the Christmas slime with their own embellishments.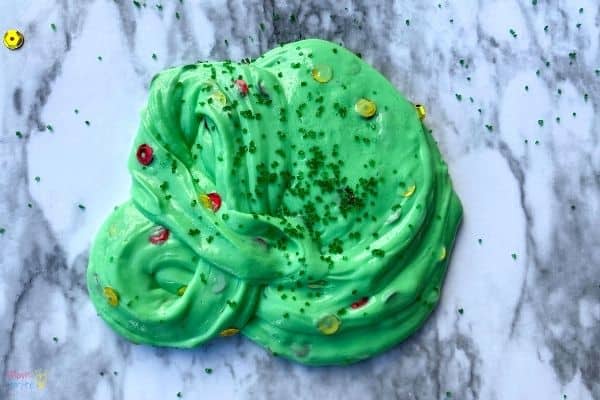 Are your kids obsessed with slime like mine? Every time we go to the store, "can we get glue?"
It doesn't bother me at all, though. Slime has developmental benefits for children of all ages. Not only is it a fantastic fine motor activity, but slime also encourages kids to enjoy STEM! Plus, how fun is this Christmas Tree slime for the holiday season? This is a fabulous activity for winter break, a class party, or Christmas Eve!
Christmas Tree Slime Recipe
Materials:
White glue
Baking soda
Contact solution (must contain boric acid and sodium borate)
Green paint (or food coloring)
Optional: green sugar sprinkles
Spoon or knife (of course not for younger kids!)
Bowl
Instructions:
1. Start by pouring a single bottle of glue into a bowl.
2. Pour in a squirt of green paint. We don't measure, but it equals about 1 teaspoon.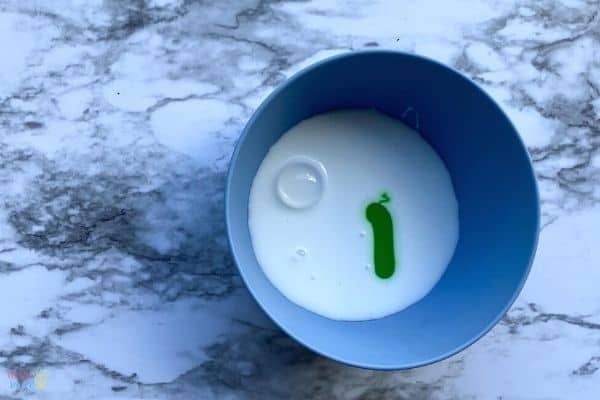 3. Mix in well.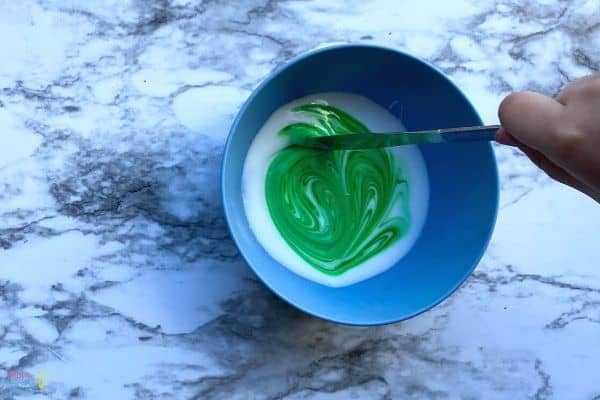 4. Add in sequins. Stir.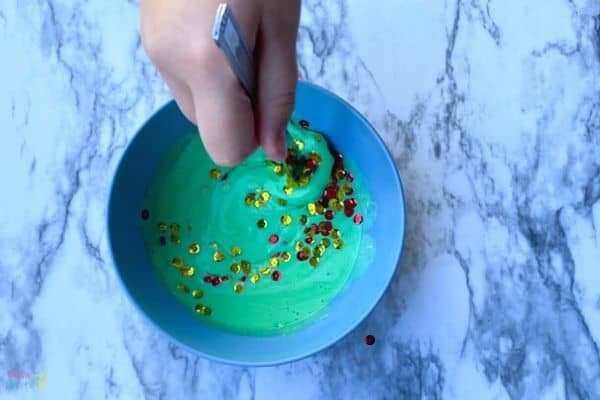 5. Add in about 1 teaspoon of baking soda and contact solution. The amount may vary, read on for more tips on getting the consistency right.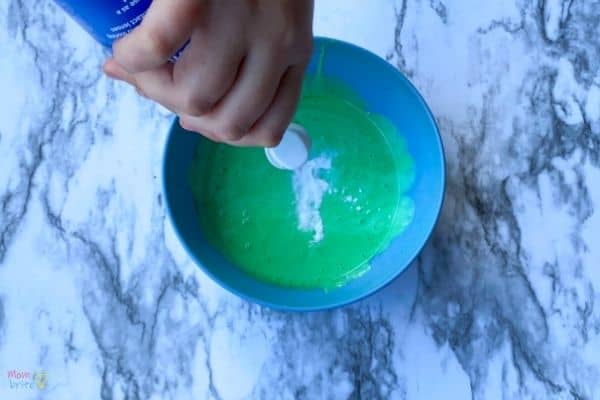 6. Mix together. It should start combining together into a slime ball.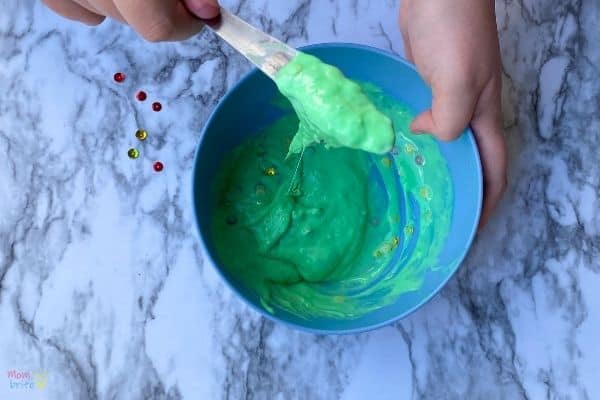 7. At this point, you can take it out of the bowl and mix with your hands. Stretch, squish, and even knead. It reminds me of making bread. If you want to add a little more sparkle, we added sugar sprinkles.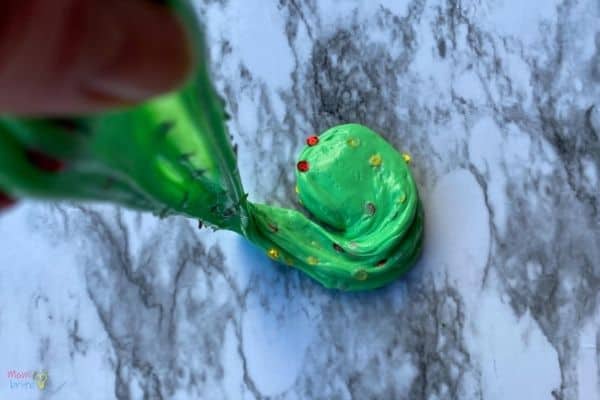 If the consistency is wrong, try the following tips:
If the slime is not thick enough, add more baking soda. **
If it is not stretchy enough, add more contact solution. **
** Only super small amounts at a time, though. Slime can go from good to bad very quickly.
Alternative Ideas for Christmas Tree Slime:
Bring out the cookie cutters and have kids play with the slime inside and outside the cookie cutter. It will ooze out and that will be so much fun!
When you add in the green paint, add in green glitter too.
Instead of sequins, use red and yellow Perler beads. This will make the texture of the slime even more chunky!
Shape the slime into the shape of a Christmas tree. Can you do it before it "melts" back into a blob?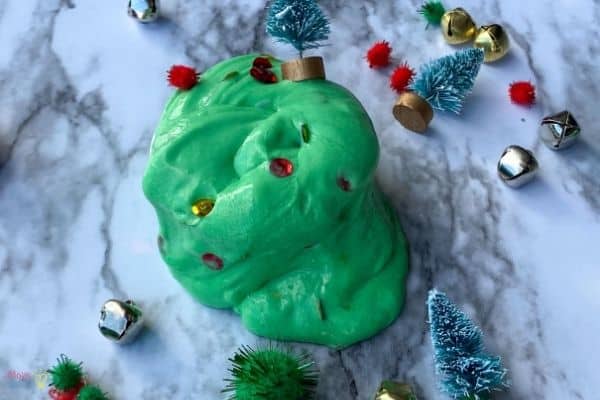 Slime Storage
One thing I have learned with my daughter's slightly obsessive slime making is that it must be stored correctly. If not it dries out and it is ruined. There is no coming back from dried-out or even slightly dried-out slime.
Our best luck happens from putting it in airtight containers. Storing slime in airtight containers is a sure-fire way to have slime stay good for play over and over.
Slime is fun to play with, but it also makes a great gift! Think of gifts that your kids can give to their friends. It is a simple DIY gift, it is fairly inexpensive, and your kids could essentially make it for their whole class. How fun would that be?

Slime is something that kids of all ages could have fun making, but please be aware that while the ingredients are not dangerous, eating this slime is not recommended!
---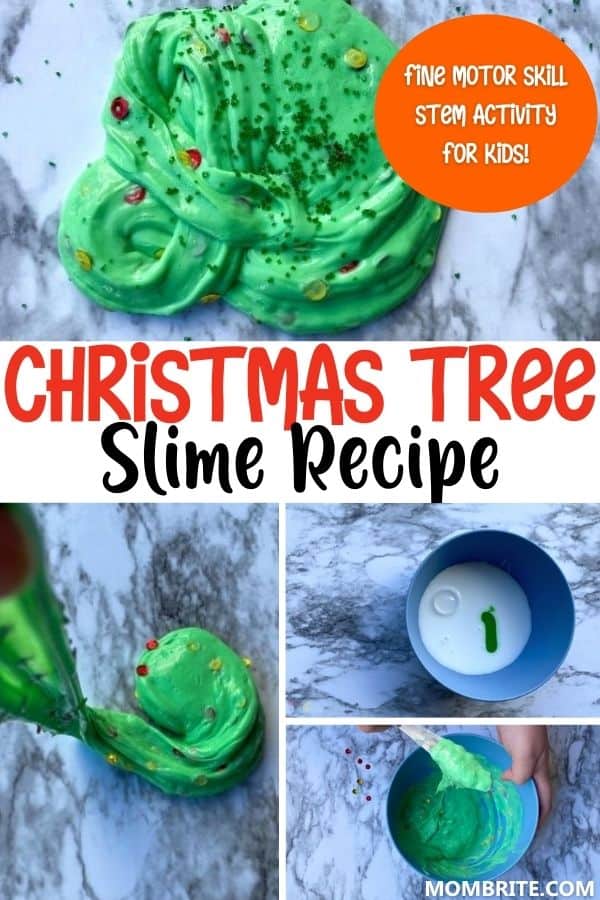 ---
Related Posts: