This printable letter to Santa doubles as a coloring page for kids to decorate. This is a fun, interactive way for your kids to write a letter to Santa Claus this Christmas!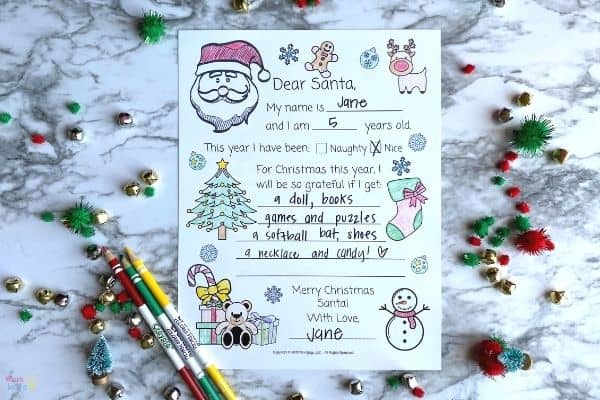 Everyone loves writing letters to Santa, right? It's a quintessential December activity that kids love to do! Plus Santa loves to receive handwritten letters from kids, all around the world. This Printable Santa Letter makes it easier on your part as a parent or teacher.
The Christmas printable has space for kids to write and color. This is perfect for preschoolers and kindergarteners because it does not require the child to write full sentences, which most children in pre-k and kindergarten have not learned yet.
With the fill-in-the-blank options, though, children will feel as though they are writing the letter to Santa all on their own. They will feel capable and confident, without requiring more than they can handle.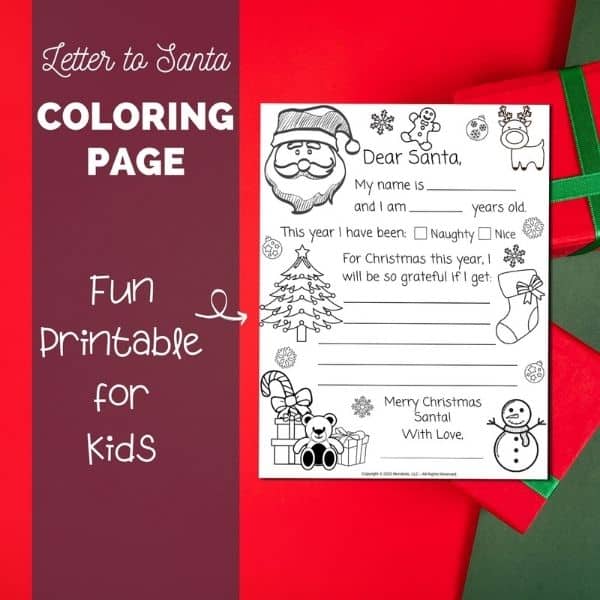 The fill-in-the-blank spaces ask the child to write their name and how old they are. There is a check box for them to choose whether they've been naughty or nice, which we all know is one of the most important questions at Christmas time! There is also space for them to write what they would like for Christmas, a wish list if you will.
This Printable Santa Letter doubles as a fun coloring page, too. Kids who love to color will enjoy customizing this letter. They can make it extra special for Santa by adding their own interpretation through the colors they choose!
An added benefit is that this is the perfect time to teach children how to address an envelope. There are several places that will accept letters to Santa and some even respond back. Addressing an envelope is an important skill that children need to learn, what better way than when writing to Santa!
One of the places that you can send a letter to is Santa Claus, IN. Yes, this is a real city. Not only can you send letters here, but if received in time, they will even respond! You can find more information here.
Writing letters to Santa is more than just fun. It is a way to help children learn to communicate through letters, address an envelope, practice handwriting, and more! Kids will love this printable and so will you.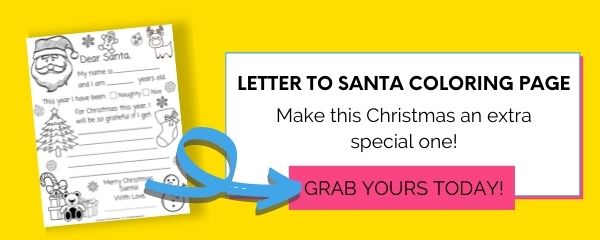 ---
For more Christmas activities, check out: