Grab these free printable Christmas coloring pages for kids and keep your children busy and entertained during the holidays.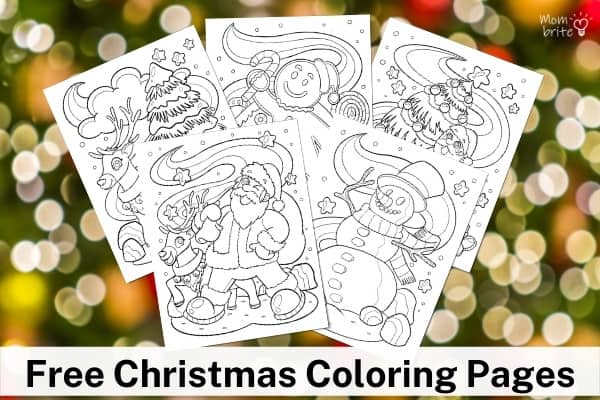 We're in the midst of December and that means one thing – Christmas is just around the corner!
It's time to start planning what you'll get your kids, where you'll go for vacation, and how much food to buy. But before you do all those things, make sure to plan out a little fun for the family too!
Here are some free printable Christmas coloring pages that your kids will love to color. They come in 5 adorable different designs with a variety of themes. Best of all, they are free to download and print at home!
Christmas Coloring Pages for Kids
Below are some free printable Christmas coloring pages that will entertain your kids while you finish up last-minute shopping.
These coloring pages feature different holiday coloring sheets such as a gingerbread coloring page, a snowman coloring page, a Santa Claus coloring page, and a Christmas reindeer coloring page.
There are also fun characters like Santa Claus with his reindeer, Frosty the Snowman, and gingerbread man!
Santa Claus and His Reindeer Coloring Sheet
This coloring page features Santa Claus with his bag of toys and treats for children with his reindeer, Rudolph.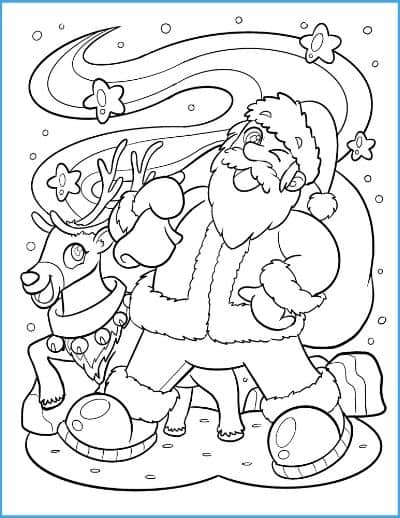 Christmas Tree Coloring Page
Let your kids decorate their own Christmas tree with ornaments, tinsel, and garland. The cute reindeer is looking on as the kids color.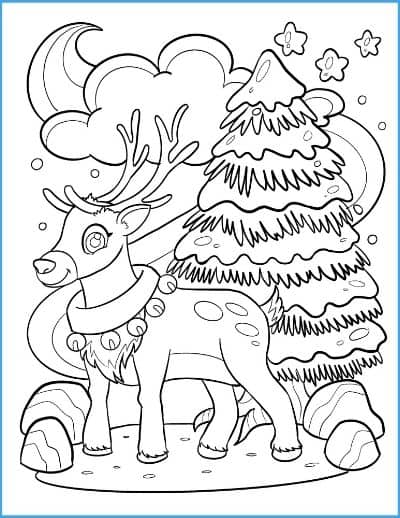 Snowman with Snowflakes Coloring Page
Have fun coloring this snowman in the first blanket of snow. His big smile shows that he's happy it's winter!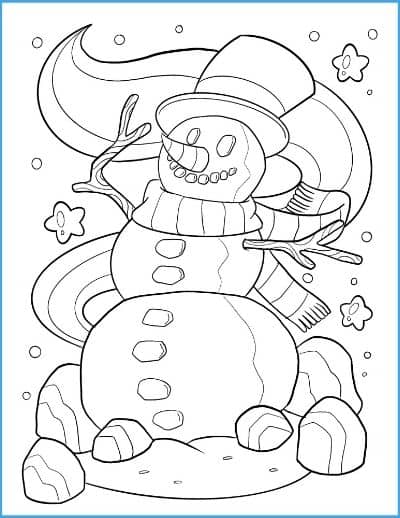 Santa Claus and Christmas Tree Coloring Page
Kids can have a great time coloring wrapped gifts for Santa Claus. They will enjoy coloring this picture because there are so many presents and lots of details that let them be creative!
If you are looking for more Santa coloring pages, make sure you check them out here.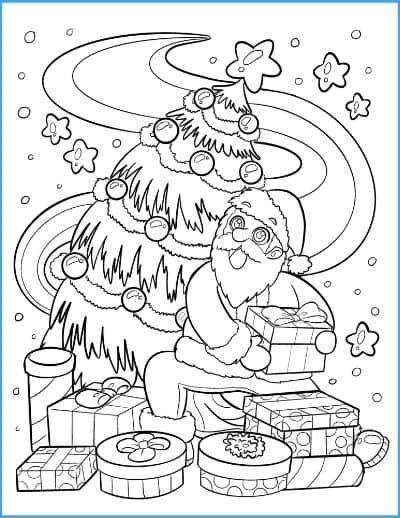 Gingerbread Man and His Gingerbread House Coloring Page
If your child enjoys gingerbread houses, they are sure to enjoy decorating this Christmas house and this gingerbread man who's holding his favorite Christmas treat, a candy cane! They can even add some fun colors to their candy pieces to make the home special.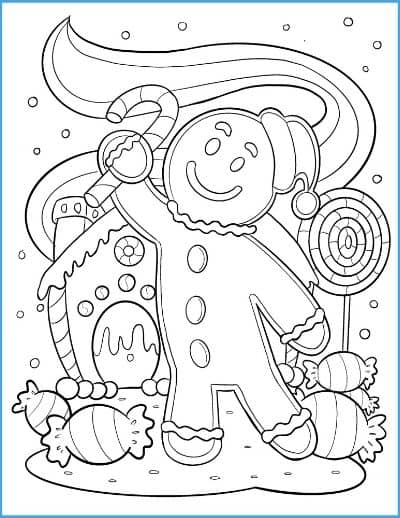 How to Use These Christmas Coloring Pages
Color & Gift to Family and Friends
Encourage your kids to add a personal note to show loved ones how much they care, then slide it into your holiday cards.
This is a great way to talk about each person who gets a special art project and how much they mean to your family. It also gives mom time to fill out cards and helps the kids feel involved.
Christmas Day Activity
Print multiple copies of each page and use them as placemats for your Christmas dinner table. Add a cute Christmas cup with a fresh box of crayons for a Christmas activity the kids will love doing together!
Make a Christmas Art Wall
After your child creates their holiday masterpiece, frame them to enjoy each year. As your child grows up it's a special reminder of when they were little. Have them color a new page each year to show their art skills at different ages.
Refrigerator Art Display
Use plexiglass frames with magnets on the back to hang your child's Christmas coloring pages on your refrigerator as holiday décor and a way to let them show off to Christmas visitors.
More Ways to Use Christmas Coloring Pages
Classroom activities for teachers for transition periods
Coloring activity while a parent reads a book out loud
Entertainment while dinner is cooking
With these adorable Christmas coloring pages, it's easy to cook up some fun this holiday season. Merry Christmas from Mombrite!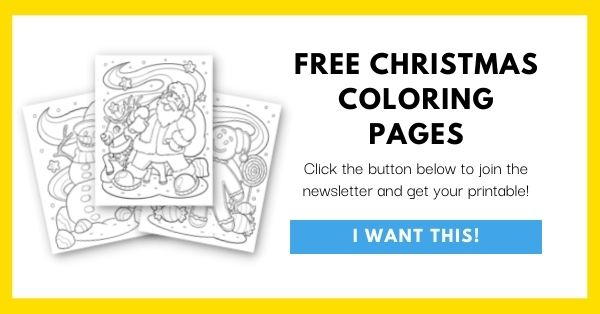 ---
YOU MAY LIKE: