Are you looking for a science kit that will keep your kids entertained and engaged? If so, you should check out MEL Science.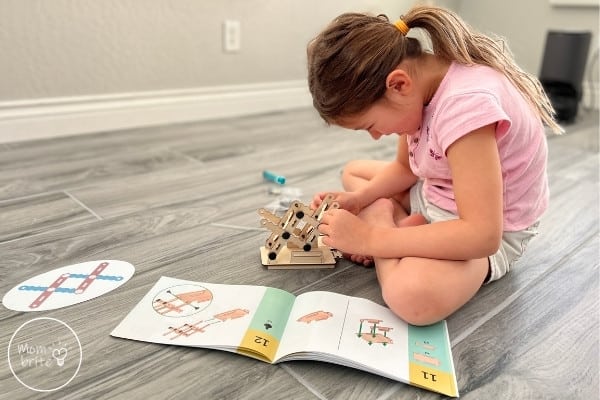 As a homeschool mom who leads a local homeschool community, one of the most discussed concerns amongst homeschool parents is the science curriculum. Many parents are worried that they don't have enough background to educate their kids on important science concepts.
That's where MEL Science comes in to save the day! Their kits are filled with fun experiments that are perfect for kids of all ages. All sets include simple instructions and learning materials that you can easily incorporate into your homeschool curriculum.
We tested out both the STEM kit and the physics kit and I was really impressed with the quality of their products. My kids had a blast with the hands-on experiments!
Keep reading to learn more about MEL Science and why it's such a great choice for homeschooling parents.
This post is sponsored by MEL Science. All opinions are my own.
What is MEL Science?
MEL Science is a line of educational science kits for kids. MEL Science includes MEL STEM, MEL Physics, MEL Chemistry, and MEL Med.
MEL Science offers monthly subscription boxes that are an excellent alternative to school labs for homeschoolers. Each kit comes with hands-on experiments, immersive AR & VR lessons, and access to live webinars hosted by professional teachers.
How Does MEL Science Work?
After you sign up, you will receive a science kit containing up to three experiments delivered to your doorstep each month.
You can either pay monthly starting at $34.90/month, or annually at $29.90/month.
You can check out the different pricing options here.
MEL Science Subscriptions
The experiments that come in each of the MEL science kits are designed for your child to do on his or her own, so it's important to select the age-appropriate subscription.
MEL STEM
MEL STEM is suited for children ages 5-9+.
Each set contains all the components your child will need for the experiments. Most sets include wood models that your child will need to construct.
The kit also comes with a very detailed, visual step-by-step instruction manual so that your child can set up and build the experiments with minimal help.
What sets the MEL STEM kits apart from competitor STEM subscription kits like KiwiCo is that MEL Science takes learning to another level with its educational mobile app. The app has AR lessons with augmented reality that explains the experiment in more depth.
MEL STEM experiments include:
Space rocket
Liquid sand
Microscope
Electric boat
Earthquakes
MEL STEM Box Review
We received the hydraulic lift MEL STEM kit and my kids had so much fun building the lift!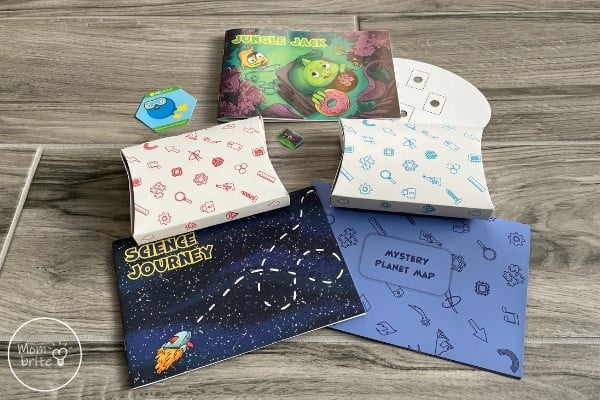 The kit included the Science Journey comic book that depicted the story behind all the science projects. I love how my second grader was able to read the comic book to my kindergartener to practice his language arts skills. The illustrations were adorable and my kids were so excited to help the dinosaur characters out with their mission!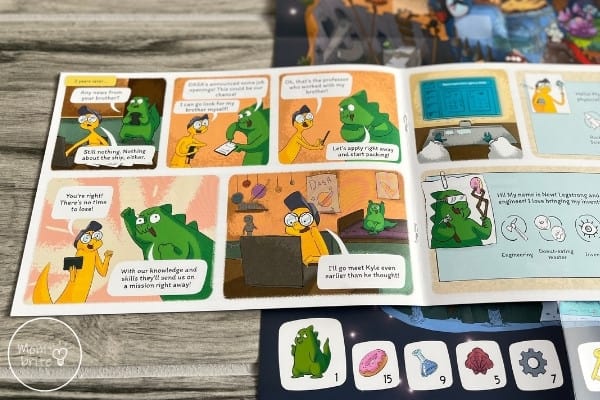 The MEL STEM box also came with a mystery planet map. The map keeps track of which creatures you helped out and which planets you visited. My daughter loves stickers and she was ecstatic that she gets a new sticker with every box.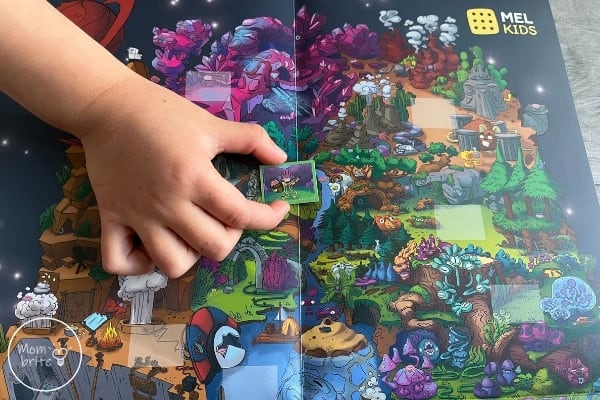 My children had no problem following the instruction manual to construct the hydraulic lift. Not only were the drawings extremely detailed, but the instructions also went over every little step.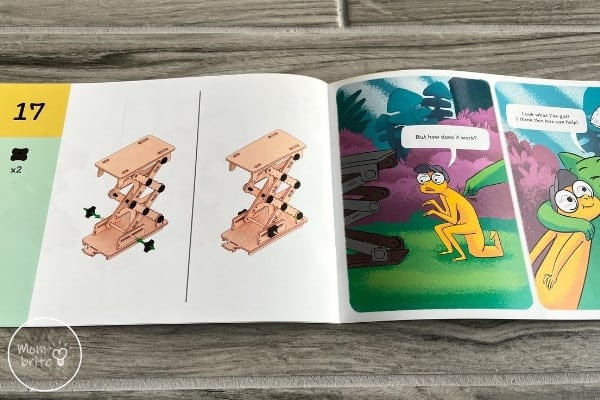 Even my 5-year-old kindergartener could assemble the base, scissor legs, and cylinder of the hydraulic lift just by looking at the instructions.
I only helped them out at the end when they had to fill the syringes with water, but that was probably just me being paranoid that they would spill water everywhere. My 7-year-old was amazed that we could power the hydraulic lift simply by pushing water molecules with a syringe!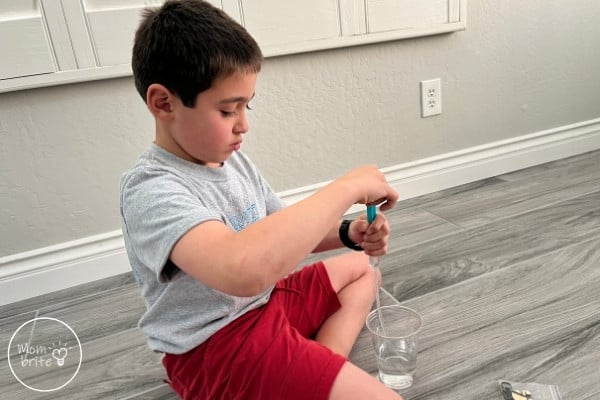 Overall, I was very impressed with the quality of the wooden pieces as well as the syringes and other components. My children were not exactly gentle when they played with the hydraulic lift, but everything held up well.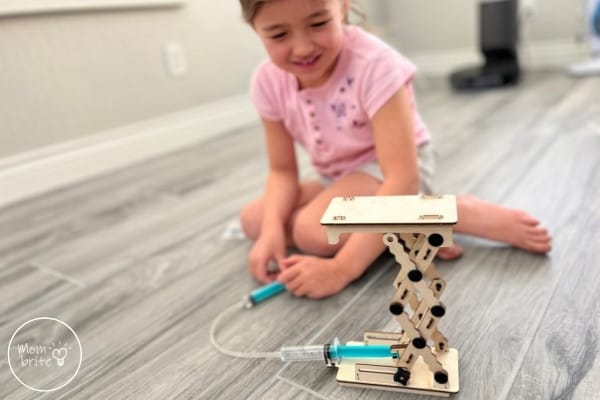 We also explored the AR lesson with the MEL Science app. With augmented reality, we were able to see what would happen if we double the number of scissor legs. The dinosaur character from the comic book explained in-depth additional details about the hydraulic lift and how did the syringe and water powered the lift.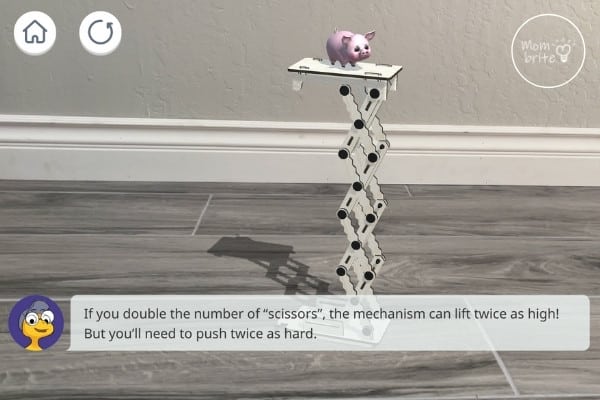 And the kids simply loved the cute little pig riding on top of the lift!
Click here to grab your first MEL Science kit and join the fun!
MEL Physics
MEL Physics is suited for children ages 8-14+.
The MEL Physics course is perfect for kids who are showing interest in science and want to learn more about how things work. 
MEL Physics experiments include:
Non-newtonian liquids
Hydrophobicity
Alternative energy
Steam engine
MEL Physics Box Review
The box we received for the MEL Physics course was the polarized light kit.
Teaching young kids about polarized lights at home is not easy to do. And that's one thing we like about MEL Science right away – the science projects are not simple DIY experiments with common household materials. The kits come with everything your kid needs to conduct the experiment, including specialized tools.
The MEL Physics box came with 3 experiments. The first science experiment was designed to show the kids the basic concept of polarization. Then the other two experiments build on top of that to demonstrate how polarizers are used in sunglasses, 3D movies, and photography.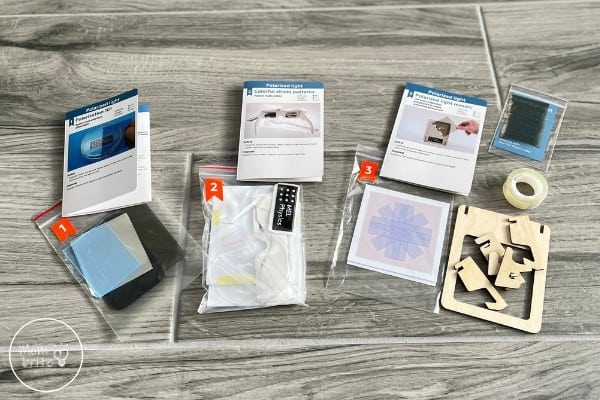 I really love the explanation that came with each experiment. The illustrations were also great in showing the kids how the photons travel through the polarizing filters.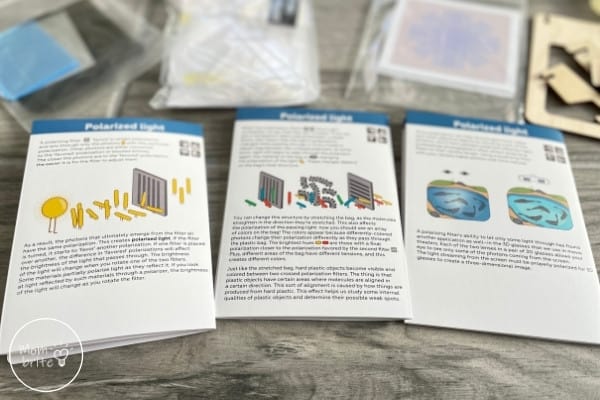 The color stress patterns experiment was easy to set up with the materials provided. Though simple, the wooden frame provided that held up the polarizing filter made all the difference when it came to showing my kids the optical properties of solid plastic objects.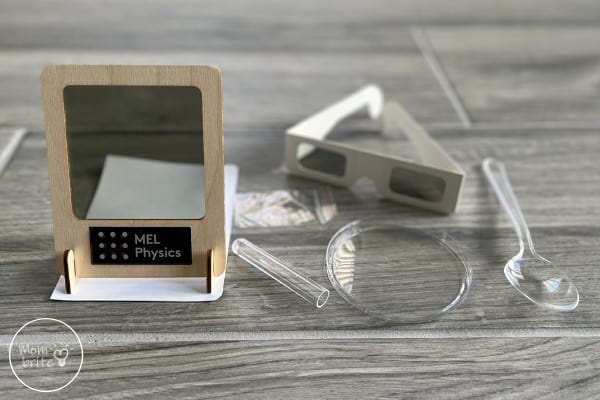 My son had a lot of fun putting on the polarized glasses and looking at the different objects in the kit. Without the MEL Physics subscription, it would have been very difficult to show my children how polarized lights work.
Look at the amazing colors when you look at a petri dish through the polarized glasses!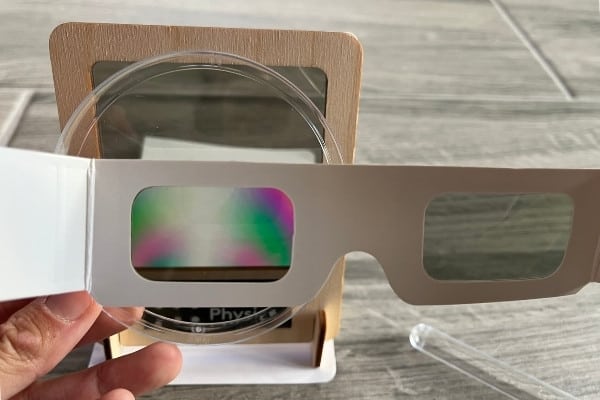 MEL Chemistry
MEL Chemistry is suited for children ages 10-16+.   
The first shipment you will receive for the MEL Chemistry experiment contains three boxes: a starter kit, a VR headset, and a science kit.
The starter kit contains equipment only, including beakers, flasks, rubber stoppers, funnels, safety glasses, and other essentials you will need throughout the whole subscription cycle.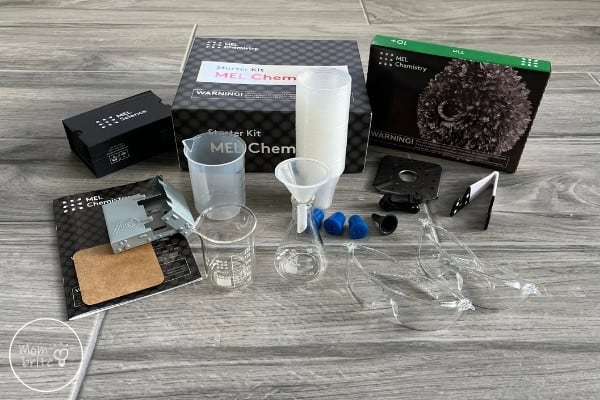 I was impressed with the high-quality products that came in the starter set. Even though my kids are too young for the MEL Chemistry subscription, I am excited to use the safety glasses, beakers, and the Smartphone clip-on macro lens for DIY experiments we do at home.
MEL Chemistry experiments include:
Transform zinc pellet into a prickly hedgehog
Grow a black snake out of sugar
Grow a metal tree out of copper(II) sulfate and zinc wire
Ignite hydrogen soap bubbles
MEL Med
MEL Med is suited for children 14 and older. 
The professional medical tools in the set will allow you to learn practical tasks such as simple surgical procedures, emergency measures for choking, and venipuncture.
The Med course also comes with new pre-recorded video interviews every month so that you can review their medical history, check lab results, and diagnose the patient like a real medical professional. You will also be able to receive feedback and understand any mistakes you may have made.
MEL Med science projects include:
Master different types of surgical techniques using a real scalpel and needles
Make a dental cast of your jaw and treat cavities using a dental drill
Decode your own electrocardiogram
Learn how to use a stethoscope and check blood pressure
MEL Science FAQs
What Age is MEL Science for?
MEL Science kits are for children 5 and up depending on the line.
MEL STEM: 5-9+
MEL Physics: 8-14+
MEL Chemistry: 10-16+
MEL Med: 14-99+
How Much Does MEL Science Cost?
MEL Science subscriptions start at $25.90/month.
How Do I Cancel MEL Science Subscription?
Canceling your MEL Science subscription is quite easy. Simply go to your profile and click on pause or cancel your subscription. When you are ready to jump back in with more hands-on science projects, you can reactivate your subscription at any time.
MEL Science offers a 100% money-back guarantee if you are not satisfied with their products.
Is MEL Science Secular?
MEL Science is completely secular!
It's not easy to find secular science curriculum for homeschool, especially ones that include hands-on experiments. Incorporating MEL Science subscriptions in your homeschool curriculum ensures that your kids are learning important science concepts.
Grab your first MEL Science kit today for 50% off for the 1st month with discount code BETTY50!