This post may contain affiliate links. That means if you click and buy, I may receive a small commission (at zero cost to you). Please see my full disclosure policy for details.
This free Butterfly Unit Study is a great way to teach your kids math, reading, arts and crafts, history, and science through butterfly-themed books, videos, printables, and activities. Your kids will love learning about the butterfly life cycle and migration through hands-on activities in their homeschool or classroom.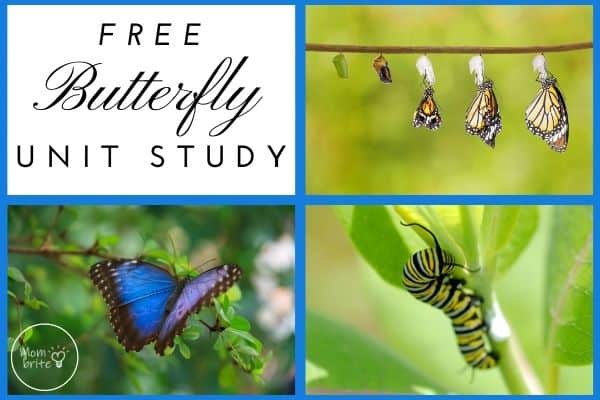 Butterflies are a beautiful sign that spring has arrived, and summer is on its way. In many cultures, butterflies represent new life or new beginnings. And the life cycle of a butterfly is one of the most miraculous transformations in the animal kingdom. What better way to celebrate the arrival of spring than with a butterfly unit study!
You might have been reading The Very Hungry Caterpillar by Eric Carle to your kids ever since they were babies and toddlers to teach them about counting, days of the week, colors, names of fruits and foods, and the butterfly life cycle.
This butterfly homeschool lesson will do the same, but for preschoolers, kindergarteners, and elementary school kids. With a more in-depth look into this marvelous creature, we will use the butterfly theme to do help your kids learn math, literature, science, and many more!
Getting Started on the Butterfly Unit Study
Doing something simple as a family, like decorating your learning area with these simple origami butterflies, is a great way to pique your child's interest and get him or her excited about learning. There are all kinds of butterfly decorations out there, so if you love decorating, go for it!
Picking up a butterfly poster like this one is also an excellent idea. You can hang it on the wall in the classroom throughout the week(s) you are doing a deep-dive into the life of a butterfly, and perhaps use it as decoration in your kid's room afterward.
Math
Fractions can be a difficult concept for some children to grasp. That is why making fractions fun by creating butterfly snack bags can be the best way to get this concept across.
You start off by placing a certain amount of their favorite snack in a baggie (i.e. 4 pieces) Have them count the snack pieces. There are 4. 4 IS OUR DENOMINATOR because that is how many there are altogether.
Have them chose 1, 2, or 3 pieces of the snack to put in the LEFT side of the baggie and keep the rest in the right-wing. Place your clothespin in the middle to create the butterfly. How many pieces are in the left-wing? THAT IS YOUR NUMERATOR. Count how many you have altogether: THAT IS YOUR DENOMINATOR. Have them create fractions over and over using various numbers. They can also write down the fractions that they create on a whiteboard or on a piece of paper.
To make this exercise REALLY fun. Allow them to eat each fraction that they create and label correctly.
History: The Tomb of Nebamun
Did you know that ancient Egyptians painted butterflies in some of their tombs? They made them larger than normal because they considered them important, elegant, and a higher class being. You can read about the tiger butterflies painted in the tomb of Nebamun here.
Then watch this YouTube video of the wall paintings of the tomb of Nebamun and see how many tiger butterflies you and your child can spot.
Arts and Crafts
Your child may want to learn to draw butterflies as the ancient Egyptians did. They could cut their butterflies out and hang them up on the wall in their room or in their learning area.
A lot of children feel the need to make their crafts useful items. They could use it to store their phone cords or if they add a little cardstock circle to the bottom of it, it could become a pencil holder. This beautiful butterfly mobile would be a beautiful addition to the decorations in your learning area.
Language Arts: Creative Writing
Using the word "Butterfly" as a sort of acronym have your child think of one word for each letter in the word. Then use those words in a story or poem about butterflies.
They may want to write down their ideas for their story and number them one to ten or create a mental map about their story first. These are good exercises in organizing one's thoughts before beginning the writing process.
Reading and Literature
Here are some excellent reading choices for this butterfly unit study:
Science of Butterflies
It is impossible to learn about butterflies without learning about the process of metamorphosis. This is a fun video for kids that explains the stages of metamorphosis.
This video explains the difference between a cocoon and a chrysalis and what great sacrifices a caterpillar makes in order to turn into a butterfly.
This is a great video to use for explaining the difference between complete and incomplete metamorphosis.
When you think about butterflies, you think about metamorphosis. However, the migration of the Monarch butterflies is also something equally as amazing. Seeing the swarm of butterflies travel together to achieve great distances in order to ensure their survival is something your children must see.
After watching the educational butterfly videos, have your child review the concepts with this free butterfly life cycle worksheet. For kids who can read and write, here is a set of animal life cycle worksheets that you can use to not only learn about the butterfly life cycle but the life cycle of other insects as well.
One of the best ways to learn about metamorphosis is to watch it actually taking place. We have grown our own painted lady butterflies and I don't think we will ever forget the experience.
To start, purchase a Butterfly Growing Kit with a voucher for caterpillars that you will receive by mail. Make sure you do this when it's not too hot out because caterpillars may die in the heat of the summer.
It takes about 3 weeks to grow caterpillars into butterflies so you may want to purchase this kit and get started ahead of time if you want your butterflies to hatch by the time you complete the unit study. Doing a "butterfly release" as a family would be a wonderful way to wrap up your unit study.
Let us know what fun and educational butterfly projects your family has done together for your butterfly unit study!