Having a baby is one of the most joyful events in your life. After birth, there's so much to look forward to.
The downside of childbirth is the postpartum body! You want to enjoy time with your baby, but you can't help noticing the changes.
Luckily, the best postpartum leggings help you to adapt to your new body and dress accordingly.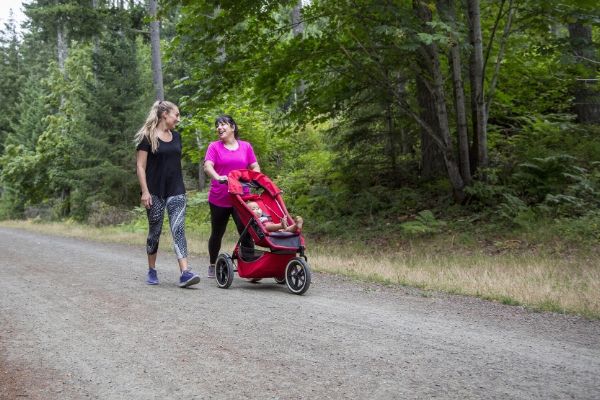 Why You Need Postpartum Leggings
Leggings are items of everyday clothing that people use to relax, exercise, and go out. They're comfortable, stretchy, and go with most tops and jackets. Postpartum leggings offer you extra support and smooth out those unwanted lumps and bumps from your pregnancy.
The three essential aspects of postpartum leggings are comfort, support, and soft fabric. It's important to note that some leggings may not market themselves as postpartum, but if they have all three features, then they're suitable for your needs.
The Benefits of Postpartum Leggings
Postpartum leggings are ideal for many reasons, including:
They Make You Feel Better
Your hormones take a huge hit when you have a baby, which can be damaging to your mental health. Your body will inevitably change after childbirth, and some women find this incredibly hard to deal with. Postpartum leggings cover up your body, which makes you feel more confident.
Leggings Slim Your Body
There are loads of postpartum leggings available, and different styles have slimming effects. Compression leggings can support your belly, and high-waisted leggings smooth your back, legs, and hips.
Suitable Alternative to Pants
Pants can be uncomfortable after childbirth, especially if you've had a cesarean. Postpartum leggings are ideal if you're planning on losing weight and don't want to update your closet. You can wear them with a range of tops, jackets, or sweaters and save money while you get back in shape.
The Top 5 Postpartum Leggings
This post contains affiliate links. Please see my full disclosure policy for details.
The team at Mombrite has been busy finding the best postpartum leggings for our readers. After a lot of research, we've narrowed it down to five fantastic options.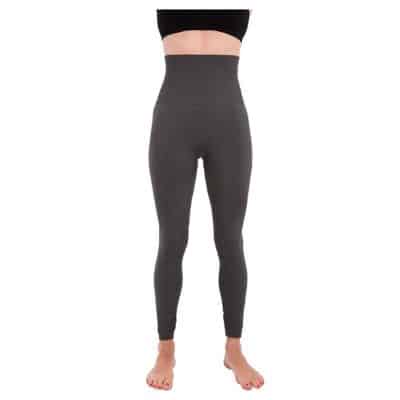 Homma's high-waist leggings focus on providing comfort and give new moms confidence. Made of 88% Nylon and 12% Spandex, with a high waistband, they're perfect for covering those unwanted lumps and bumps. The leggings also come in a range of colors, including black, navy, mocha and red.
Overall, we love Homma's leggings! If you're feeling insecure about your postpartum body, these leggings will keep you in shape and make you feel great. The main problem we have is the durability of the leggings. If you're happy to replace them after a few months, then it's worth the cost. But if you're on a budget, you should consider other options.
| | |
| --- | --- |
| Pros | Cons |
| Range of colors | Can rip easily |
| Body contouring | |
---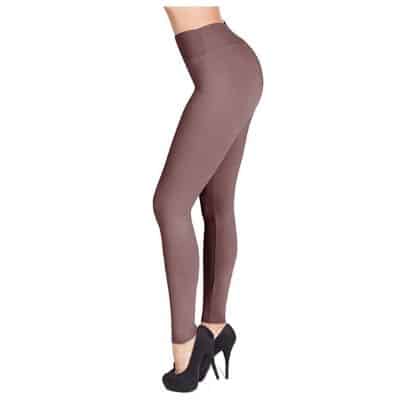 SATINA understands that people want high-quality leggings at affordable prices, and they certainly deliver. Made from"peach skin" fabric the leggings feel soft against the skin, but still provide all the body shaping features you'd expect. Available in 17 colors, you can choose between nudes and classic shades, or inject some color into your postpartum wardrobe.
One negative aspect of the leggings is the colors don't always match buyer expectations. Be prepared for the shade to look different from the photo, but overall, SATINA makes great leggings, which are easy to wash and provide all the body support you need.
| | |
| --- | --- |
| Pros | Cons |
| Soft fabric | Colors don't always match the photos |
| Body contouring | |
---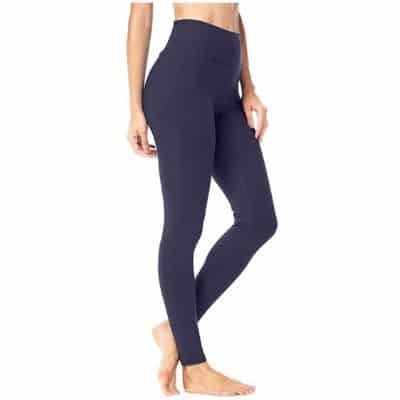 If you're not a fan of high-waistbands, then we recommend trying a wide waistband instead. QUEENIEKE offers an ideal solution for people that want to combine comfort with style, and their selection of leggings is excellent if you're on a budget. Made from 86% nylon and 14% spandex, they're comfortable to wear while you're working out.
The main issue with these leggings is that if they're over-stretched, the color can fade. There's a simple solution; buy a size up so you can avoid any embarrassing see-through moments. Overall, we can't fault these postpartum leggings, especially with their price tag.
| | |
| --- | --- |
| Pros | Cons |
| Wide waistband | Can fade if stretched |
| Ideal for workouts | |
---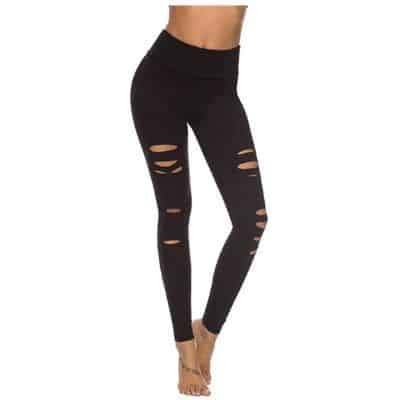 So you've just had a baby, but it doesn't mean you can't enjoy making a fashion statement. Dibalong makes stylish leggings that shape your body and offer postpartum support. Made from 92% polyester and 8% spandex, the company says their leggings aren't see-through, and customers agree.
Overall, we love these leggings but found two issues that could put you off. The material is opaque, but it's common for small holes to appear. If you're looking for maximum support, then you might be disappointed. Diabaolongs leggings smooth out your tummy and look great, so they're perfect for people that want to combine style with practicality.
| | |
| --- | --- |
| Pros | Cons |
| Stylish | Small holes can appear |
| Smooths the stomach | Medium support |
| Opaque | |
---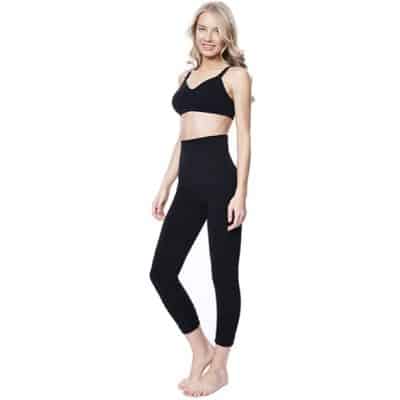 Mother's Essentials postpartum leggings are ideal if you want maximum support after your pregnancy. They support your posture and back to minimize aches and also come in a range of fabric patterns. The Capri style is excellent for everyday wear or workouts, and the material isn't see-through.
The main issue with the leggings is they lack durability. Tears and holes are common, especially if you wear them for workouts. If you're looking for everyday leggings to wear around the house, then we'd recommend Mother's Essentials leggings.
| | |
| --- | --- |
| Pros | Cons |
| Capri style | Lack of durability |
| Posture and back support | |
---
What to Consider When Purchasing Postpartum Leggings
Now you know what postpartum leggings are, and why you should wear them, it's crucial to think about these features.
The Fabric
When choosing your postpartum leggings, it's essential to think about the fabric. You want breathable material, which is also comfortable. Spandex is the best fabric for postpartum, but it can stick to your body. The best postpartum leggings combine spandex with other materials such as Nylon and Polyester.
It's also important to check the opacity of the leggings. Let's face it, you don't want embarrassing moments, especially if you're going to work out in them.
The Length and Style
Leggings come in a range of sizes and lengths. Common options are full-length, or Capri style leggings. Capri's are often a lot shorter and are suitable for workouts but not ideal for wearing out.
There are many types of leggings, including:
Jeggings: Same style as leggings but with a denim style.
Printed: Come in a range of patterns and colors.
Leather/Pleather: Great option for people that want to inject some style to their outfit
Fabric: Usually made from Nylon, Polyester, or Spandex. The most popular option for postpartum leggings.
Compression or No Compression?
Compression fabric fits tightly around the skin and is often used post-surgery to offer extra support. If you've had a cesarean, it can help you relieve the pain and enable you to be more active. It's important to remember that compression support can be restrictive, and it's a matter of personal preference.
The Cost
If you're not planning on using your leggings for long, then you won't want to spend a lot of money. Postpartum leggings are excellent additions to your wardrobe, but people often choose to wear less constricting clothing once they're back in shape. Think about your budget before you buy it.
Final Thoughts on Postpartum Leggings
Postpartum leggings are ideal for your postpartum body, and with so many options available, there's something for everyone. Before you make a purchase, consider these vital aspects:
Do you want compression or high-waisted leggings?
How much do you want to spend?
What style suits your needs?
Now you've seen the best postpartum leggings around; it's time to make a decision. Remember, spending time with your newborn is the most important thing, and your body will adapt naturally. Enjoy this experience and use postpartum leggings to relax, rest, recover, and get back to your best self.