Having a baby is a joyous event, and watching your little one develop is something all parents enjoy. Then it gets to 3 am, the babies crying and you've got to deal with it. Sleepless nights are a given, but that doesn't mean they have to be uncomfortable, especially with nursery rocking chairs/gliders.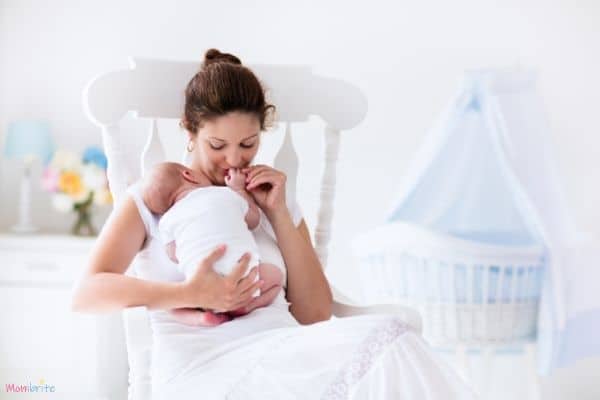 In this guide, we'll talk about why nursery gliders are so important, what you need to look for when purchasing one, and reveal our six best nursery rocking chairs/gliders available.
Why Are Nursery Rocking Chairs/Gliders Important?
You're going to spend a lot of time in your baby's nursery, and a comfortable chair will be a savior. Late-night feeds and naps together are all part of the experience. The most important thing to remember is your baby needs to feel secure.
What Are The Benefits of Nursery Rocking Chairs/Gliders?
Nursery gliders offer many benefits, including:
Getting your baby to sleep is difficult, but a rocking chair provides a relaxing effect. Rocking prepares the brain for sleep, meaning your little one is much more likely to have a peaceful night.
They make feeding your baby so much easier! You can breastfeed in comfort and won't have to suffer a bad back.
Rocking chairs and gliders improve your child's development, especially as your baby gets older. Toddlers can learn to increase their attention span because the gliding motion activates the brain.
The Types of Nursery Chairs
There are so many types of nursery chairs to choose from, and some have multiple functions. When you're shopping for your chair, you'll see three models available:
Reclining Nursery Chair – These often tilt backward and have a range of reclining positions to suit your needs.
Gliding Nursery Chair – The chair sits on a platform, and it glides forwards and backward. Most new moms prefer gliding chairs to rocking chairs because they offer more stability, performance, and reclining features.
Rocking Nursery Chair – It works similarly to a gliding nursery chair, but the rocking motion isn't as smooth as with the gliders. But some chairs combine both rocking and gliding, so you should always look for these features.
Top Nursery Rocking Chair/Gliders
So, now you know how nursery gliders can improve your life, it's time to reveal Mombrite's six top picks. Our team has reviewed a range of nursery rocking chairs on the market, and these are the ones that beat the competition.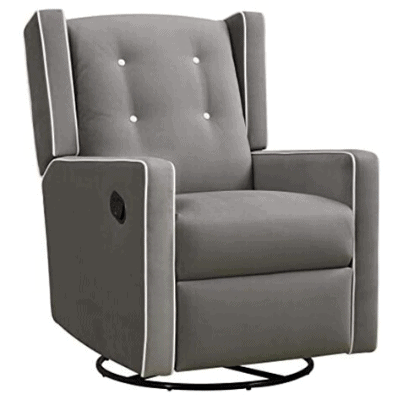 | | |
| --- | --- |
| Dimensions | 37 x 29.2 x 41.5 inches |
| Weight | 88 lbs |
The Mikayla chair from Baby Relax has a host of great features, and it's a firm favorite for new moms. Not only does it look stylish, but it's also very comfortable with a cushioned back and support for your head and neck. The ball bearing mechanism means you can glide or rotate the chair, and it's ideal for relaxing or soothing your child.
One issue we have with the Mikayla recliner is that it only has two reclining positions, and the chair remains stationary when you're lying back. If you're up all hours with your baby, you'll also have to get used to the locking sound when you rock in the chair. While these issues might not concern some people, you might want a quieter solution.
Overall, Baby Relax has created a great chair, but there are some flaws in its design. But for the cost, we think the Mikayle gliding chair is an excellent choice.
| | |
| --- | --- |
| Pros | Cons |
| Cushioned support | Can be quite noisy |
| Rotates and glides | Two reclining positions |
| | |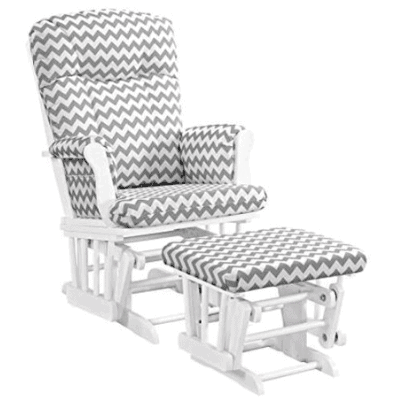 | | |
| --- | --- |
| Dimensions | 27.5 x 33.5 x 37.5 inches |
| Weight | 50 lbs |
Angel Line is another company that specializes in creating furniture that combines aesthetics with practicality. Their Monterey gliding chair looks great and has a host of features. Enclosed metal bearings enable you to glide smoothly, and the chair has padded arms and pockets for storage. It also comes with an ottoman so you can put your feet up while soothing your baby.
If comfort is your primary goal, then you can't go wrong with the Monterey glider. It's got lots of extra space, and assembly is relatively painless! While we love this nursery gliding chair, it's not meant for long-term use. If you want a chair that will last for years, it's probably best to look elsewhere. But with the low price, it could be a worthy short-term investment.
| | |
| --- | --- |
| Pros | Cons |
| Memory foam padding | Questionable durability |
| Pockets to store things | |
| Easy to assemble | |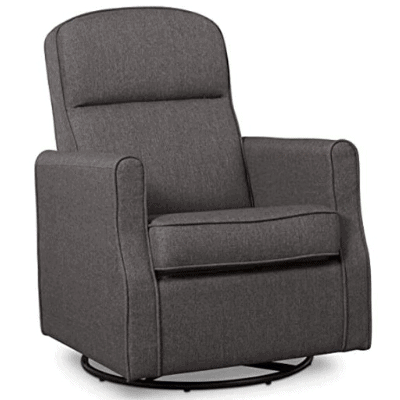 | | |
| --- | --- |
| Dimensions | 26.5 x 31.5 x 36 inches |
| Weight | 68 lbs |
Delta Children make children's furniture, and their glider/rocking chair will exceed your expectations. Its small design is ideal if you don't have much space, but there's no compromise on comfort. The chair comes in three colors: taupe, cream, and charcoal.
There are plenty of positives to Delta Children's nursery rocking chair, and if you're short, you'll love it. The main issue is the chair is so compact that taller people won't be able to rest their head or neck. Overall the chair is of good quality, but it can creak.
Is it the best on the market? Definitely not. But it's ideal for smaller people, especially if you want to save space.
| | |
| --- | --- |
| Pros | Cons |
| Compact design | Not suitable for tall people |
| Available in three colors | Creaks when rocking |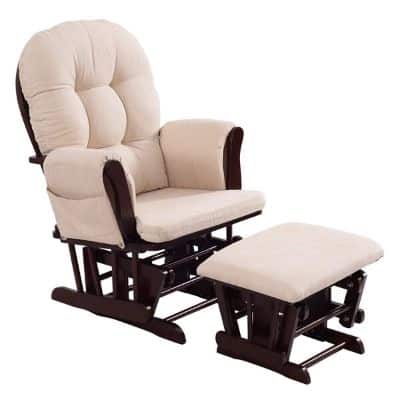 | | |
| --- | --- |
| Dimensions | 29 x 23.2 x 37.8 inches |
| Weight | 40.2 lbs |
Costzon is a great example of how to design a practical yet stylish chair. Their nursery glider is made of beech wood and has a lot of padding for extra comfort. There are also side pockets for storing important items and removable back and seat cushions mean you can clean the chair easily.
If you're looking for a chair that's easy to assemble, clean and offers a lot of comfort then we'd absolutely recommend Costzon's nursery glider. The only issue we have with the chair is the padding could be better. You might find you need to add an extra cushion for more support, but overall it's a great chair at a reasonable price.
| | |
| --- | --- |
| Pros | Cons |
| Storage pockets | Padding might not be thick enough |
| Easy assembly | |
| Removable back and seat cushions | |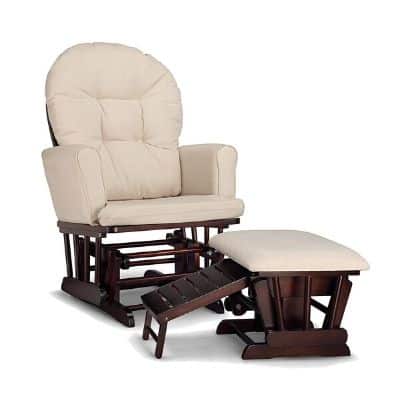 | | |
| --- | --- |
| Dimensions | 42.7 x 29.5 x 28 inches |
| Weight | 37 lbs |
If you want a stylish chair with gliding features, you should consider Graco Parker's nursery glider. Its compact size means it's ideal for small spaces, and it comes with a gliding ottoman. The polyester material offers easy cleaning, which is perfect for new moms.
While this chair has some great features, it's only suitable for smaller people. If you're plus size, you won't be comfortable, so we'd advise you to find a larger nursery chair. Assembly is easy if you know what you're doing, but make sure the chair is put together correctly to avoid breakages.
Overall, we like Graco Parker's nursing chair because it's easy to clean, simple to store, and comes with an ottoman. But is it better than other chairs out there? Unfortunately not, due to its small size, which is only suitable for petite users.
| | |
| --- | --- |
| Pros | Cons |
| Great for small places | Not suitable for plus size people |
| Comes with gliding ottoman | Complex assembly |
| Easy to clean | |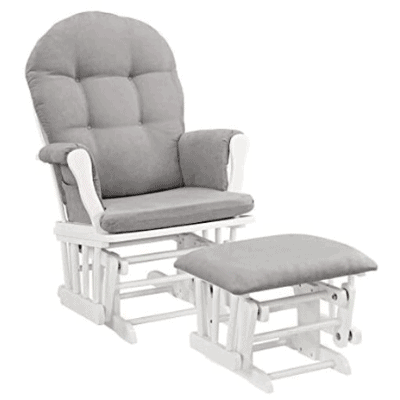 | | |
| --- | --- |
| Dimensions | 24.8 x 25.8 x 29.5 inches |
| Weight | 45.2 lbs |
Windsor's gliding chair looks excellent and offers features that benefit both you and your baby. The chair comes with a gliding ottoman and storage pockets, which are ideal for storing personal items. More importantly, it's suitable for people of all sizes, as it has a large seating area.
Cleaning the chair is easy; you remove the cover and wash it. There is a range of colors available, including patterned fabric, to inject some color into your nursery. Overall we love this chair, but there does seem to be some issues with its durability.
If you buy Windsor's gliding chair, make sure its appropriately assembled because it could snap, which compromises the safety of you and the baby. For its price, the nursery chair is a great option.
| | |
| --- | --- |
| Pros | Cons |
| Large seating space | Questionable durability |
| Comes with gliding ottoman | |
| Easy to clean | |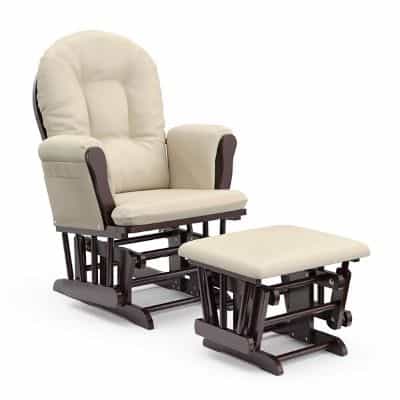 | | |
| --- | --- |
| Dimensions | 24.8 x 25.8 x 39.5 inches |
| Weight | 45.7 lbs |
If you're looking for a stylish nursery glider that offers some excellent features, then we'd definitely recommend Storkcraft's premium glider. The chair comes in a range of colors and finishes, so you can find the right style for your nursery. There's also an ottoman, which makes relaxing while feeding a breeze.
The Storkcraft glider is a spacious chair, and there's ample padding to support both you and baby. You can also take advantage of the storage pockets to store bottles and reading materials. Overall, we love this chair, but while it's easy to put together, the chair won't last more than a couple of years.
| | |
| --- | --- |
| Pros | Cons |
| Range of colors and styles | Questionable durability |
| Ottoman and storage pockets | |
| Padded arms | |
Things to Consider
There are plenty of things to consider before you buy a nursery rocking chair. Let's dive in and see what you should look for.
Is it Comfortable?
Not all chairs are made equal, and while some offer comfort, others cause more harm than good. Nursery rocking chairs are designed with comfort in mind, but there are plenty of options available.
Some chairs are compact, which isn't ideal for tall people. You must check the dimensions before making a purchase.
Does it Offer Support?
You'll spend a lot of time in your nursery, and the chair is central to ensuring your baby has everything it needs. There are certain features that you shouldn't compromise on, including:
Armrests – They're essential for both you and baby because they offer extra support. When you're breastfeeding or holding your baby, it's helpful to have somewhere to rest your arms.
Storage Pockets – It isn't vital that you choose a nursery glider with storage pockets, but they can be handy. You can store toys, pacifiers, magazines, and even your iPod.
Locking Mechanism – Naturally, your baby's safety is at the forefront of your concerns, so it's good to have a chair with a locking mechanism—the lock triggers when you recline, which keeps the chair stable.
Legrests – When you lie on your chair, you'll need a place to rest your legs. Some chairs have a built-in leg rest or come with an ottoman. If the one you choose doesn't, then you'll spend more money.
How Versatile Is It?
Nursery rocking chairs are very different from traditional rocking chairs because they have more features. But that doesn't mean all nursery chairs are made equal. If you want the best seat, we advise you to find one with rocking, swiveling, gliding, and reclining features.
Who Will Use It?
It's essential to think about the height and weight of each user who will use the chair. If you're feeding your baby, your legs need to be able to touch the floor, but tall people might struggle with regular chairs.
Plus-sized users need to double-check the weight restrictions to ensure that both themselves and their baby will be safe.
What's Your Budget?
Luckily, there are nursery rocking chairs/gliders to suit every budget, so you don't need to worry about spending too much money. You must find a chair with the features you require, and some of the cheapest versions might seem like a great deal, but spending a little more means you could have a better chair for long-term use.
The Bottom Line
Nursery rocking chairs/gliders are so important for you and your baby, but with so many available, it isn't easy to know where to start. You should consider these points before making a purchase:
Who will use the chair?
How much am I willing to spend?
Which features do I want?
Is the chair suitable for my size?
This time with your baby is essential, and a nursery chair can improve your bonding experience. Choosing the right chair means you can enjoy it for years to come.
You may like: