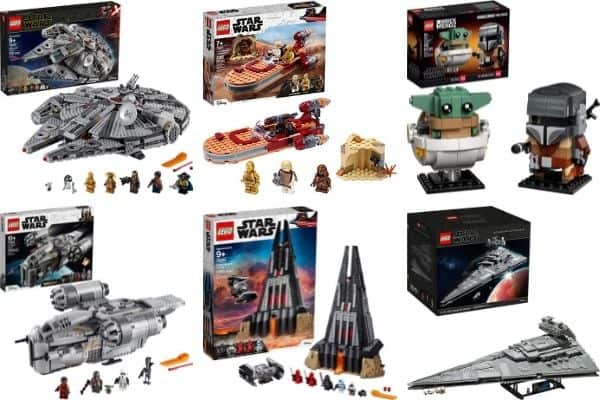 A long time ago, in a galaxy far, far away, Luke Skywalker, Princess Leia, and their interplanetary friends burst onto our cinema screens and have been inspiring scores of the very best Star Wars LEGO sets ever since.
With so many options out there, your young Padawans are spoiled for choice when it comes to recreating their scenes from their favorite Star Wars movies and TV shows, but if you're looking to buy them a brand new LEGO set as a gift, then the sheer number of different products out there can pose a bit of a challenge.
That's where we come in.
Below, we've used the force to determine 12 of the very best LEGO Star Wars sets stemming all the way from the classic 1970s trilogy to the modern-day TV shows and movies.
12 Best LEGO Star Wars Sets
1. LEGO Star Wars: The Mandalorian The Razor Crest
The Mandalorian has proved to be one of the most popular TV shows of recent years, so it's no surprise to find a whole host of popular LEGO star wars sets centered around the adventures of Din Djarina and friends.
Of them all, it's this LEGO Star Wars: The Mandalorian The Razor Crest Building Kit that proves to be the best of the bunch, boasting an impressive 1,023 pieces that can be put together to build a highly detailed LEGO model of The Razorcrest Starship.
Suitable for ages 10+, this challenging set also includes 4 Minifigures including Greef Karga, a Scout Trooper, The Child, plus The Mandalorian himself.
2. LEGO Star Wars: The Rise of Skywalker Millennium Falcon Starship Model Building Kit
While The Mandalorian may be a relatively new addition to the franchise, there's no beating the classics, which is why Star Wars Millennium Falcon sets remain in high demand.
Again, there's a number of options to choose from, but this LEGO Star Wars: The Rise of Skywalker Millennium Falcon Starship Model Building Kit is indisputably the best of the best.
It's another huge set, containing 1,351 pieces, providing an appropriate LEGO challenge for kids aged 9+ as they work to put together an intricate model of the iconic starship. 7 different Minifigures of famous characters such as Chewbacca, Lando Calrissian, C-3PO, and more are also included.
3. LEGO Star Wars: A New Hope Luke Skywalker's Landspeeder
If those last two sets were just a little too advanced for your younger children, you may find that they prefer the LEGO Star Wars: A New Hope Luke Skywalker's Landspeeder Set.
A 236-piece option suitable for ages 7+, this one gives them everything they need to build Luke's landspeeder complete with a cockpit that their Luke Skywalker Minifigure can sit in and a trunk to store his macrobinoculars.
This set also includes additional Minifigures of C-3PO and an armed Jawa plus accessories so that they can release their favorite adventures from The New Hope movie.
4. LEGO Star Wars: The Clone Wars Anakin's Jedi Starfighter
Another popular option for younger children, the LEGO Star Wars: The Clone Wars Anakin's Jedi Starfighter Building Set will spark their imagination as they soar off into a far-off galaxy in their very own Jedi starfighter LEGO build.
The 247-piece set is designed to be a relatively simple set for children aged 7 – 12, meaning they'll spend less time building and more time acting out their own intergalactic adventures.
Minifigures of Anakin Skywalker and R2-D2 add to the fun.
5. LEGO BrickHeadz Star Wars The Mandalorian & The Child
The LEGO BrickHeadz Star Wars The Mandalorian & The Child makes an affordable birthday or holiday gift for the Star Wars fan in your life.
A popular addition in our recent guide to the best LEGO sets under $25, this one also comes from the smash-hit Mandalorian TV series and gives young ones 10 and up all the components to build not just the titular character, but also the ever-adorable Child character as well.
The 295-piece set from the LEGO BrickHeadz range comes with adjustable ears for The Child so that young ones can enjoy changing up his expression, plus all of The Mandalorian's signature weapons.
6. LEGO Star Wars Ultimate Millennium Falcon Expert Building Kit and Starship Model
If you're on the lookout for the best LEGO Star Wars Millennium Falcon for the grown-up fan in your life and found the age 10+ set we looked at earlier to be a little too basic, then this LEGO Star Wars Ultimate Millennium Falcon Expert Building Kit and Starship Model may be just the thing.
A highlight of the LEGO Star Wars UCS (Ultimate Collector Series) range, this enormous building kit contains no less than 7541 pieces which can be used to create a highly intricate collectible model of the legendary ship.
The falcon's main hold contains a seating area where the four Minifigures of Han Solo, Chewbacca, Princess Leia, and C-3PO can sit, plus other interior features such as a detailed engine room and escape pods.
7. LEGO Star Wars Jedi & Clone Troopers Battle Pack
Still looking for the perfect LEGO Star Wars Jedi set for your young Padawan?
The LEGO Star Wars Jedi & Clone Troopers Battle Pack may be the one.
Suitable for ages 6-12, this 102 easy-to-build set is less about challenging their skills as other sets are and more about inspiring creative play, letting them quickly put together their own LEGO landspeeder and using it to send the two Jedi Minifigures off into battle against the Clone Troopers.
8. LEGO Star Wars: The Clone Wars Armored Assault Tank
Sticking with The Clone Wars series for a moment, the LEGO Star Wars: The Clone Wars Armored Assault Tank is a 286-piece set that provides a somewhat more age-appropriate challenge for children aged 7+ and those whose LEGO-building skills have already reached Jedi Master status.
The set lets them put together the awesome Armoured Assault Tank (AAT) and recreate the exciting 501st Legion vs. Battle Droid saga, with two Minifigures of Ahsoka Tano and Ahsoka's Clone Trooper as well as two armed Battle Droids and two lightsabers all helping to ensure hours of fun.
9. LEGO Star Wars Luke Skywalker's X-Wing Fighter
If the Jedi in your family is a bigger fan of the original classic trilogy of films rather than the later installments, there's no doubt they'll love this LEGO Star Wars Luke Skywalker's X-Wing Fighter.
474 pieces, plus stickers and accessories all come together to create a stunning model of the legendary Jedi's starfighter with authentic details straight from the movies that started it all.
Luke Skywalker, Princess Leia, and General Dodonna are all here in Minifigure form to ensure they can play out their favorite Star Wars scenes just as they happened on screen, or simply make up their own space adventure.
10. LEGO Star Wars Darth Vader's Castle
We've featured a lot of LEGO Star Wars Jedi sets so far, so it only seems fair that we at least give the other side a mention.
The LEGO Star Wars Darth Vader's Castle is a huge 1,060-piece set suitable for children aged 9+ that lets them build Vader's castle on the planet Mustafar and enjoy all of the exciting features that come with it.
Those features include a buildable TIE Advanced Fighter, a stud shooter, and 6 Minifigures including 2 guards, an Imperial transport pilot, and Darth Vader himself, and that's only the inside.
Once they enter the castle, there are many secret chambers for them to discover and even the famous bacta tank so that the dark one can recover from battle so that he may live to fight the Jedis again another day.
11. LEGO Star Wars B-Wing Building Toy
LEGO B-wing models and building kits come in a variety of sizes to suit children and grown-ups of all ages, ranging from super-simple sets for younger Jedis to the kind of complex, several-thousand-piece, adult-friendly sets usually found in the LEGO Star Wars UCS range.
This particular LEGO Star Wars B-Wing Building Toy sits somewhere firmly in the middle, and that's why we like it so much.
At 448 pieces, this set provides a stimulating challenge for children aged 8 – 14 without being so taxing that it puts them off playing altogether.
The LEGO B-wing comes with an opening and rotating cockpit with room for any one of the three Minifigures (Ten Numb, General Airen Cracken, and Gray Squadron Pilot, plus two spring-loaded stud shooters and wings that can adjust depending on whether their sci-adventure has them attacking, flying through the galaxy or coming into land after another epic adventure.
12. LEGO Star Wars: A New Hope Imperial Star Destroyer
Speaking of the LEGO Star Wars UCS range, we really couldn't go any further without tipping our proverbial hat to the LEGO Star Wars: A New Hope Imperial Star Destroyer set, a beautifully detailed model that really does serve as the ultimate collector's item for diehard fans.
Along with the 4,784-piece replica Star Destroyer model and two Imperial Minifigures, this set also comes with a display stand and information plaque, ensuring it's ready to take pride of place in their collection.
A challenging build, this one is better reserved for those fans aged 16+ who'll enjoy spending hours putting together a detailed model that stands no less than 43″ in length and includes a model version Tantive IV built to scale, rotating guns and radar dish, and other authentic details from the Destroyer's appearance in Star Wars: A New Hope.
What to Consider When Choosing the Best LEGO Star Wars Sets to Buy
Purpose
We all know that the main purpose of LEGO sets is to have fun, right?
Sure, but what's fun for one budding Jedi isn't always fun for another.
For some, especially older children, the best part about LEGO is all in the build. They love the challenge of figuring out how all the pieces fit together and taking pride in a job well done.
For others, the building is simply a means to an end, a process that lets them get to the real fun of exploring the galaxies of their imagination and engaging in creative play.
If your Paddawans prefer to play rather than create, you'll want to look out for a set that promises to be easy to build, while those who are more interested in putting their LEGO models together will no doubt appreciate a more challenging model.
Age Appropriateness
Speaking of challenges, the best LEGO Star Wars sets all come with an age range printed clearly on the box which gives you some indication of how complex the build is going to be.
A set that's suitable for ages 9+, for example, maybe a little much for your five and six-year-olds, while a LEGO while your 9-year-old may not be so stimulated by the same kind of sets as their younger siblings.

Keep in mind too, that given the long legacy of Star Wars, the franchise has its own fair share of adult fans that LEGO also caters to. These sets tend to be those from the Ultimate Collectors' Series and are larger models with thousands of pieces that are meant to be used more as display pieces rather than play toys.
So, while it might be a nice idea to get your young one a big, elaborate set, it may not be as fun for them to play with as it would be for an older fan to add to their collection.
Classic or Modern
On the subject of older fans, there are LEGO Star Wars sets catering to those who were around for the original trilogy 40 years ago just as there are for younger fans whose first introduction to a galaxy far, far away came in the form of more recent installments such as The Mandalorian TV show.
It's important to keep this in mind when choosing which set to buy, especially as younger fans may not be all that familiar with the classic movies from the 70s and 80s or at the very least may simply prefer LEGO sets based on more recent Jedi adventures.
Final Thoughts on LEGO Star Wars Sets
Whether they're fans of the classic adventures of Luke Skywalker, Han Solo, and Princess Leia or just discovering the Star Wars universe thanks to shows like the Mandalorian, you're bound to find a LEGO Star Wars set that your little intergalactic adventurers will love.
When you do, you'll find that any one of these quality sets will ignite their imagination and inspire endless amounts of creative play, all while encouraging them to improve their motor skills and develop critical thinking and problem-solving skills.
Who knows, offering one of these top 12 sets as a reward may even be the perfect way to get them to tidy their room without having to resort to using Jedi mind tricks!
---
Related Posts: