Gather with your relatives to play these Christmas-themed family board games and have a wonderful time bonding this holiday season.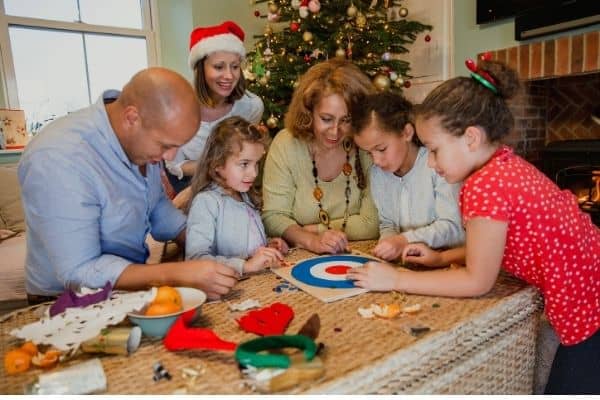 Christmas can be a hectic time of the year for most families, but it's also a time for families to come together and enjoy each other's company. Most children are off of school for several weeks during December, and you'll need some activities planned to keep them occupied.
Family game nights are fun all year, but there are several Christmas board games that are both fun and festive. These games can be enjoyed by the entire family. So be sure to make some hot chocolate and enjoy a few hours of fun during the craziest time of the year.
The following are the best Christmas-themed board games that are sure to be a blast for the entire family this holiday season.
Christmas Board Games for Families
The Santa Claus Game
The Santa Claus Games allows players to dive straight into the role of Santa Claus and spread some of their own Christmas cheer. At the start of each game, players will select a sleigh full of goodies to take around the board.
As players traverse the board, they will hand out presents and do holiday challenges such as their best Santa impressions, or reciting classic Christmas carols.
This game is perfect for younger kids and teaches them the magic of giving during the holidays. Plus, all of the fun holiday challenges are guaranteed to make for an incredible game night!
Holiday Charades
Charades is one of the most time-tested games with a holiday spin. Holiday Charades is everything you need for an awesome experience in one box.
Featuring all sorts of classic characters, traditions, and Christmas movies, this game is perfect for players young and old. The object of the game is simple: players will grab a card and act out whatever is on it while the audience attempts to guess.
There are all sorts of ways to change the game up, like splitting into teams to compete against one another. You can even use the cards in tandem with improv games, like acting out scenes in line with the cards you draw.
Holiday Charades is a versatile and fun game that is sure to have everyone in stitches before long.
Christmas-Opoly
For fans of the classic Monopoly game comes Christmas-Opoly. This game puts a jolly twist on an all-time favorite board game. Players will choose their game pieces and take turns moving around the board.
Players will have the chance to purchase board spaces and start making money they can use to expand their board game capital. Along the way, players will also get the chance to mix the game up by drawing holiday-themed cards. There are all sorts of ways to win the game, depending on what rule-set you play by.
The board is decorated with wonderful Christmas themes, as are the cards and game pieces. With wonderfully fun illustrations and a simple yet incredibly popular concept, Christmas-Opoly makes for a terrific holiday board game experience.
Christmas Bingo
A perfect game for parties, Christmas Bingo is a fun way to bring the entire family together during the holiday season. Christmas Bingo is fun for everyone with its simple premise.
One person will spin the spinner and call out what it landed on. The players will then cover a piece that matches the image on the spinner. The first player to get a specific pattern will win the game!
With so much exciting unpredictability, Christmas Bingo is wonderful for parties or any other type of gathering and is perfect for people of all ages.
'Tis The Season Christmas Trivia
Trivia games are always a surefire fun game for the family, so it only makes sense to add in some yuletide cheer with Christmas Trivia. Players will be quizzed on every aspect of Christmas, from movies to carols and international Christmas traditions.
With so much information to learn, this game is perfect for bringing out the Christmas cheer this holiday season. And with 1,800 trivia question cards, this game is perfect to play again and again.
Christmas Trivia is a great game for bringing everyone together over our favorite aspects of the Christmas season.
Rudolph The Red-Nosed Reindeer Christmas Journey Board Game
Everyone loves Rudolph, and your kids will be delighted to help Rudolph find all the lost Misfit toys in the Red-Nosed Reindeer Christmas Journey board game. After all, Christmas can't start until all the toys are returned to the North Pole!
This game is similar to Chutes and Ladders but with North Poles instead that will allow you to slide up to get ahead or slide down from where you landed. There are also Rudolph & Hermey cards with different actions, such as roll again or choose your next roll. Lastly, you may land on swap character placement squares that will totally switch up the order of the players.
With twists and turns everywhere, the Red-Nosed Reindeer board game will certainly get your family into the Christmas spirit with some fun family bonding time.
Christmas Carols & Songs Game
Do you think you know all your Christmas carols? This exciting Christmas Carols & Songs Game will have your family members belt out the famous songs at the top of their lungs and team up to answer questions about the song lyrics and facts.
The trivia questions are easy enough for kids to answer so that children will love it as much as adults. The game includes popular Christmas songs that everyone knows so you don't have to worry about singing obscure songs.
So get ready to get Christmas carols and songs stuck in your head all year long, because your kids may want to play this musical game even after the holiday season!
Final Thoughts
There are all sorts of fun Christmas themed games that the entire family can enjoy. From trivia to charades and plenty of fun boards to go around, there is surely a Christmas game for you!
Whether for parties or for a simple family game night, these games are guaranteed to put smiles on faces! With the games on this list, you too can find the perfect Christmas board game for you and your entire family.
---
YOU MAY LIKE: