With just a few supplies, you can launch a paper rocket at home! This straw rocket activity is super fun for your aspiring astronauts and only takes a few minutes to make.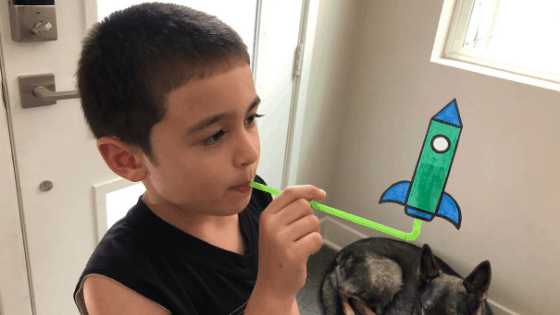 Rainy days in SoCal are rare. And I have to admit, I am spoiled with the weather. I don't even check the weather anymore, so imagine my surprise when I opened the door and saw the rain coming from the sky.
Okay, I guess no parks today. What to do indoors with my kid so they don't turn the house upside down?
The straw rocket activity is super easy and quick to set up. You probably already have all the materials necessary in the house (there are not many). And the kids love blasting the rockets!
How to Make Straw Rockets
Materials
Directions:
Cut a piece of a rectangle so that the length wraps around the straw and the width is about the length of the top of the bendy straw (about 2"x1.5"). It doesn't have to be exact, just eyeball it and cut the paper.

Wrap the paper around your finger and tape it so you have a tube.

Fold the top of the tube down and tape it closed.

You can actually stop at this point and use the tube as your rocket! Just bend the straw, place it on the short end pointing up, and blow!

Print out the straw rockets printable here.
Have your child color the rockets.
Cut out the rockets.

Tape the tube to a rocket.
Place the rocket/tube on the short end of the straw, and blow hard!
For more fun, count down with your child from 10 just like the NASA rocket launch!
You can also flip the straw around so you are blowing on the short-side and the rocket is on the long-side. Do you observe a difference? Does the rocket fly higher this way?
Final Thoughts on Straw Rockets
Feel free to have your child draw their own rockets and tape them on to the paper tube. My daughter loved coloring the rockets as much as cutting them out. So this became a fine motor, scissor skills activity as well!
---
If you like simple experiments you can do on a rainy day, check out these: