Charades is one of the most popular games to play with friends and family at reunions, gatherings, or parties. And it's easy to see why! With some hilarious acting and ridiculous guesses, the game of charades always leads to lots of laughter and joy.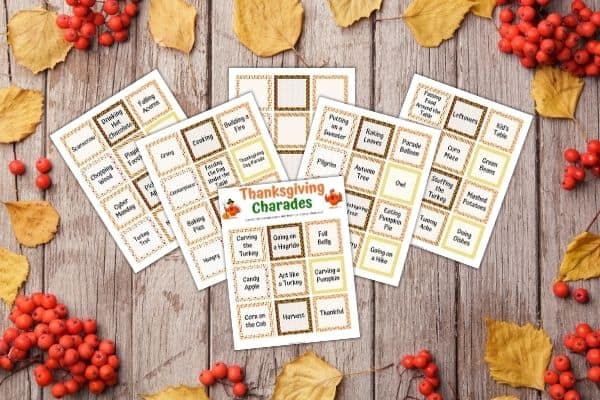 Whether you are having a huge family gathering this Thanksgiving or keeping it small with close friends and family, playing Thanksgiving Charades will keep the kids occupied while the adults are busy cooking the Thanksgiving feast!
Thanksgiving Charades Game
The Thanksgiving Charades cards include prompts like "act like a turkey," "setting the table," "basting the ham," "full belly," and "playing football." It also includes blank cards for you to fill out your own prompts!
The game comes with:
5 pages of Thanksgiving Charade cards with 57 different prompts
1 page of 12 blank cards
How to Play Thanksgiving Charades Game
You don't need much for a game of Charades, and that's why this Thanksgiving Charades game is perfect to take out anytime for some much-needed fun!
All you need is:
A bowl (to keep the charades cards in)
Paper and pencil (if you want to keep score)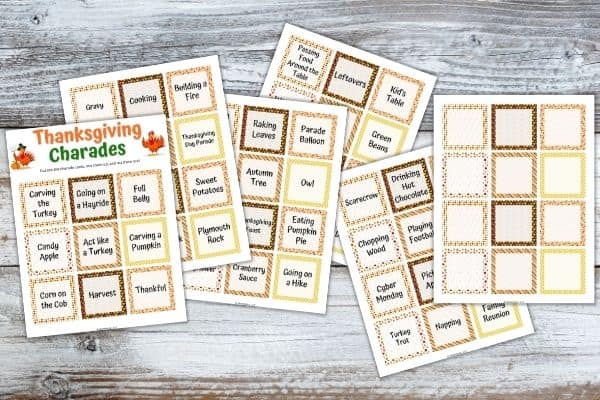 Instructions:
1. Print and cut out the Thanksgiving Charades cards. I recommend printing on cardstock paper and if you have small kids or wish to reuse the game, laminate the cards to prevent damages. 
2. Shuffle and mix up the cards. Put them in the bowl.
3. Divide the players up into two teams.
4. Pick a team to go first. One person from the team will pick a card and act it out in front of the room. The rest of the team will have to guess what is on the card.
The person acting out the card may not use any props or speak any words. But you may allow sound effects depending on how tough you want to make the game.
As far as using the timer, you can either:
Set 1 minute on the timer and start it when a person draws the card. The team must guess the card before the time runs out. Once the team guesses the correct answer, they get a point and it's the other team's turn.
Similar to above, except the team is allowed to guess as many cards as possible in that 1 minute. You can have the same person continuing to act out the cards, or you can switch players.
5. The other team takes its turn.
6. Repeat until everyone on the team has had a turn or until the cards run out!
Grab your Thanksgiving Charade game today and have a blast on Thanksgiving day!
---