Learn how to play paper football with LEGO goal posts that your kids can easily build with LEGO blocks you probably already have at home.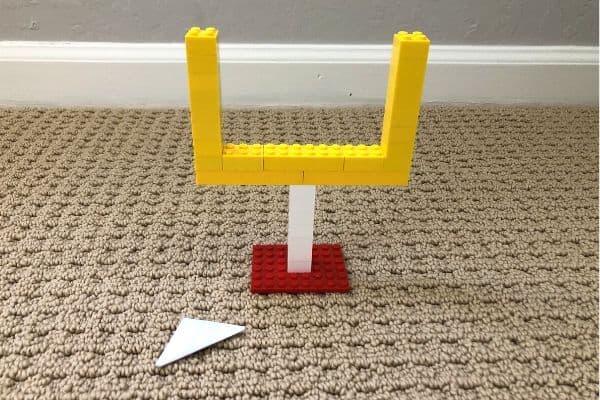 Remember the paper football game from way back when you in school?
In case you are not familiar with paper football (my husband apparently never played it!), it's a simple game kids play. You would use your thumbs and index fingers to form a goal post, and your friend would shoot a paper football through it. And then you would take turns until someone scores.
Paper football is a great way to pass time. But the problem with using your hands to make goal posts is that somebody is going to get hit in the face at one point. And I know that my kids will not take that well.
Hence, we decided to make a LEGO goal post for our paper football games!
How to Make LEGO Goal Posts
This post contains affiliate links. Please see my full disclosure policy for details.
Materials:
Instructions:
Make the LEGO goal post using LEGO bricks and a plate. You can design the goal to whatever height you would like to shoot your paper football. Tip: If you want to design the goal to represent a typical paper football game you would play with your hands, the goal should be only a couple of inches off the ground.
Optional: Be creative and decorate your goal post! You can choose the brick colors to represent your favorite football team, or if you have a bigger green LEGO plate, make the lines on the "grass" field like a real football field.
Create your paper football. I had to look this one up and found great instructions here for you to follow.
My son built his LEGO goal post slightly taller than ideal, but when I asked him if he wanted to make it lower, he said no. He wanted the challenge!
If you want to make it easier to score, you can make your goal lower and wider. My son actually didn't have a problem shooting the paper football high, but the football kept veering to the sides instead of going straight.
He did end up scoring some goals after several failed attempts. Practice makes perfect!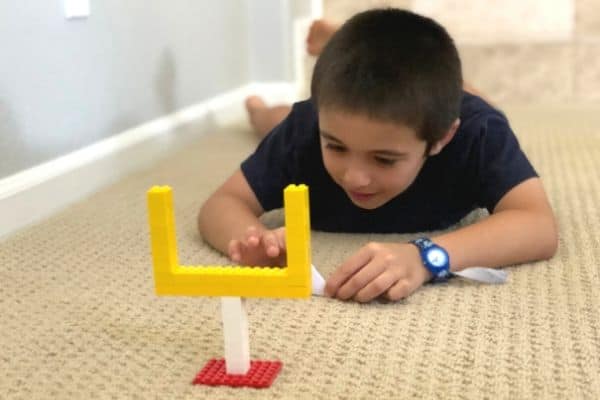 How to Play Paper Football
Since you are playing with your kids, you don't really have to follow "official" paper football rules. We just simply took turns trying to shoot the paper football through the LEGO goal.
However, if you want to play a legitimate game of paper football, here is a fun video with detailed directions:
Just make two LEGO goal posts and go at it!
Final Thoughts on the Paper Football LEGO Game
Paper football with LEGO goal posts is such a fun game and a great screen-free activity. It brought back good memories of simpler times without cell phones and all the electronics our kids are using today.
The paper football LEGO game satisfies the mini-engineer in your child with building the LEGO goal post. And then it also brings tons of fun for the whole family as you face off each other on who can score the most.
If you want to make the game even more realistic, build an entire football field with LEGO! You can even use LEGO Minifigures as football players. Keep this activity in mind for the Superbowl!
YOU MAY LIKE: