Here are the best LEGO gift ideas for kids of all ages! Whether it's for birthdays, Christmas, or just because, find the perfect LEGO gift for your child who love LEGO.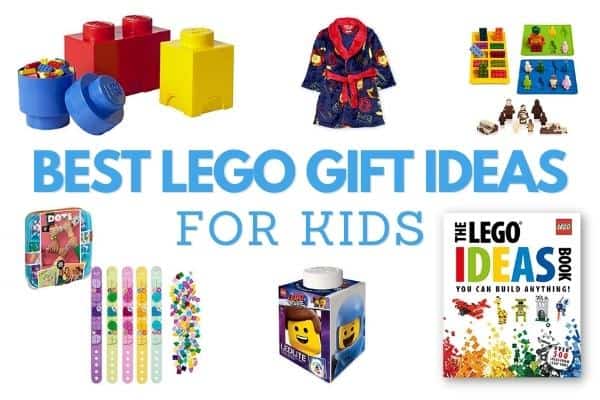 So, you're on the lookout for the best LEGO gift ideas for kids, but the little builder in your life already has so many LEGO sets that you'd rather give them something a little different than simply adding to their never-ending collection of bricks.
If that sounds familiar, this is the guide for you.
From books to clothing and everything in between, we've rounded up the very best LEGO gift ideas that allow you to give them something unique that they'll truly love.
Top 11 Best LEGO Gift Ideas for Kids
1. LEGO Storage Brick Multipack
What's the perfect LEGO gift to get for the kid who already has an infinite number of LEGO bricks?
A box to put them all in, of course!
The LEGO Storage Brick Multipack goes one better by providing three different storage boxes, all shaped like traditional LEGO bricks.
The set contains one Brick 1 Square, a playful Brick 1 Round, and a third Brick 2, which not only keeps their bricks neat and tidy but also adds a cool, unique look to their play space.
Each storage brick is free from BPA, PVC, and phthalate to ensure they're completely safe, and, of course, they're all incredibly easy to clean and wipe down.
What's more, all of the bricks can be stacked on top of one another just like traditional LEGO bricks, meaning they'll have just as much fun tidying away as they did playing, building, and creating.
2. LEGO Classic Blue Baseplate 10714 Building Kit
If you don't want to buy them more LEGO bricks, but you still want to give them something to aid their creativity and fun, this LEGO Classic Blue Baseplate Building Kit is the perfect gift idea.
It's also incredibly affordable, making it our pick of the best budget-friendly LEGO gift idea for kids.
Measuring 10″ x 10″ and featuring 32 x 32 studs, this official LEGO Classic piece provides them with a firm and sturdy base upon which to build whatever their imaginations can come up with.
3. LEGO DOTS Bracelet Mega Pack
You may already be well-familiar with our guide to the best LEGO sets for girls, but if you'd rather gift the LEGO-loving little lady in your life something other than an actual playset, then this next item may be just the thing.
The LEGO DOTS Bracelet Mega Pack contains everything they'll need to create their own amazing bracelets and jewelry.
This includes five 7″ jewelry bands and 295 colorful tiles that they can use to create their own unique patterns and decorate those bands however they wish.
Kids who already own other products from the LEGO DOTS range will find even more to like, as they can also use extra dots from other kits to create their ideal friendship bracelets.
4. The Lego Ideas Book: Unlock Your Imagination
By far the best LEGO gift idea for kids who love the challenge and reward of creating new and exciting builds with their bricks, The LEGO Ideas Book is bursting with advice and tips from some of the best expert LEGO builders around.
On each brightly colored, fully-illustrated page, kids will learn how to create everything from jet planes and jungle scenes to incredible spaceships, grand fortresses, and more.
Suitable for kids with a reading age of 6-9 years, the colorful LEGO book is divided into six chapters, each focusing on a different theme, including transport, buildings, space, kingdoms, and useful makes.
Together, these six chapters provide your little maker with over 500 build ideas, meaning they'll be fully engaged for hours.
5. LEGO DOTS Jewelry Box
If you loved the idea of the LEGO DOTS bracelets we looked at earlier, but your young one already has them, the LEGO DOTS Jewelry Box will prove to be the ideal gift as it gives them somewhere to store those bracelets once they've been made.
Featured in our guide to the very best LEGO gifts under $25, this low-cost, high-value set contains no less than 374 pieces to ensure hours of fun.
The highlight is, of course, the 1″ x 4″ x 5″ jewelry box, which is the perfect size for a child's bedroom. Each surface of the box can be lovingly built upon with the other 373 decorative pieces as well as extra tiles from any LEGO DOTS sets they may already have.
The best part is that the fun doesn't end there. If they get bored of their finished design, each one of those tiles can simply be removed so that they can start decorating and flexing their creative muscles all over again.
6. FantasyBear Silicone Molds Set for Building Blocks
Easily one of the more interesting and entertaining LEGO gift ideas we've come across, the FantasyBear Silicone Molds Set for Building Blocks is perfect for giving them the opportunity to expand their creative skills even when not using actual LEGO bricks.
The set contains three unique molds made from food-grade silicone, which adheres to the United States FDA standards.
The first mold is shaped like the classic LEGO bricks, while the second is shaped like their favorite Minifigures. As if that wasn't enough, the third mold is based on Star Wars and allows them to create goodies in the shape of the Death Star, making it the perfect gift idea for fans of the adventures of Luke Skywalker and friends who already own all of the very best LEGO Star Wars sets.
Whichever mold they use, these safe, non-toxic molds can be filled with everything from chocolate and candy to jello, gummies, ice cream, and cake-mix, or even non-edible treats like soap or candle wax.
All in all, this makes it a great choice to help channel their interest in LEGO into learning how to make things in the kitchen, and, of course, each mold can be effortlessly wiped clean after use.
7. The Lego Movie 2 1×1 Silicone Brick Night Light
The LEGO Movie 2 1×1 Silicone Brick Night Light is a great addition to any LEGO-themed bedroom or play area,
Featuring the characters Benny, Rex, and Emmet from the popular LEGO Movie, this 4″ x 4″ x 5.45″ night light is built to stand at 1200% scale compared to a standard LEGO brick and will make a colorful and vibrant talking point in their room.
The lamp features a soft-touch button that can be used to turn it on and off, while kids will also have endless fun tapping the sides to change the colors.
Although it's one of the more expensive LEGO gift ideas we've included here, it's nonetheless a great value for money item.
8. Lego Movie 2 Boys Fleece Bathrobe
If they're not yet ready to turn off their LEGO Movie night light and head to bed to dream of their next big brick-based adventure, your little one may have more fun wrapping themselves up in this super-adorable and super-comfortable LEGO Movie 2 Boys Fleece Bathrobe.
If you've already looked over our guide to the best LEGO sets for boys and you still want something different, this robe may be well worth a look.
Available in a range of boy's sizes from 4-12, it's made from 100% fleece polyester that is machine washable and fully flame resistant for their safety.
On the outside, it's adorned with cute LEGO patterns and graphics of their favorite LEGO Movie 2 characters, including Emmet, Rex, and even Batman himself.
9. Ninja Mission: Garmadon vs. Lloyd: LEGO® Adventure Book for Kids
Kids who are fans of the hit LEGO Ninjago TV series will undoubtedly find hours of fun and entertainment in the Ninja Mission: Garmadon vs. Lloyd: LEGO® Adventure Book for Kids.
A complete activity pack, this one contains two exciting, interactive books which see the Ninjago hero Lloyd fighting off the Skulkin Army to complete a mission and save the day.
Along the way, each story is brought to life thanks to the fun 3D-popup playset and two Minifigures featuring Lloyd himself and the dastardly villain Lord Garmadon.
10. NYA Deluxe Ninjago Lego Costume
Last but not least, we're sticking with the Ninjago theme as we finish our guide to the best LEGO gift ideas for kids with this NYA Deluxe Ninjago LEGO costume.
An officially licensed product, this highly detailed costume set includes a tunic, pants, a mask, and a pair of minifig hands that provide everything they need to look exactly like a Minifigure from their favorite LEGO theme.
Available in a range of sizes, this is the perfect gift for Halloween, costume parties, or simply to let them have fun around the house.
11. LEGO Minifigure Wallet
The LEGO Minifigure Wallet is a great way to teach your little LEGO fan about money. This trifold wallet has a clear window to put your ID or favorite minifigure inside. It also has two slots to store all your cards and the classic LEGO Minifigure print makes it an adorable gift.
This wallet holds everything safely with a tight hook and loop seal. Best of all, it is very durable so your kid can take it with him or her everywhere.
The only downside is that it doesn't have a place for coins so your kid will have to use his or her pocket for the loose change. That said, the LEGO wallet provides the perfect opportunity for your kids to learn the concept of money and how to manage their own money.
How to Choose the Best LEGO Gifts for Kids
As you'll see from the top picks above, the best LEGO gift ideas for kids really do come in all shapes and sizes.
If you've read this far and you're still not sure which one to buy, asking yourself the following three questions should help you make that decision.
What Do They Love?
Of course, we know that they love playing with LEGOs, but what else? Do they love to read? If so, a book might well be the perfect gift idea. Do they love to create? If so, something that lets them get hands-on will no doubt be the way to go.
Alternatively, it may be that they simply love spending time in their room or their favorite play space, in which case a night light, play storage, or other accessories will no doubt earn you maximum brownie points.
What's Their Favorite LEGO Theme?
From Marvel Superheroes to swashbuckling pirates, space adventures, and more, LEGO is available in a vast variety of different themes.
If they have a favorite, such as the popular Ninjago TV series, that should significantly influence the gift you ultimately choose to buy them.
And if they don't necessarily have a favorite LEGO theme? That's fine too; there's a whole host of general LEGO-themed merchandise out there that any fan of the classic building bricks is sure to love.
How Old Are They?
While age-appropriateness is more important when buying a LEGO set than it is a LEGO-related gift, it's still something that's certainly worth keeping in mind.
If you're buying them a gift that allows them to get creative, for example, then you'll want to be sure that it's neither too complicated nor too simple for their age range, as well as considering whether there may be any small parts that could be a hazard for young children.
If you're buying a LEGO-themed book, then reading age is worth considering, while their age may also determine the size of LEGO clothing you buy them.
What is the Best LEGO Gift for Kids in 2021? Our Verdict
There are hundreds of LEGO gift ideas for kids you could possibly choose from, but the ones we've picked out above are the ones we consider to be the very best of the best.
If you still haven't yet made your mind up, allow us to wrap up this guide by offering you a few final recommendations:
If you're looking for the best budget-friendly LEGO gift idea for the little builder in your life, then you really can't go wrong with the wonderfully affordable LEGO Classic Blue Baseplate Building Kit that's sure to enhance their play.
If you want to continue encouraging them to develop their creative skills without actually using LEGO blocks, then either the LEGO DOTS Bracelet Mega Pack or the FantasyBear Silicone Molds Set for Building Blocks will make the ideal gift.
Still, with all that being said, we're convinced that the absolute best LEGO gift idea of them all is the LEGO Storage Brick Multipack in which they can store all of their countless bricks, making tidying away after play time every bit as fun as playtime itself.