Learn how to make fake snow that feels cool to the touch and won't melt inside the house! Your kids will love making snowballs and snowman while staying warm.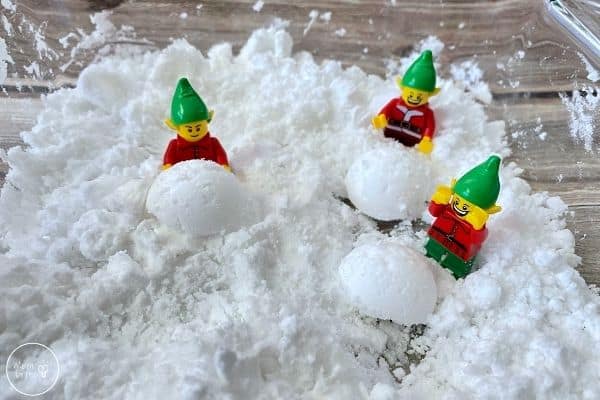 On day 3 of our Disney-themed week, we travel to the land of Arendelle to visit our favorite princesses, Anna and Elsa from Frozen. 
But because we are in the land of Arizona, we don't get to experience the cold or snow. The kids don't know what snow feels like and the concept of a snowman is foreign to them.
To better understand what Olaf is made of and what winter in Arendelle is like, we made some fake snow at home. This DIY snow recipe is super easy and uses only 2 simple ingredients!
How to Make Fake Snow at Home
Ingredients:
Shaving cream (the foamy kind, not gel)
Container (for mixing and playing with the snow)
Directions:
Pour 1 cup of baking soda into the container.
Add some shaving cream.
Use your hand to mix and knead the shaving cream with the baking soda.
Add more shaving cream and continue kneading until the mixture reaches the consistency of snow.
That's it! So simple right? And if you want more fake snow, simply just add more baking soda and shaving cream.
Even though our baking soda snow as a tad bit dryer than real snow, we were able to make snowballs. And when you can make snowballs, you can make … SNOWMAN! My kids were so excited to see a snowman because they have never seen one in real life.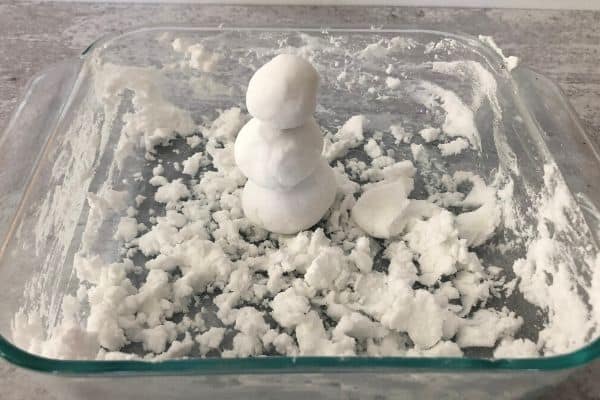 Of course, we had to invite our friends Anna and Elsa to come and build the snowman with us. We just happen to have LEGO Disney Frozen Playground set so the princesses were all dressed up in snow gear.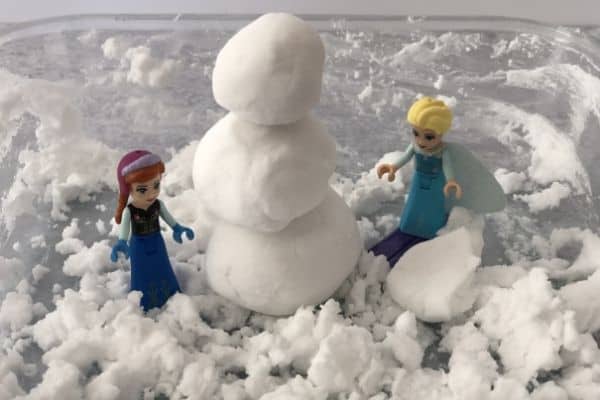 What's more fun than building a snowman? Topple one over of course!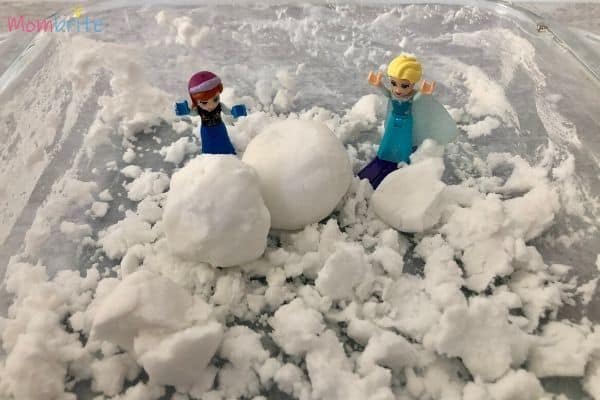 Then in a typical boy manner, my son decided he wanted to bury Anna and Elsa with the fake snow. I bet the princesses didn't see that one coming!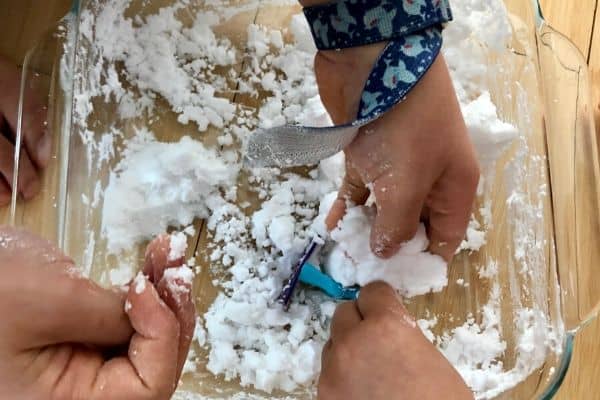 The Science Behind Baking Soda Snow
The coolest (pun intended) thing about making fake snow out of baking soda and shaving cream is that the snow is cool to the touch. You can always make the snow even colder by placing the baking soda in the fridge before mixing it with shaving cream.
However, even room temperature baking soda mixed with shaving cream feels cold. Why?
It turns out that baking soda, or sodium bicarbonate, when mixed with shaving cream, or an acid/lanolin/sorbitan compound, creates an endothermic reaction. The mixture absorbs heat from the surroundings, or your hand when you are holding the snow.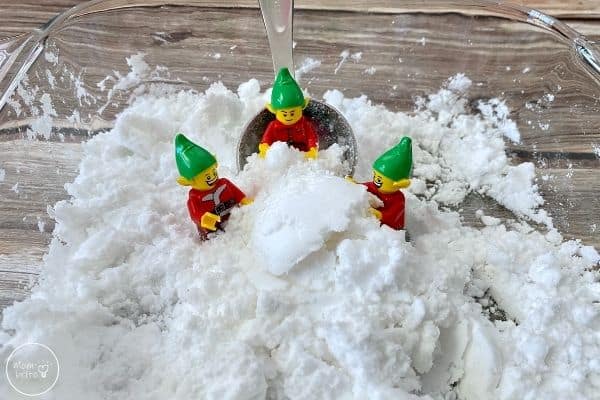 Final Thoughts on the DIY Fake Snow
Depending on what shaving cream you use, the fake snow may smell nice and fresh. My kids kept commenting on how they love the smell of the snow. Hopefully, they won't be too disappointed by how real snow smells when they finally get to play in it!
My daughter also loved the way the fake snow felt in her hands. The baking soda snow's texture is very close to freshly fallen snow.
After they were done playing with the Frozen characters, she kept pretending to "wash" her hand in the fake snow. This makes the fake snow a great sensory play for even toddlers, but you just have to be careful that nothing goes into their mouths.
If your kid enjoyed the fake snow, let me know in the comments!
You May Like: