Your kids will love giving out these adorable space Valentine's Day cards to their family and friends! These cards are free to download and easy to print.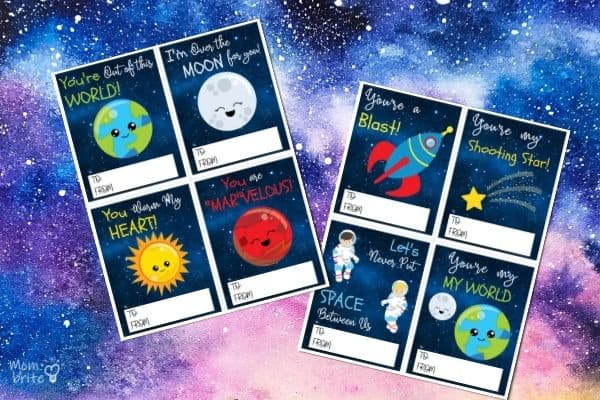 Outer space is a fascinating topic for people of all ages. Kids especially love all things outer space and aspire to become future astronauts. So for this Valentine's Day, why not express a love of space through these adorable printable Valentine's Day cards?
Whether it's studying moon phases or examining the star patterns that make up constellations, kids just love space-themed activities. Chances their friends are obsessed with space too. Giving out these space valentines to friends at school will be sure to put a smile on everyone's faces.
Free Space Valentine's Cards for Kids
Printing off your own space valentine's day cards has a few great benefits.
They're free! You can print them off with a regular home color printer and paper. If you want to upgrade your printable Valentine's Day cards, you can use cardstock instead.
You only need to print off the exact number of cards you're giving out, so nothing goes to waste.
On the other hand, if you run out of cards, there's no need to run to the store for more! You can simply print out a few more.
Kids can express their individuality by choosing cards that fit their unique interests.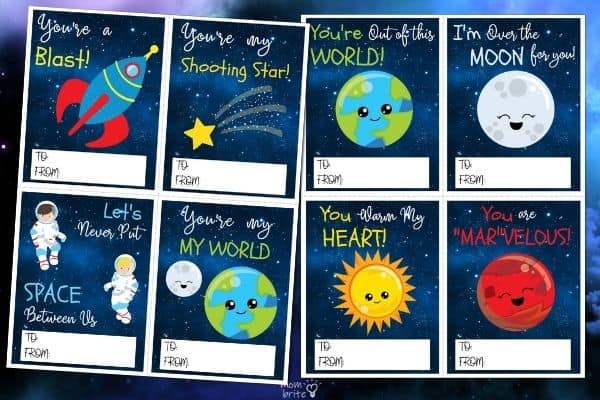 Print Your Free Space Valentine's Day Cards
These space Valentine's Day cards have adorable messages and illustrations. They feature friendly-looking illustrations of planets, astronauts, spaceships, and other galactic themes. The cards feature a variety of quotes to choose from, such as:
"You're out of this world!"
"I'm over the moon for you!"
"You're a blast!"
"You're my shooting star!"
…. and more!
Each card has a place where you can write who the card is from and who you are giving it to. Having your friend's name on the card will make him or her feel extra special!
The printable Valentine's Day cards are available in PDF format. All you have to do is open the file, and hit the print button. Then just cut them out and fill out your child's name and their friends' names.
Get yours here!
---
Related Posts: