These adorable free printable dinosaur Valentine's Day cards for kids are easy to download, print, and cut out. Your little dinosaur fans will be so excited to give these dinosaur-themed Valentine cards to their friends at school!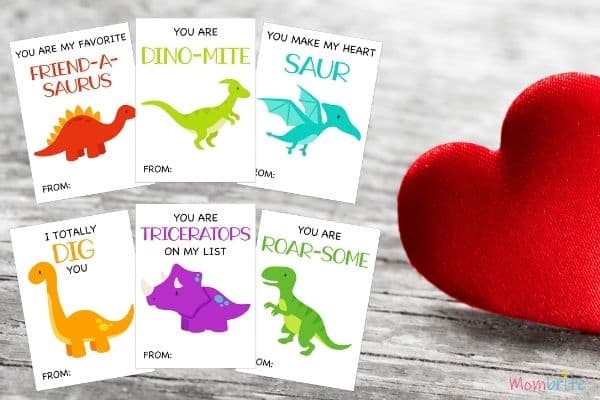 Valentine's Day is so fun as a kid. It's so exciting to fill out Valentine's Day cards and exchange them at school with friends. Then after you collect a whole bunch in your own personal Valentine box, you get to sort through them all when you get home.
These free printable dinosaur valentine's cards are cute, quirky, and gender-neutral. Filled with dinosaur puns, your little dinosaur fans will be so excited to hand them out to their friends.
Free Printable Dinosaur Valentine's Day Cards
The designs on these dinosaur Valentine's Day cards incorporate several colors and different types of dinosaurs. They're perfect for both boys and girls, and your kids can simply choose their favorite and use them to express their feelings to their classmates.
The playful titles include:
You Make My Heart Saur
You are Roar-Some
You are My Favorite Friend-A-Saurus
You are Dino-Mite
I Totally Dig You
You are Triceratops on My List
There is an area on the bottom of the cards to write your child's name so that their friends will know who these fun dinosaur cards are from! I always find it an excellent opportunity for my kids to practice writing their names and improve their penmanship.
How to Print the Dinosaur Valentine Cards
I recommend that you print these dinosaur cards on cardstock paper. The thicker paper will make the cards more durable and last until your kid's friends take them home.
To download the free printable dinosaur Valentine cards, simply fill out the form below and the file will be sent to your email.
Then after you open the file, just hit the print button and print the cards on a color printer. Print out as many sheets as you need – that's the beauty of a digital download!
There are 6 cards per page, and each card measures 2.75″ x 3.75″. After you finish printing all the pages you need, cut the individual cards out with scissors or a paper cutter.
The cards are blank on the back. Encourage your kids to come up with a personalized message to go alongside the quirky titles and write it on the back of the card.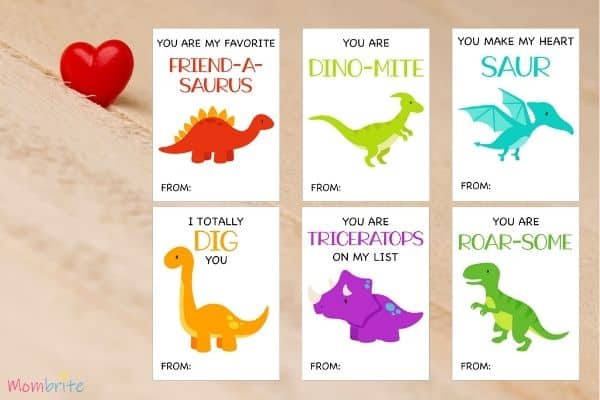 If your kids are like mine, they will want to decorate the cards! Your kids can certainly personalize them in whatever creative ways they can think of. They can cover the cards in glitter or add little dinosaur-themed stickers to the cards.
You can also attach little dinosaur figures in a small plastic bag to these cards to make them extra sweet. Another option is to use double-sided glue dots to attach the toy dinosaurs, but then there would be very little room for your kid to write messages on the back of the cards.
You could even invest in some little envelopes to go with your cards and encourage your kids to slot them inside before passing them out to their classmates. They could even then add heart stamps or stickers to the envelopes to really keep in with the whole Valentine's day theme.
Fun Dinosaur Facts
You can also use these designs as a way of teaching your kids about dinosaurs. You could throw in one or several of these fun facts about dinosaurs as a way of making the experience more educational for your kids:
Dinosaur literally means 'frighteningly big lizard!'
When the Chinese found dinosaur fossils for the first time, they believed they were the remains of fire breathing dragons.
Scientists believe that the T-Rex might have had feathers, like those found on birds today!
Despite what many of us think, the biggest dinosaur was not a T-Rex. It was actually the plant-eating Sauropods, which were both the biggest and the heaviest dinosaurs to walk the earth.
Your kids can also write some fun facts on the back of the cards for their friends to learn about dinosaurs. Why not share the knowledge and learn together on Valentine's Day?
However you decide to use these dinosaur printables, they will bring joy to your kids and their friends!
---
Related Posts