Bubbles are great for kids to develop visual and fine motor skills. Check out these best bubble machines for kids that will keep them busy for hours and will make your kid's next party a fun and exciting one!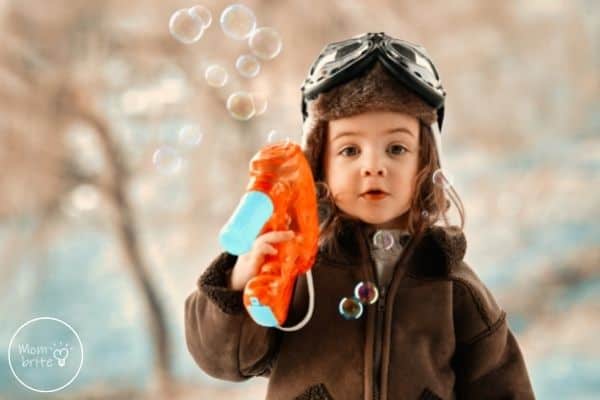 When it comes to inexpensive, wonderful things children love, bubbles are clearly on the top of the list. Playing with bubbles is an interesting activity that helps kids improve a vast range of developmental skills.
Jumping and running around to chase bubbles serve as an exercise to both preschoolers and older kids, helping them improve their sense of direction, visual tracking skills and establish quick reactions.
There are tons of affordable bubble makers on the market! The absolute bubbly favorites? Insanely affordable yet high-quality bubble machines that can entertain the entire household! Shop today while the selection is good and don't forget the batteries!
15 Best Bubble Machines for Kids
Octopus Bubble Maker
Bright colors and fun sound always capture the attention of youngsters ages 3 and up. For kids this age, it's best to get a small, lightweight, and brightly colored bubble machine blower that they can hang on their chests or carry in their hands.
This Octopus bubble machine blower is simple to operate and the small size makes it easy to handle for toddlers. This electric bubble machine is convenient for backyard play, travel, and outdoor parties.
Musical Bubble Machine
If your child is a preschooler, they will appreciate this bright blue-green machine that blows colorful bubbles and plays music. It's perfect for everyday use at home! It's affordable, lightweight, odor-free, and is completely safe for young kids. You can also hang it on a tree or another high area to meet strong winds for richer, higher bubbles.
Bubble Lawn Mower
This bubble machine mower offers a delightful way to get children up and moving around the yard or inside the house. It releases continuous bubbles into the air the moment it is pushed and makes a mechanical sound just like a real mower.
Your little one will love pushing around his or her own lawnmower and work with you around the garden? The best tool for awesome outdoor play!
Dinosaur Bubble Blower
This dinosaur bubble blower is one of the best summer toys out there! It can function both as a bubble machine and as a cooling fan. To convert it into a simple fan, the only thing you need to do is take off the wands. That's it! It's a small, multi-functional, and portable toy that your kids can easily carry around.
Husky Dog Bubble Maker
A dog that can blow a thousand bubbles in one minute? Yes, please! This little husky bubble puppy has mastered that trick! Bubble machines come in all shapes and sizes, and there is no doubt that this is one of the most unique ones out there. It's automatic, plus it comes with a separate bubble wand and bubble solution so the kids can blow their own bubbles, too!
Bubble Blowing Machine
Looking for a bubble machine for your elementary schooler? This sleek automatic bubble blower is well- built, and has a strong service life. Whether you need it for an event or just for uninterrupted bubbles leisure time, it's sure to exceed your expectations.
Just remember to use a more concentrated bubble liquid. The higher the concentration, the more bubbles will be produced!
Bubble Gun Blowers
Shaped like blasters you would see in a sci-fi movie, this set of two bubble guns are simple to operate and easy to fill with bubble solutions. The guns are lightweight so it's easy for kids to run around the yard with the bubble guns in their little hands.
The unique design of these bubble shooters also let kids use them as cool toy guns when they run out of bubble solution. They light up and play music so your kids can use them for pretend play long after the bubble solution has been used up.
Spaceship Bubble Maker
Looking for a bubble machine with a unique shape and more powerful performance? This spaceship theme bubble maker has a sleek design both young and older children would love.
It comes with rechargeable lithium batteries, some of the most energy-efficient solutions out there, so no need to spend a lot on batteries. In one minute, this small machine can release 2,000 bubbles!
Dino Egg Bubble Machine
Dinosaur-themed toys never get old! This battery-powered baby dino bubble maker comes with eight bubble wands, and a 50 ml container of bubble solution. The unused liquid can be poured back into the bottle for future use. It's sure to keep children and pets entertained for many hours!
Bubble Machine With LED Lights
Bubble machines are wonderful additions to late afternoon BBQ and for fun family nights. This bubble machine with LED lights is perfect to illuminate your party. It also comes with a convenient remote control so that you can change the bubble and light settings from afar.
Sunset marks the start of a colorful bubble party. Just turn on the LED lights for prettier, more illuminated bubbles with brilliant colors!
Portable Bubble Maker
This portable bubble maker is small but powerful and is sure to bring tons of fun for the whole family. It comes with rechargeable batteries so you can save money on purchasing disposable batteries.
The lightweight design allows you to bring this bubble machine to the park or to the backyard easily. It's a plain-looking bubble machine in comparison to some of the others on this list, which is a plus for older kids who no longer are into dinosaurs or animal-themed toys.
Bubble Guns Kit
Who doesn't love bubble machine value packs? If you have multiple kids like mines, you probably need to buy more than one to make sure all the kids are happy and avoid unnecessary tantrums. Your kids will love this bubble guns kit that comes with 3 bubble blasters with LED flashing lights.
One of the best things about these bubble makers is that they come with six child-safe 4 oz bubble solutions! In just one click, you can start a bubble party with the entire family. 
Robot Bubble Toy
This unique robot bubble machine not only blows bubbles, but it's also a robot toy. When you pour bubble solution in, the bubble-blowing toy will make hundreds of colorful bubbles. Without the bubble solution, it turns into a robot toy that sings songs and lights up. It even has an attached lanyard making it easy to take anywhere!
Basketball Bubble Machine
This small and portable basketball bubble machine looks just like the real thing. It's the perfect addition to outdoor activities, parties, and gameday! The quiet powerful motor is able to put out over three thousand bubbles per minute. What a fun and exciting way to let kids have some fun! There's even a soccer ball bubble machine, too.
Rechargeable Bubble Machine
Another option for bigger kids is this all-white, elegantly designed portable bubble machine.
With the capacity to blow 1,000 bubbles per minute, it's one of the best bubble machines out there. It also has a solution capacity of 700 ml, and when fully charged, can run for three to four hours of continuous use.
This lightweight bubble machine has a built-in rechargeable battery, but it can also be plugged into any wall outlet for stationary use, too. Though it's more expensive than the other contestants on this best bubble machines for kids list, its additional features make it worth every penny.
Related Posts: