This angel handprint craft is a simple Christmas craft for kids to make. It can be used as a custom Christmas card to give to friends and family, a personalized tree ornament, or a precious keepsake.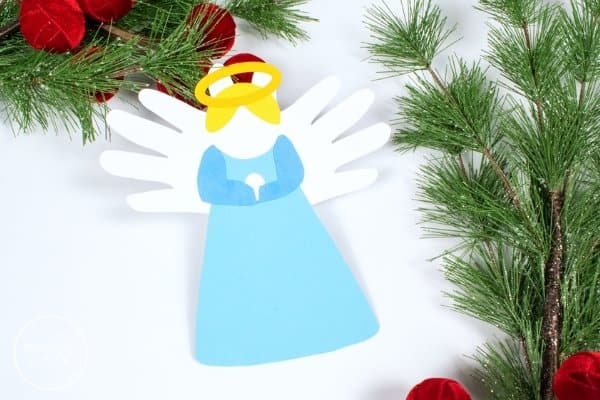 Christmas crafts are a wonderful way to celebrate the holidays with your child. Handprint crafts are not only fun to make, they are special reminders of your child's unique stage of life. This handprint angel craft is the perfect Christmas craft for your little angel this December.
No matter what your child's age, handprint crafts are a simple-to-make reminder of your child's sweet hand size. This is especially important for parents of newborns or young toddlers.
Art projects are excellent ways to get your children started on early skills while keeping them busy and engaged in an activity that you can share with them.
Below you'll find easy instructions for creating a handprint angel craft. You will need access to some basic art supplies, including paint, glitter glue, and construction paper.
Why Handprint Crafts?
Handprint crafts are often very special. They make great memorabilia from your child's stage of growth and provide opportunities to discuss the growth process with them. They also make great gifts for grandparents and faraway family members.
Adding a special touch that your child can connect with as "theirs" also helps them feel ownership of their unique craft.
For example, you can not only trace their hands for this handprint angel craft but use paint to add their one-of-a-kind handprint to the cardstock and cut around it. Not only is it shaped like their hand now, but it also makes the craft even more personal.
Creating arts and crafts is also an excellent way to spend time with your child. Even toddlers enjoy making art projects when they are guided through the process. Art projects can be a simple way to introduce more complicated skills, such as fine motor skills and shapes.
How to Make a Handprint Angel
This angel handprint craft is very easy to make and features your child's hands as the angel wings. This handprint angel craft can be created with only a few materials you probably already have in your home.
Supplies:
Cardstock or construction paper (white, light blue, medium blue, yellow, dark yellow, and your choice of skin color)
Scissors
Glue stick
Pencil
Free downloadable handprint angel template (click on the image at the end of this post for the printable)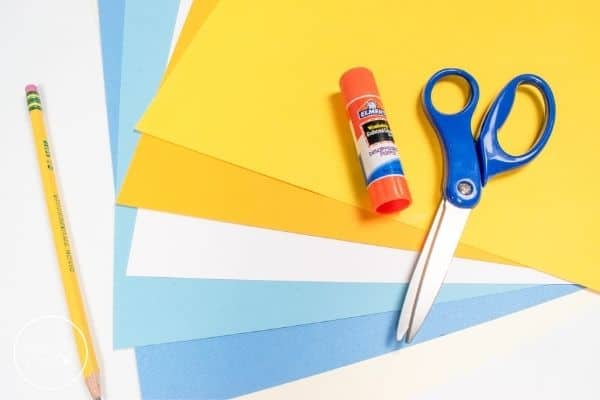 Instructions:
1. Place your child's hands on the white paper and trace the outline with a pencil. Cut out the traced outline.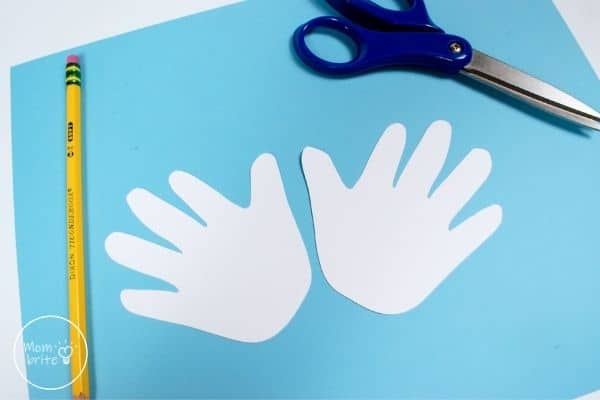 2. Print and cut template pieces on the correct color of the paper. The other option is to print them on computer paper and trace the shapes onto colored paper as shown.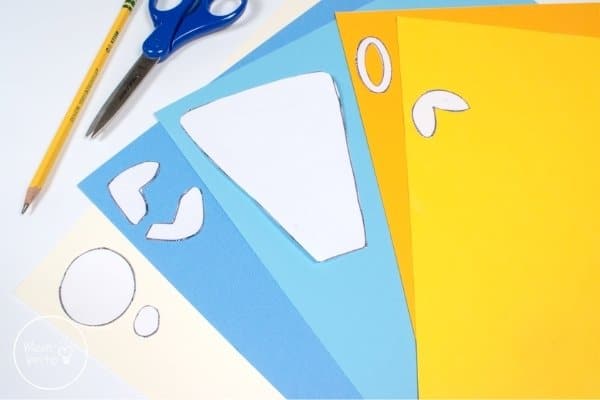 3. Cut out cardstock template pieces.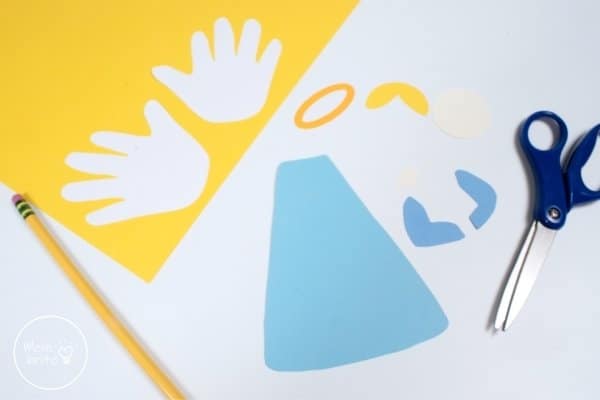 4. Glue the two hands together by overlapping the sections below the thumbs to form handprint angel wings.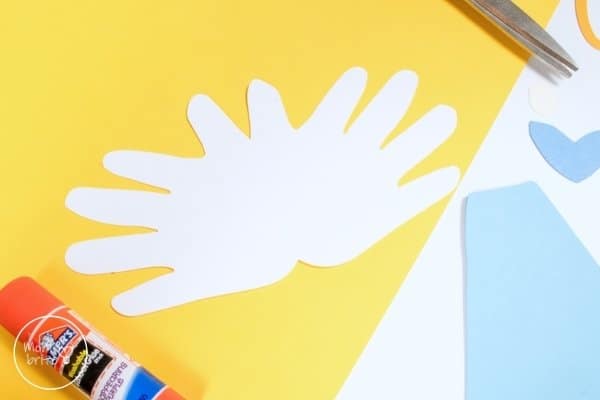 5. Glue the blue dress to the middle of the wings.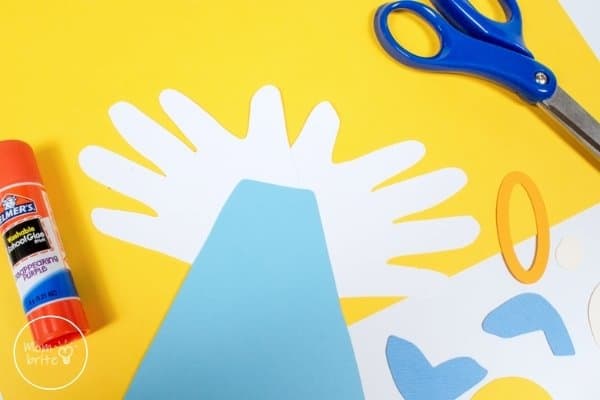 6. Glue the yellow (or any color you may choose) hair to the head
Then glue the head to the top of the angel's dress.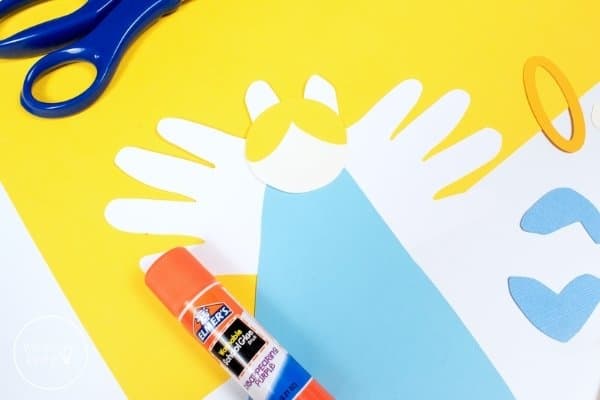 7. Glue the arms and praying hands to the front of the dress.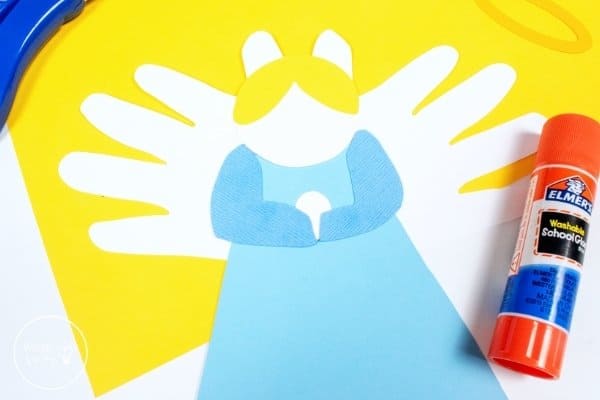 8. Finally, glue the halo to the top of the head.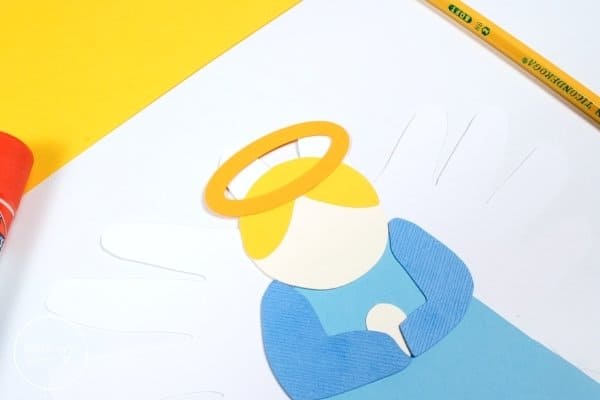 There's no limit to what you can do with your child's hands when making these crafts! Want one more? Hole punch the top, add a ribbon or string and use the craft as an angel handprint ornament on your tree or a very special kids' Christmas tree.
There are many other Christmas decorations that can be made with your child's handprints. You may enjoy creating more handprint creations like a handprint Santa Claus or this handprint reindeer. Happy holidays and crafting!