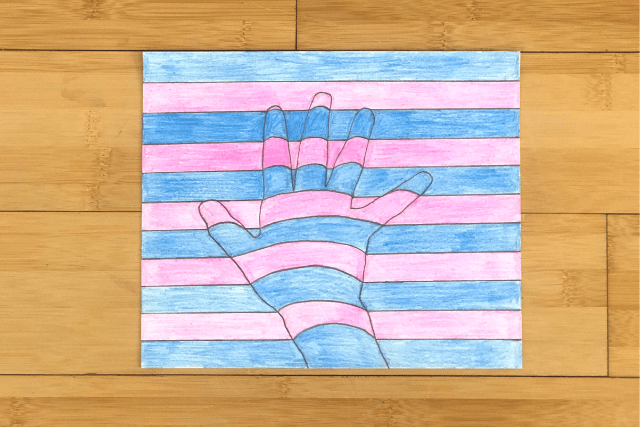 I just love any art projects that involve handprints. The other day, my kids found the salt dough handprint ornaments we made when they were little and were so amazed at how much bigger their hands were.
Now, this optical illusion art will blow their minds. And it's such a pretty keepsake to frame and hang on your kid's wall.
How to Draw a Handprint in 3D
Materials:
Paper
Pencil
Eraser (just in case)
Ruler
Markers or colored pencils
Instructions:
Place your child's hand on a blanket piece of white paper.

Trace the outline lightly with a pencil. **Tip: Don't press too hard when you are tracing. Your kid is most likely going to move his/her hand a little and you want to be able to erase the pencil marks completely.

Remove your child's hand and go over the lines again with a pencil. Make corrections if necessary.
Using a ruler as a guide, draw evenly spaced lines across the page. Do NOT draw inside the handprint.

Draw curved lines inside the hand.

Using markers or colored pencils, color in the space between the pencil lines.
Continue to color until you fill the entire page.

How cool is the 3D handprint drawing you end up with? Was your child impressed?
My kids want to try this with their feet too and who am I to refuse a fun art project.
What's fun about this handprint optical illusion is that your kid can color it in whatever way they want. As long as they stay within the lines, the optical illusion will still pop out.
Final Thoughts on the 3D Handprint Art
I love art projects that give kids confidence. Meaning, the art itself is simple, but the result is eye-popping. And this 3D optical illusion art definitely achieves that.
This gives my kids so much pride that they can accomplish something so cool. You can see it in their eyes and smiles. And I have to admit, mommy is pretty proud herself.
YOU MAY ALSO LIKE: