This free printable summer charades game for kids is a fun game to play at parties or at family game night. Your little ones will enjoy this classic game during summer break.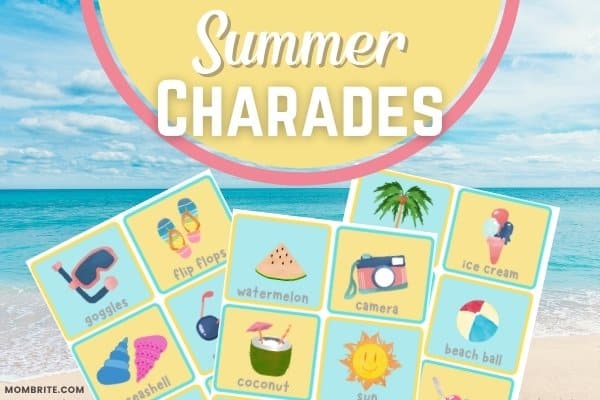 Charades has always been one of my family's favorite games. Kids love it because it's interactive and you don't have to sit still for the party game. In fact, lots of movement is necessary to win!
We live in Arizona, where the temperature reaches over 110°F during the day. There are not many places you can go in the heat. So we are constantly looking for ideas to keep the kids entertained while stuck indoors. That means we spend our days playing lots of board games and building LEGO blocks!
With this free printable Summer Charades Game for Kids, your family can challenge each other to a fun game of acting and guessing familiar summer words indoors, outdoors, or even virtually. I personally love charades because it gives me a chance to watch my kids use their creativity to act out words like ice cream, watermelon, and sunblock.
If you have young kids who cannot read yet, you are in luck! These charades cards come with illustrations so that even preschoolers and kindergarteners can understand what they need to act out. We wouldn't want them to miss out on the fun!
How to Play Summer Charades Game
This summer charades game follows the rules of the classic game of charade. Before jumping into the rules, download and print out the charades cards on regular printer paper (scroll down to the bottom of the post for directions). If you want to make sure these cards last longer, you can either laminate them or print them out on cardstock.
In addition to the charades cards, you will also need:
I just want to note that even though we are in the digital age and everyone likes to use digital timers or the timers in our phones, it's just not the same as watching the sand in the hourglass. Especially if you are playing this with young kids, I suggest using the sand timers so they can visually see the time running out.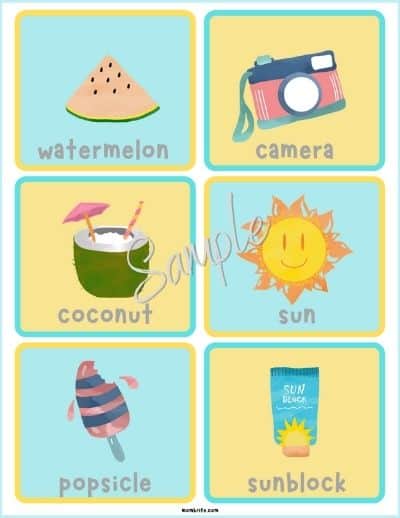 Rules for Playing Charades
Here are the instructions for how to play charades:
Split the group into two teams with an equal number of players.
Choose a team to go first.
One person from the team chooses a word and the rest of the team tries to guess it.
The second team sets a timer and the game starts.
The actor must act out the word using facial expressions and actions. He or she may NOT say a single word or make sounds.
The team can ask the actor questions and the actor can shake his or her head yes or not.
They can guess as many times as time allows by shouting out their guesses.
If they guess right, they get a point; if not, no point is awarded.
The second team now chooses a player and on it goes.
The rules of charades are listed as part of the free printable for those who are new to the game.
How to Download the Summer Charades Game
To download the free printable summer charades game, simply fill out the form below. The file will be delivered right to your inbox for you to print out.
Please note that this printable is for personal use or classroom use only. If you have a friend or coworker who would like a copy, I would be delighted if you could refer him or her to this post!
---
Related Posts: