Social distancing with an only child is not easy. My 3-year old little man excitedly asked me one day if he can visit his playmate who lives next door. Considering we are experiencing a global pandemic, I told my son that we can't and that we shouldn't.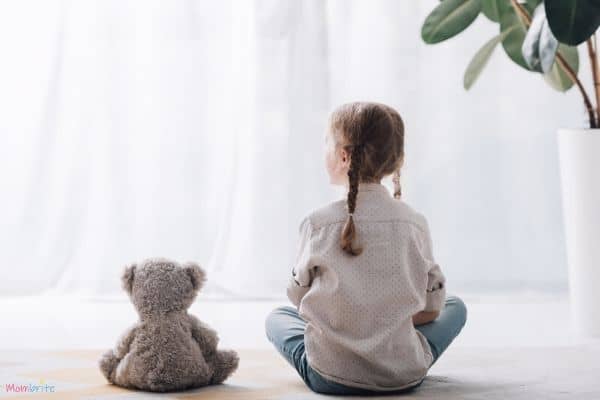 I began explaining about social distancing and what we need to do to keep the virus from spreading. He just looked at me with tears welling up in his eyes, but he was obviously trying to keep it all in. He has stayed at home for months now and I know that he really wants to go out. But what can I do?
I can't tell him to go play with his brothers or sisters somewhere because he doesn't have one. His normal interactions at daycare, playground, or just friendly faces at the mall are on hold for who knows when.
I cannot stress out the importance of social distancing but an absence of in-person interaction can affect a child's mental health. This time being cooped up inside the house may cause anxieties in the long run.
How to Parent Your Only Child During Quarantine
According to experts, this is the best time to show your only child that they are safe at home and that they can always come to you no matter what. Here are other things that you can do:
Be A Good Role Model
Kids imitate your feelings and reactions because they are always watching you. This is especially true for an only-child household because they are not distracted or busy arguing with their siblings. I suggest that you manage your reactions and keep the pessimism to a minimum.
Remind your child that, like them, you are also staying away from friends at the moment. During your talks, tell your kiddo that you miss hanging out or eating dinner with friends. Let them know that you don't like the idea of social distancing as well but it needs to be done.
Don't Hover
This is a great time to bond but give your kid some space. Don't control every activity of the kid. Stop being too intense and put off worrying about schoolwork for now. I know that you have your child's best interest at heart but this will only add to the child's anxiety.
Assign Tasks
The thing is that parents of only children do everything, leaving nothing for the child. Use this time to teach practical life skills to your child. You can assign him to clean and vacuum his room, help out in making dinner, or collect dirty clothes from his hamper. There are many things to do at home if you just let him.
Additionally, doing all this points out that he is an essential member of the family. He does not need to be the prime focus all of the time, especially during this time.
Take Advantage of Technology
Social distancing does not necessarily mean that you have to alienate yourself. They can still talk to their friends or anyone else remotely. Let them FaceTime or chat with friends, or better yet let him video chat with relatives. The important thing is that the other person is willing to listen and interact with your child.
Apart from connecting with other people online, your kids can also play games. There are tons of online platforms that offer scavenger hunts, virtual tours, academic resources, and even board games for little ones. This is all new and exciting to explore for everyone, even for adults.
Want to take your relationship to a different level? Try enrolling in an online course together. You'll see, it will be fun for both of you.
By the way, I suggest you extend your kid's screen time until this is all over.
Add Something New Into Your Daily Routine
The "new normal" activities are usually done inside the house. This time, add playing in the garden into your routine every once in a while. You can have a picnic in your backyard, or try something new outside your home just to mix things up. Make sure that you set aside time for this every day.
Doing this will help you achieve three things: (1) keeps your kid's mind off not being able to go out, (2) strengthens your bond, and (3) gives them something to look forward to every day.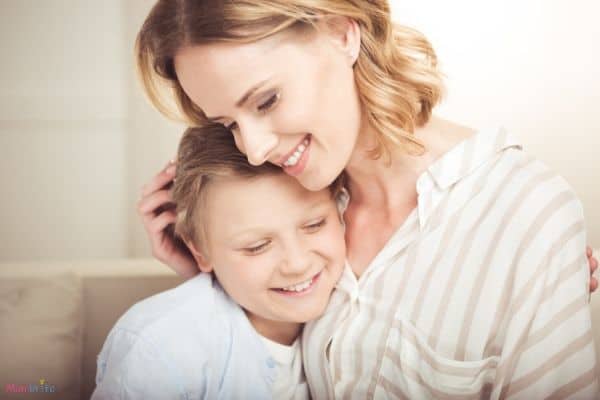 Hug it Out
We are always in need of hugs and physical connection. Encourage hugging and touching if everyone in the family is well. If your kid resists your hugs, try a little harder. You can even make this a game of tag. But instead of just tagging, make the "it" hug the other person. This makes social distancing with an only child a little more fun.
Learn New Skills
You can practice cooking, or maybe let your child teach you how to play his favorite video games. There's a ton of fun things to do and learn TOGETHER. Apart from gaining new knowledge, this adds more positive things to your child's memory bank.
Take Time To Reflect
Ask your child what he wants, feels, or even talk about his frustrations. Were you able to provide for his needs? Is there something he wants to tell you?
Also, ask your child what he wants during this time. Discuss what he thinks of the current situation. Does he think he is lucky despite everything that is happening? What values does he want to work on?
You can all reflect on everyone's thoughts and think about what you can change. This will help you learn about your child and yourself, too. If your child is old enough, you can ask him to write in a journal to channel all his thoughts into it.
Reduce News Watching
What we see on TV is already frightening for us, how much more for the children. So instead of reading updates every now and then on your news feeds or tuning in to your local news program, go for distractions like those I already mentioned.
Final Thoughts on Social Distancing with an Only Child
Social distancing with an only child is never easy. But if you keep an optimistic frame of mind, things will be a whole lot better for everyone.
Other than that, please stop being guilty of not having another child. The world will not change even if you have another child to worry about. Instead, be thankful that you are not resolving sibling fights, mediating to avoid tension, or being torn in managing time with kids.
Kidding aside, having an only child during this time does not mean that you have to fill your child's time with all of what you have. Doing so will NOT lessen your child's anxiety or loneliness.
Instead, trust your child or what he can do. They are great with being independent and don't necessarily need your constant hovering.
Don't worry, moms and dads. You got this.
This is a guest post from Elkyra Park from Easy Parenting Hacks. Elkyra is a first-time mom who can no longer count how many baby products she has reviewed for her sanity and her son's sake. She discusses the realities of parenthood and how to gracefully cope with the struggles over at www.easyparentinghacks.com.