Want a simple and fun counting activity made out of only Cheerios, spaghetti strands, and playdough? Your toddlers will practice fine motor skills as well as learn how to count through this pasta threading activity!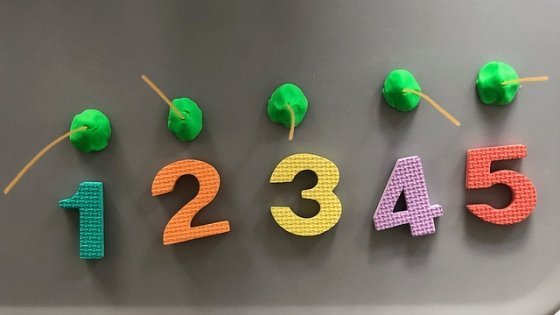 The pasta threading activity is simple. You take a big ball of playdough, stick some uncooked spaghetti in it so it looks almost like a person's head with spiky hair, and you thread the Cheerios one by one onto the spaghetti. This fine motor activity helps your children strengthen their fingers and prepares them for holding a pencil for writing.
But I didn't want it to be just a simple fine motor skill activity – I wanted to incorporate counting into it.
My daughter Zoe has been counting 1 through 10 since she was about 20 months. However, even though she can count the number in order, she cannot determine the number of items in a collection (also called enumeration). For example, when I ask her how many balls we have in the basket, and she says "1, 2,…" and then she just goes to "3-4-5-6-7-8…" really quickly without labeling each ball with only one number from the counting sequence. She would double count some of the balls while skipping others.
Therefore, instead of just threading the cheerios onto the pasta randomly, we are also going to count the number of cheerios that are going onto each spaghetti.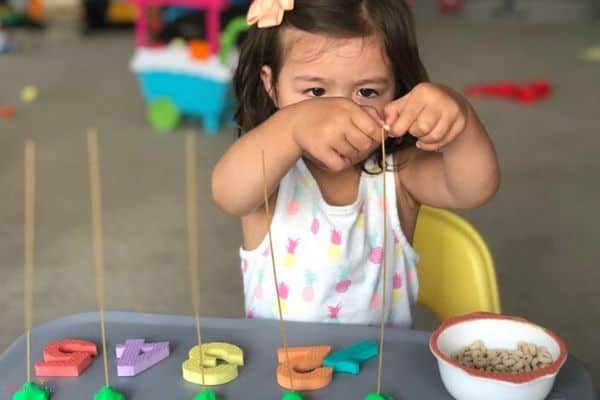 Teach Counting with Cheerios and Dry Pasta
Materials:
Cheerios
Dried spaghetti
Playdough
Numbers (I just happened to have a puzzle from which I could pop out the numbers, but you can use flashcards or even just write numbers on pieces of paper.)
Steps:
Make 5 playdough balls and put them on the table.
Stick one spaghetti strand in each ball.
Place the numbers in front of the playdough balls so that your child can start to recognize the numbers (not the main point of the activity, but early exposure never hurts anyone).
Indicate to your child the number of cheerios that should go on the spaghetti according to the number in front of each ball.
Count out loud as your child thread the cheerios onto the spaghetti.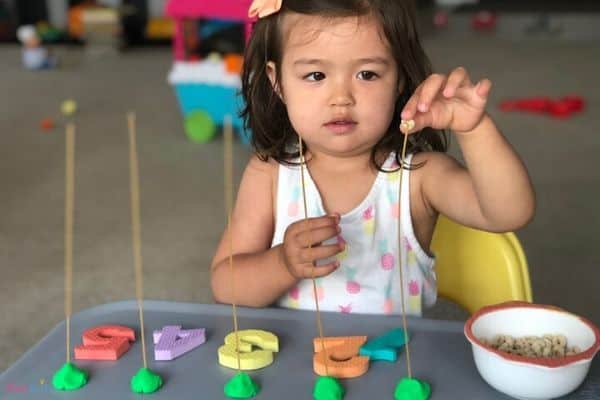 When Zoe first started, I realized that the fine motor part of this activity is harder than I thought. If she put a little too much pressure on the spaghetti, the strand snapped into pieces. So have extras around just in case!
Zoe tried to thread the Cheerio with her right hand, switched to both hands, then ended up succeeding with her left hand (her dominant hand). You can tell she was so proud and happy when she finally achieved it!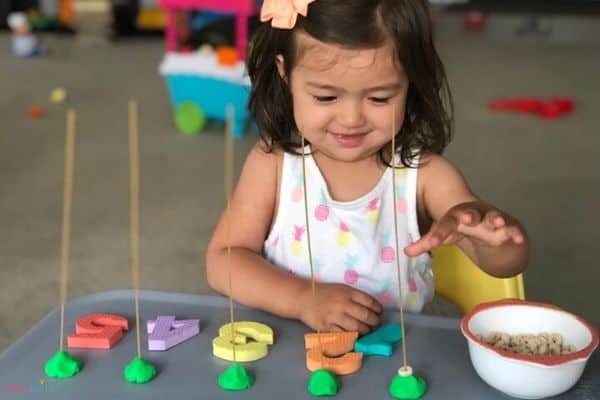 Zoe did the first two without much of my help. After that, she needed me to explain how to count to 4 and 5. It's funny how toddlers tend to be able to count up to 2 or 3 items and beyond that, they just classify the rest as "many."
She eventually got a good grasp on how much pressure she could put on the spaghetti strands before they would snap. And even though she would slightly bend the spaghetti strands to thread the Cheerios, she was gentle enough to not break them into pieces.
After we got to 5, I took out all the Cheerios and we started over with 6 through 10. You could do 1 through 10 all at once, but my table wasn't big enough for that.
Final Thoughts on the Pasta Threading Activity
Overall, a great success! Zoe was able to focus well and smiled lots during the activity, and the setup and clean up were super easy. This pasta threading activity is definitely one we can do over and over again!
Did you try this pasta threading activity? How did your kid like it? Let me know in the comments!
YOU MAY LIKE: