Here are all the resources you need to do an Owl Unit Study with your child, including educational videos, books, crafts, science experiments, and more activities all about owls!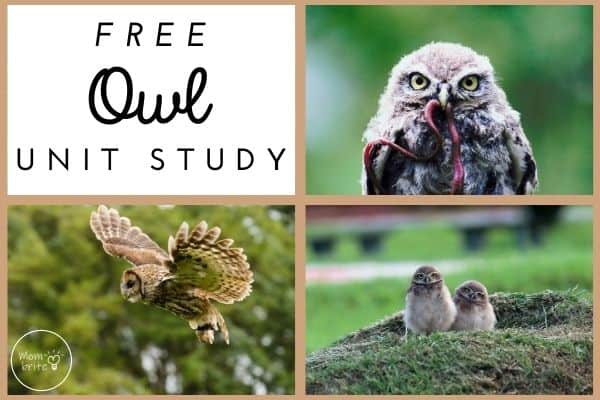 For centuries owls have been symbols of mystery and wisdom. There is so much to be learned from this incredible animal and doing an owl unit study would be one of the best ways to do just that.
Getting Started on the Owl Unit Study
An interesting fact about owls is that they are nocturnal animals. A fun way to launch your unit study might be to let your kids be "nocturnal" for a day.
Close the drapes or blinds on your windows and let your kids try to do their work in the dark and see if they realize on their own that they really do need a desk lamp. Make all kinds of different noises in different places in their learning area and see if they can figure out what those noises are and where they are coming from.
Science: Owl Facts
This YouTube video is an excellent introduction to owls and everything kids need to know about them.
After watching the video, your child can use this free worksheet to label the parts of an owl's body.
After learning fun facts about owls, grab an owl pellet kit with tools and charts to discover what owls eat. Your child can dissect the owl pellets and uncover the regurgitated skeletons of the owl's prey. With the chart, your kids identify what prey an owl has consumed by matching the bones to the chart. It's a wonderful opportunity to teach your kids about the food chain and ecosystems.
Here is a quick video of an adorable owl regurgitating the owl pellet:
Language Arts: Paragraph Writing
It could be greatly beneficial to use language to reinforce what your child has learned in science and have them write a short paragraph of four to five complete sentences. They may want to list all of the facts about owls that they can remember in the empty cloud area on this free owl writing paper and circle two or three of their favorite facts.
For example:
Owls are nocturnal.
They have beaks, wings, and talons.
Owls eat mice and insects.
They can turn their heads 270 degrees.
Owls have excellent hearing.
They could then, write their paragraph on the lines below.
If you have not yet taught your child about writing topic and concluding sentences, this could be the perfect time for that.
A topic sentence should introduce your reader to your topic and tell them what you are going to talk about.
Sample topic sentence:
There are three things I like the most about owls. They are nocturnal, eat mice, and have very good hearing.
Your child then goes on to talk about these three things. Have them write one sentence per fact.
Sample sentences:
Owls are awake at night and sleep all day. During the night they catch mice and eat them. Since it is dark and they might not be able to see everything, they have to have an extra good sense of hearing.
Your concluding sentence should reiterate what you said or wrap things up.
Sample concluding sentence:
These are the reasons I love owls.
Learning to write simple paragraphs with topic and concluding sentences as young as possible will set your child up for being highly successful at writing research or term papers later on.
Reading about Owls
Here are some additional reading options to go along with this unit study.
For the book, The Owl Who Was Afraid of the Dark, there is a YouTube read-aloud. This is a resource that has proved extremely helpful for children with learning disabilities.
A Book of Sleep also has a YouTube read-aloud available:
History: The Owl of Athens
Did you know that the ancient Greeks believed that owls were a symbol of good luck or victory? They would even take them into battle with them! These links give a little more information on how owls influenced the lives of the Greeks and Romans.
Owl Snack Idea
After all of that learning your child probably needs a snack to refuel! Making and eating these cute owl snack would be a fun break, for sure!
Owl Arts and Crafts
Here are some fun craft ideas to help reenforce what your child has been learning:
Owls are amazing animals and have so much to teach us. Let us know what owls have taught you and your family.
If you like this owl unit study or find it helpful, make sure you check out the butterfly unit study to learn about metamorphosis and other fun activities you can do to learn all about butterflies!