This easy Farm Color By Number free printable worksheet is a great spring break or road trip activity for your kids, as well as an opportunity to practice color and number recognition.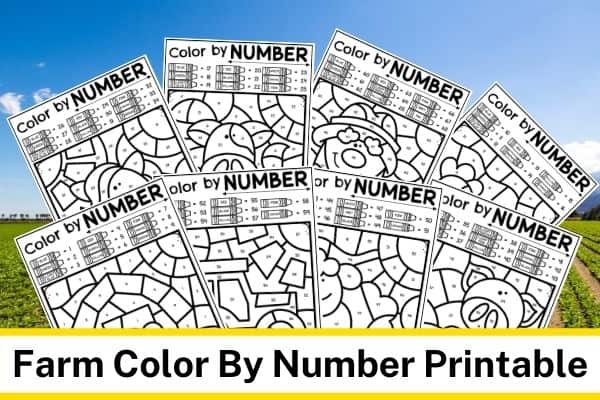 There are so many exciting things going on every day on the farm, that it's the perfect subject for a little fun this Spring. Entertain your kids with farm color by number worksheets that feature adorable animals they'll love.
The easy color by number set is a quick activity you can print out and have ready to go in minutes. The 8-page set includes barnyard coloring pages like a chicken, cow, horse, pigs, and even a tractor and barn!
Fans of farm life will love to color in these color by number animals, and it's a great way to work on basic coloring skills. These are great for entertaining the kids anytime, but would be especially nice as an activity for a road trip, or even for Spring break! Kids will love how cool their finished pictures turn out, and you'll feel great knowing they are taking the time to practice color and number recognition skills.
Once your child has completed their coloring activities, they make a great gift for family members or to hang on the fridge.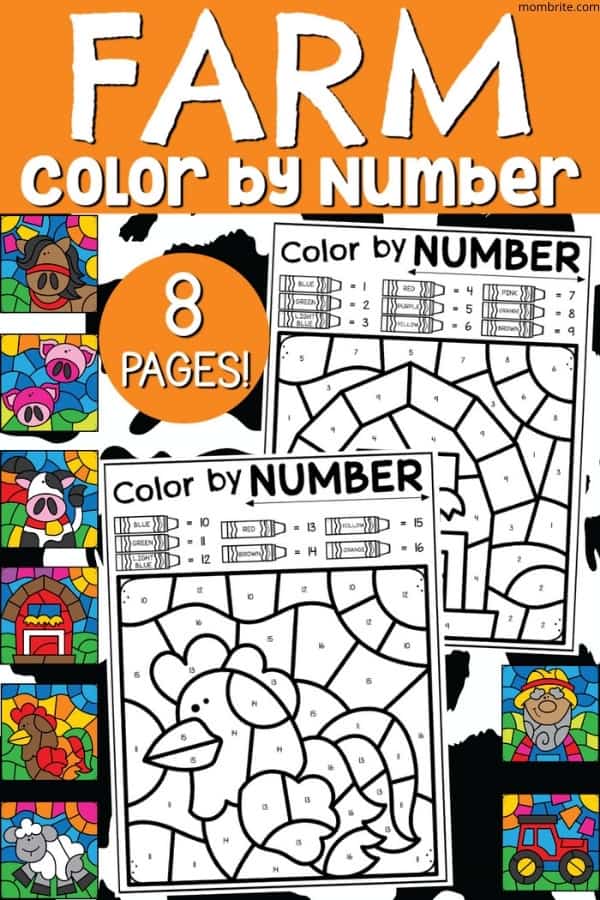 Farm Color by Number Worksheets
Included in the 8-page PDF printable are:
Barn Color by Number Printable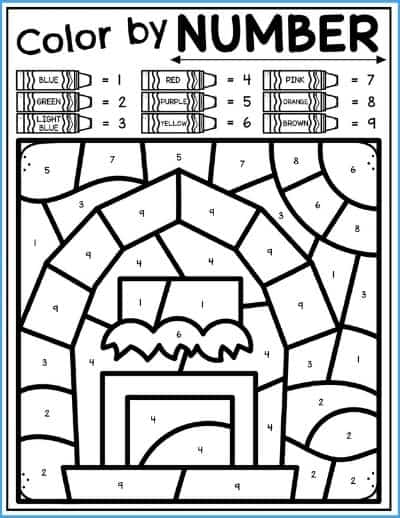 Chicken Color by Number Sheet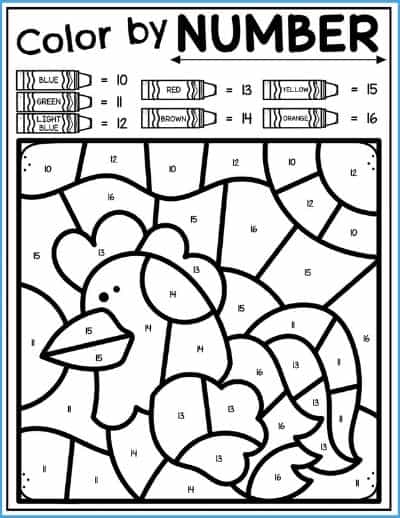 Cow Color by Number Printable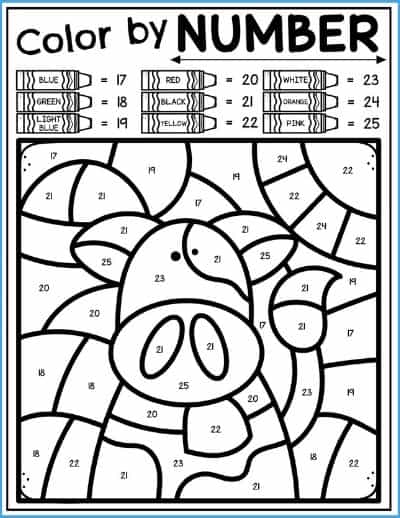 Horse Color by Number Worksheet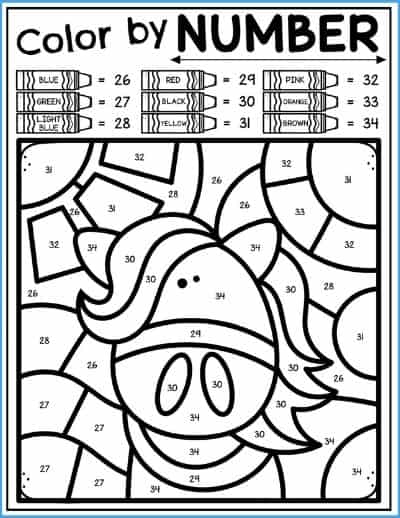 Pig Color by Number Sheet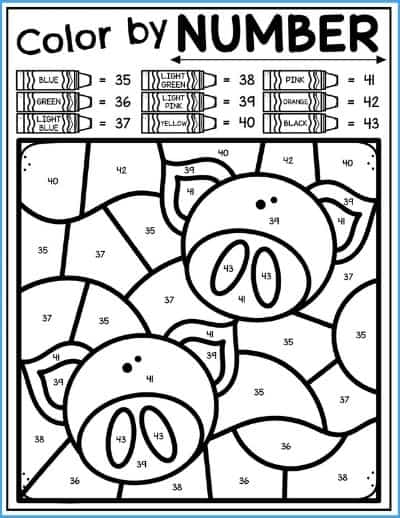 Sheep Color by Number Printable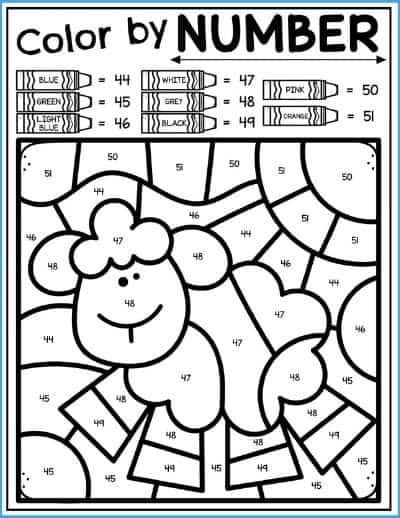 Tractor Color by Number Worksheet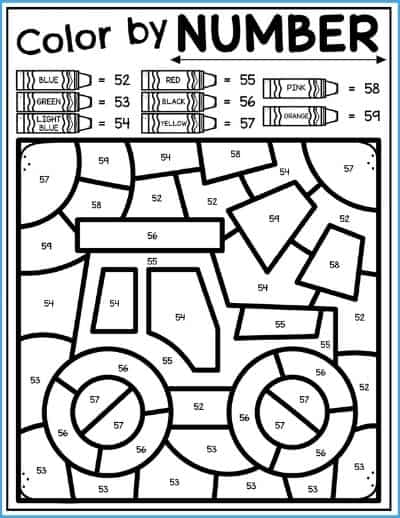 Farmer Color by Number Sheet
Ways to Use Farm Color By Number Sheets
There are many ways to enhance your child's learning while having fun. Here are a few ideas you might want to try to make learning even more exciting!
Pair these creative coloring pages up with a homeschool lesson about Spring on the farm, different farm animals,  and even what life on a farm is like. Use them as an inspiration for writing and drawing about their own experiences with animals and nature.
Practicing numbers is also a great way to use these farm coloring sheets. Each page has crayons at the top that are ready to be colored in with matching colors that coordinate with the numbers in the coloring pages. The eight pages cover numbers from 1 to 68, making number recognition and basic math skills fun and easy.
Another creative way to use these farm color by number worksheets is for arts and crafts. Print the pages on cardstock for added durability. Have your kids color the pages, then cut out the pictures, and use them as a puzzle. Once you have all of your farm animals together, you can glue them down or save them in a plastic resealable bag to play again another day.
Plan a trip to a local farm to pick strawberries or learn about the animals. Use these printables to entertain the kids on the road trip or to start conversations about what they learned afterwards.
Use a hole punch to keep the pages together in a binder or folder for an easy farm animals workbook. Include pages for creative writing, drawing, and coloring in between the farm picture pages.
You can even use these farm color by number worksheets in your homeschool classroom. They make great addition to a math, science, or art lesson about animals and nature.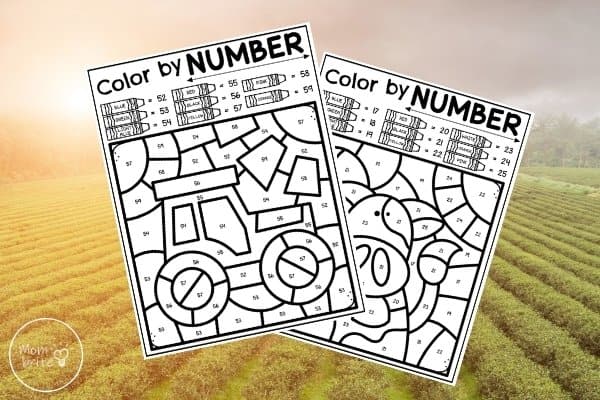 Download Farm Color By Number Printables here
Whether you are using them for workbooks or playtime, these free printable coloring sheets are sure to be an instant favorite and a great way to teach your kids about animals and numbers.
Print them out today and see how much fun learning can be!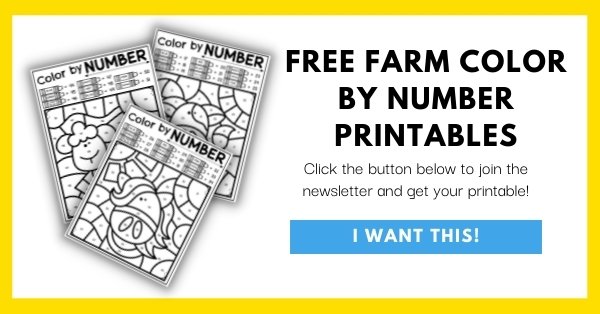 ---
Related posts: