Check out these fantastic children's books about animals that will teach your kids everything about training animals to amazing facts about them.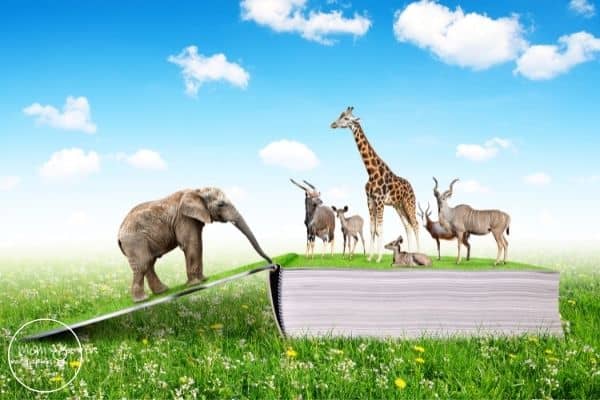 Do you have a little one who loves animals? Do they ask questions all day long about where animals live, what their favorite food is, and how to tell if an animal is happy or sad?
The world is full of amazing creatures and strange animals, and children love learning about the many different kinds of animals we have in this world.
While we love our furry pets, there is a whole other world out there of unique and interesting animals to learn about. These books will help teach children about the different animals we walk the earth with, how they survive, and how they spend their days.
From our house pet friends to those majestic creatures out in the while, these books and games are a fun way to teach kids about animals.
Happy reading!
Amazing Children's Books About Animals
The Fascinating Animal Book for Kids: 500 Wild Facts!
The Fascinating Animal Book for Kids is filled with 500 wild facts about animals that will entertain and educate your kids. It's a fun way to learn about different types of animals, their habitats, behaviors, and more!
Horse Life: The Ultimate Guide to Caring for and Riding Horses for Kids
Horse Life is a must-have guidebook for kids who want to learn all about horses. From the basics of horse anatomy to feeding and grooming, this book covers everything you need to know. You'll also learn how to ride, care for your horse, and develop a healthy relationship with him or her.
Good Dog! Kids Teach Kids About Dog Behavior and Training
Good Dog! will help teach kids about dogs. It introduces them to dog behavior and will help teach them how to train a dog. Kids will learn to read a dog's mood, what he wants, and how to teach him tricks.
My First 100 Animals And Birds
Full of bright and colorful photos, this soft padded book uses simple words so that children can learn about animals. It's perfect for toddlers and babies to learn simple words related to animals and birds.
National Geographic Little Kids First Big Book of Animals
It's a jungle in here! This illustrated guide takes young readers on an up-close and personal tour of the animal kingdom.
From red pandas to bald eagles, each page features a different animal and its fascinating facts. Plus, each spread includes a photo that zooms in on the animal and highlights its distinguishing features.
With so many different species and habitats represented, there's sure to be something for everyone!
National Geographic Readers: Deadliest Animals
This unique animal book looks at some of the most dangerous animals on Earth, and provides information about their physical characteristics, behavior and how they kill. It includes such creatures as saltwater crocodiles, scorpions and snakes and many more of the most deadly animals on Earth.
Cool Animals Sticker Activity Book
Full of pages that are loaded with activities and stickers of some of the most amazing animals, this activity book is a fun way to introduce your kids to some of the coolest animals on Earth.
The Animal Book: A Visual Encyclopedia of Life on Earth
The perfect reference guide for children, this colorful visual book showcases over 1,500 species of animals and their habitats.
Animal Atlas for Kids
A visual journey of wildlife from around the world, this colorful book will provide interesting facts and information about different creatures in their natural environment.
What did Molly See at the Zoo?
Molly is on an adventure to the zoo to see all the different animals. As she learns about the animals, she also learns to appreciate them and the things they can do.
Animal Smackdown
Have you ever wondered who would win in a fight between a cat and a dog? What about an eagle and a pigeon? Or even a fox and a badger?
Animal Smackdown answers these questions and more to give you the ultimate showdown. This book compiles all the knowledge for more than twelve clashes in one place, so readers can decide who they think would come out on top.
A Kid's Guide to Cats
Written for kids, this cat care book will go over facts and tidbits about cats. It also makes a great training guide for those interested in training their cat.
Noisy Animals
A board book with textures and interactive learning experiences, Noisy Animals makes a great first book about animals for kids.
Dog Breed Guide
You'll find everything you need to know about the breeds of dogs in this comprehensive guide. From dachshunds to Dalmatians and poodles to pugs, the profiles include the breed's "dog stats": country of origin, size, coat color and pattern, grooming difficulty, and more.
The View at the Zoo
The View at the Zoo is a beautifully illustrated story about the morning routine of a zookeeper and his animal companions. It's a great way to teach kids about different animals and what they do, while also teaching them manners and other good habits.
---
Related Posts: