Bento boxes are all the rage these days. It's easy to see why. Especially when you are dealing with picky eaters, they are an easy, green way to store lunches for your kids.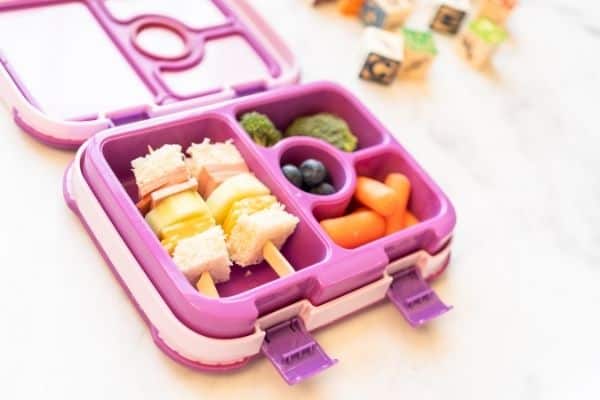 Understandably, there are a lot of choices out there. The best ones give you enough space for everything and hold your food securely. This article will give reviews of the best bento boxes for your little one and tell you exactly what to look for.
7 Best Bento Boxes For Kids
Bentgo Kids Bento Lunch Box
With every box decorated to show off your child's personality with fun colors, Bentgo boxes come with five pockets and another small one for dipping sauce.
This plastic lunch box is coated with rubber on the outside for when your child inevitably drops it on the floor. It is also leakproof with latches to keep it totally secure. You can take out the tray and wash it out separately from the box.
The one issue here is the size of the compartments. The trays display their bright colors on the borders of the compartments, but the border size takes up a lot of real estate. When your kid moves on to bigger lunches, they might have trouble fitting everything in here.
PROS:
Fun colors
Leaf-proof
Rubber-coated
Removable tray
CONS
Small compartment
Latches can be flimsy
Yumbox Leakproof Bento Lunch Box
No products found.
The Yumbox has fun designs in many different styles. It is the more subdued version of the Bentgo. It has a leak-proof latch that is supposed to keep foods from seeping out. You can remove the tray for easy cleanup.
The compartments are nicely sized here. Each of the five wells can carry ½ of a cup of food. The small well is perfect for sauces and dips. This is made from food-grade plastic, making it light and durable.
The biggest problem here is that the Yumbox is not entirely leakproof. It does not have the security to keep certain saucier foods from finding their way out.
PROS:
Colorful
Adequate compartment sizes
Durable
CONS:
Not really leak-proof
Hard to clean the underside
Bizz Bento Lunch Boxes with Spoon
No products found.
This lunch box is an elegant upgrade for the sophisticated child. The muted, stylish colors would work for anyone. This is portioned for bigger kids, with one extra-large compartment and three sides.
The leak-proof snap is large and holds securely, although they are difficult to close. The Bizz Bento Lunch Box comes with its own spoon to make being environmentally friendly even easier. They are microwave and dishwasher safe to make reheating and washing even easier.
The latches are on all sides. They are secure, but because of their size, it is almost impossible for your average Kindergartener to open it. Unless you have some kind teacher to open the box every time, you might want to skip this for the little ones.
PROS:
Stylish
Large sections
Comes with a spoon
Microwave and dishwasher safe
CONS:
Latches hard to secure
Difficult for small kids to open
East World Lunch Box
No products found.
The East World mashes up the bento box and lunch bag so that you don't have to get one separately. There is a compartment in the bag to keep a freezer pack against your bento box, making everything stay fresh.
Each of the six sections is hermetically sealed so you don't have to worry about any leaking, even for soup. The East World lunch box comes with two sporks and a freezer pack, while still being comparable in price to other boxes without those extras.
Because of its seal and latches, it can be hard for very young kids to open and close. The compartments are also a bit too small for the older ones.
PROS:
The bag can hold extras
Comes with freezer pack and cutlery
Actually leak-proof with hermetic seal
CONS
Difficult for young kids to open
Portions too small for older kids
Itopor Bento Box
If you are looking for something that is a bit more environmentally friendly, the Itopor might be a good choice. Instead of regular plastic, they use biodegradable wheat fiber plastic. It latches on all four sides to contain your food and keep it from leaking.
The three compartments are a good size for any age. You can put the lid and the tray in the microwave to reheat the food. The Itopor bento box is also a small, portable size, so it is easy to carry for small kids. For under $20, it is also a great price
If you like to use soups for lunch, this bento box is not a good choice. So it is not exactly leak-free as it claims. There are also occasional issues with the food moving into different compartments. You might do better with the lunchbox if you are someone who does not use food with a soupy consistency.
PROS:
Biodegradable wheat fiber material
Small and light
Microwaveable
CONS:
Not totally leak-free
Contents can mix into other compartments
Simple Modern Porter Bento Lunch Box
No products found.
The Simple Modern is a seriously fun lunch box. The outer design has a lot of personality, no matter if your kids love dinosaurs or outer space. There are many options to choose from.
This bento box has five compartments that are removable for clean-up and dishwasher safe. The snap latch is easy for kids to operate.
You are not able to microwave this, which probably doesn't matter if it is just being used at school. It is also not extremely durable. If your child tends to have butterfingers, maybe skip this one or make sure it goes inside a lunch bag.
PROS:
Fun designs
Easy snap latch
Removable tray
CONS:
Not microwaveable
Not durable
GreenLunch Bento Box
The GreenLunch will not necessarily get you any kudos from your kids. It is a plain metal bento box with clasps. But if you are nixing plastic out of your life, this box is the way to go.
What is different about this box is how the sections are placed. Instead of having several sections next to each, the compartments are stacked one on top of the other separately. They are held together by the clasps.
Because of the way they are designed, this bento box has a lot of room in each of the three compartments. It would be a great choice for an older child.
Obviously, because it is metal you cannot microwave these containers. Metal won't bounce back from being dropped as easily as plastic or rubber. The snap locks are difficult for a young child to open by themselves. It is also not totally leak-proof.
PROS:
Eco-friendly
Generous compartments
Stackable
CONS:
Not microwaveable
Might get damaged when dropped
Not leak-proof
Things to Consider when Buying a Bento Box
With so many choices to consider out there, you may be wondering what makes a bento box truly great. When it comes to kids, there are some special features to think about so you are never worried about anything except how they enjoyed their lunch.
This article has some key elements that make for the perfect kid-friendly lunch box. Let's take a look at what really matters!

Compartments
What makes a bento box a bento box are the sections. They are what makes for that neat separation of all your different foods. Check out how many compartments are in the box. If you are someone who loves putting a ton of sides in with your main, you might want 5 or 6 small compartments.
Another person might like two or three bigger compartments. They also come in a variety of sizes and depths. This is where you have to consider how old your child is and how much they eat. Some are all equal in size and some have a range. Find your Goldilocks compartmental situation.
Leak-Proof
For this one, you have to consider what you are serving. If you like to serve soups or saucy foods, you probably want to buy something that is hermetically sealed and airtight. If you tend to pack sandwiches and carrots, this may not be important to you.
Keep in mind whether your child can handle opening the leak-proof latches. If they can't get to the food, it doesn't matter whether it is leak-proof.
Design
This may not sound as important to adults, but lunch box design can mean everything to a kid. It can even make eating lunch a fun ritual for them.
You might be focused on finding something that shows off their personality. If you already have a favorite lunch bag that the bento box goes into, you may not care about its design.
Price
With all of the added features, the price can rack up quickly on some bento boxes. Figure out how much you are willing to spend. If you look at the right places, you can find some really nice options on a budget. But the ones made of the best material and durability often have a premium price to match.
Material
Kids love dropping things. The things they drop don't always love it. Certain materials will hold up better than others after falling on the floor. Hard plastics, rubber, and strong metals do better than their more flimsy counterparts.
If the environment is important to you, there are many eco-friendly options out now. Look for bento boxes made of biodegradable materials or metals to reflect your values.
Convenience
Usually, the trays are removable for most bento boxes. This makes them easier to clean without having to do the entire box. But some are even dishwasher safe, amping up the convenience factor.
Most kids don't have access to a microwave for their lunch, but some do. If that is the case for you, look for one that can go in the microwave for a hot lunch.
FAQs
What's so great about bento boxes?
Everyone seems to have a bento box lately. The reason is that they save you from having to use multiple containers when you have a variety of foods. You can simply put it all in one and go.
They can help you to pack a bunch of different foods for a more balanced lunch. They also help out with portion control to give the right amount instead of guessing.
Are bento boxes eaten cold?
Bento boxes work the same as any container does. Some are microwaveable and some are not. If your kid likes to heat up his lunch, find something that can handle that.
You can always serve cold lunches like sandwiches for the ultimate no-fuss lunch. But if you do choose to use heated food, remember that everything in the tray has to get microwaved. A way around this is to get a bento box that has compartments that can separate.
Can you make Bento the night before?
Bento boxes can be sealed, so you can easily make your kids lunches the night before. Just put them in the containers, secure the clasps, and place it in the refrigerator until the morning. It works just as well as any of your other storage containers.
Bento boxes are not just fun and aesthetically pleasing. They are a convenient way to get your kids a variety of foods for lunch. The best part is that there are so many options available to you. You can find a box with a lot of personality that will fit everything your little one need.
Hopefully these reviews were helpful to you. Now go explore!
YOU MAY LIKE: