These best toddler learning towers are perfect for your kids to reach the kitchen counter and help with meal prep and learn other practical life skills.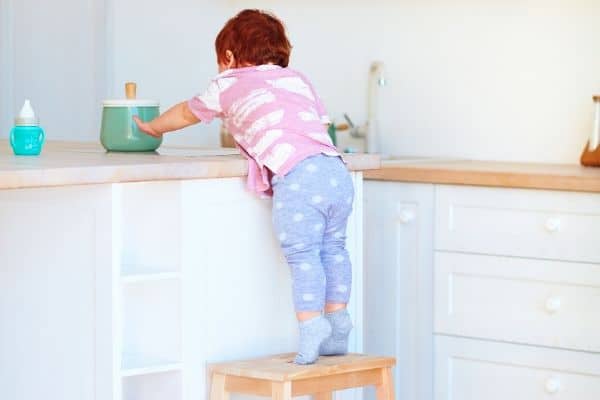 When your baby becomes a toddler, everything changes.
Gone are the days of crawling, and your toddler wants to experience everything. While this time can be a joyful experience for parents, concerns about their child's safety can often take over. Luckily, learning towers for toddlers can let your child develop more independence and prevent severe accidents.
Learning towers are essentially stools with a cage on top to prevent your toddler from falling backward. This can be very beneficial if you're baking or cooking because you won't need to stand behind your child.
Statistics from ROSPA show that most accidents with children happen in the kitchen. Honestly, if you want your toddler to be able to interact with you in the kitchen or learn independence, then a learning tower is essential.
Why Are Learning Towers Beneficial?
Learning towers for toddlers have so many benefits. Let's have a look at them:
They're a safe option for toddlers and prevent unnecessary falls.
Toddlers can learn baking and cooking skills while you're in the kitchen.
Most learning towers are suitable for children to use on their own, which promotes independence.
You can include your toddler in activities, which means less TV time.
Top 5 Learning Towers for Toddlers
We've been hard at work searching for the best learning towers for toddlers and narrowed it down to five excellent options.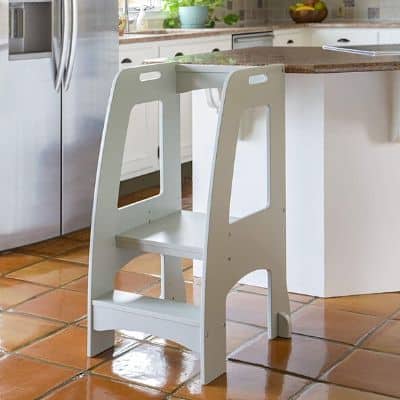 This adjustable tower from GuideCraft supports up to 200lbs weight and is a fantastic option for your toddler. Made from a durable combination of engineered wood and solid pine, it has two height settings, so as your toddler grows, you can adjust it. One of the reasons we love this stool is due to its safety measures, which are ideal if your toddler wants to join you at the kitchen counter.
The only real negative aspect of GuideCraft kid's step-up tower is how long it takes to assemble it. If you're not used to DIY, then get someone to help you. Apart from that, the tower has everything you need to make sure your children are included in daily activities such as cooking and cleaning.
| | |
| --- | --- |
| Pros | Cons |
| Reasonable Price | Takes ages to assemble |
| Two height settings | |
| Supports up to 200lbs | |
---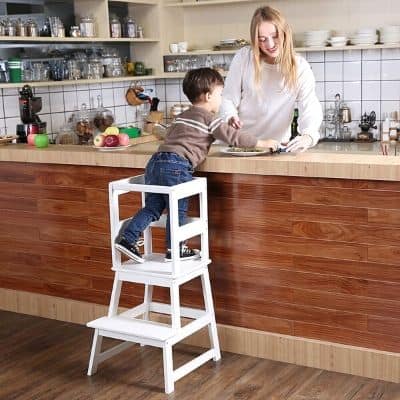 Kids want to experience life, but safety is every parent's biggest concern. Luckily, SDADI created an incredible learning tower for toddlers with safety taking priority over everything else. The stool is ideal for cooking and baking activities, but it can also help your child learn to do things alone. One of the most significant advantages SDADI's tower offers is four adjustable height settings.
The tower is made from non-toxic material, and it's an excellent investment for your growing child. Assembly is quick if you know what you're doing, and there are handy instructions to help you put the stool together. Overall, this learning tower for toddlers is an excellent option; just make sure you purchase it from a reputable seller.
| | |
| --- | --- |
| Pros | Cons |
| Four height settings | Some stools are poorly constructed if you buy from internet sellers. |
| Made from non-toxic material | |
| Easy to assemble | |
---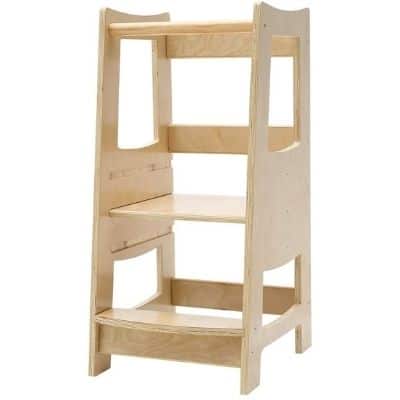 The EGREE kids standing tower is an excellent choice for a learning tower that grows with your toddler. With a 3-level height adjustable standing platform, you can easily make the learning tower the perfect height for your kids.
The EGREE kids standing tower is very sturdy with a safety bar that screws in place and easy to assemble. Made with solid natural wood and lead-free coating, you can rest assured that your kids will be safe from toxic materials.
This learning tower is suitable for kids 18 months to 5 years old and can support up to 150 lbs. Your kids will love standing on it to help with meals at the kitchen counter or wash hands and dishes at the sink.
| | |
| --- | --- |
| Pros | Cons |
| Three height settings | The safety bar may be too low at a certain height |
| Made from non-toxic material | |
| Easy assembly | |
---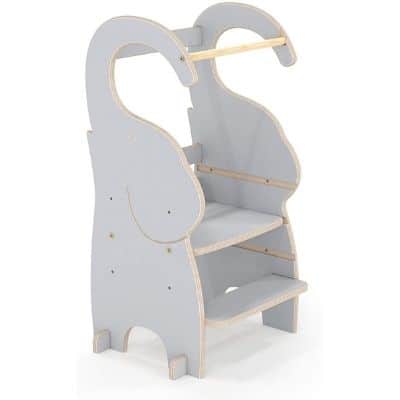 If your toddler loves animals, then you should consider PP OPOUNT Kids Standing Tower. This step stool comes in a unique and cute elephant design (you can also find the giraffe-style step stool here).
The compact design means you can use it in the kitchen, but it can also fit in bathrooms. Your child can learn vital skills, such as brushing their teeth, and this learning tower promotes independence.
This toddler learning tower comes with a protective net that not only prevents your kid from falling off the stool but also hinders your child from going on the stool when you are not around. The anti-slip pad on the step is also a great safety feature.
There is one negative point to the stool. If you have a kid who likes to pull on the learning tower and climbing on it, you may want to weigh down the learning tower or anchor it to something sturdy.
| | |
| --- | --- |
| Pros | Cons |
| Adorable design | Recommended age is only up to 36 months |
| Easy to assemble | May tip over when pulled |
| Comes with a protective net and anti-slip pad | |
---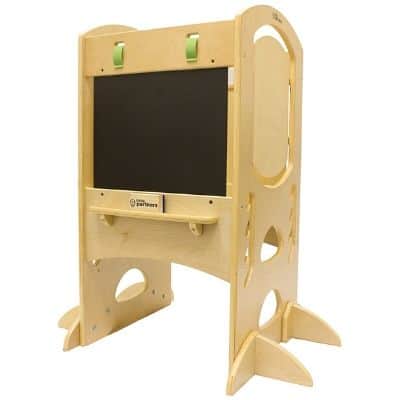 Little Partners have gone the extra mile with this learning tower, and parents will be very appreciative! Not only is it safe, but it also has a fun chalkboard for your little ones to get creative. Four-sided railings support your child while inside the tower and stop them from falling over. With its adjustable height, the tower is suitable for children 18 months up to six years old.
We can't say anything negative about this stool and think it's a wonderful option for growing families. Little Partners have managed to create a very safe stool with fun features your little ones will love.
| | |
| --- | --- |
| Pros | Cons |
| Adjustable height | None |
| Four-sided railings | |
| Suitable for ages up to six | |
---
Things to Consider Before Making a Purchase
Not all learning towers for toddlers are made equal, but there are some factors you should take into consideration before parting with any money.
Is it Non-Toxic?
Let's face it; toddlers are into everything, and the world around them is a constant adventure. A child's curiosity is an incredible thing, but it often leads to them placing objects in their mouths and leaves you always worried about them. Learning stools should be either made of or coated with non-toxic material. Check this before buying a table, because many materials can be dangerous for children.
Where Can I Use It?
Now some towers are bulkier than others, which can be an issue if you have limited space. Think about what you're using the learning tower for because some won't fit in your bathroom. Check the area you require before purchasing. Most products will show their dimensions after assembly.
Is It Safe?
Just because a product advertises itself as a learning tower, doesn't mean it's safe. Poorly constructed towers can lead to severe accidents. Customer reviews are vital here because you can see what other people think of the tower and if it worked for them. A safe tower is priceless, and it means you can let your child experience household activities and have peace of mind.
Final Thoughts on Learning Towers and Kitchen Helpers
There are so many fantastic learning towers for toddlers around, and while some come in colors, we love the idea of making your child's first tower a fun experience. Why don't you let your toddler put their personality on their tower with paint, stickers, or stencils? It's fun, and your little one will love showing off their learning tower.
Now you know why learning towers are essential, it's time to make your choice. Watching a child grow is one of the most rewarding experiences in life, but allowing your little ones to participate in daily activities can strengthen your bond and promotes skill development.