Discover how to create your own superhero mask using these free printable templates. Perfect for parties, boredom busters, or simply unleashing your inner superhero!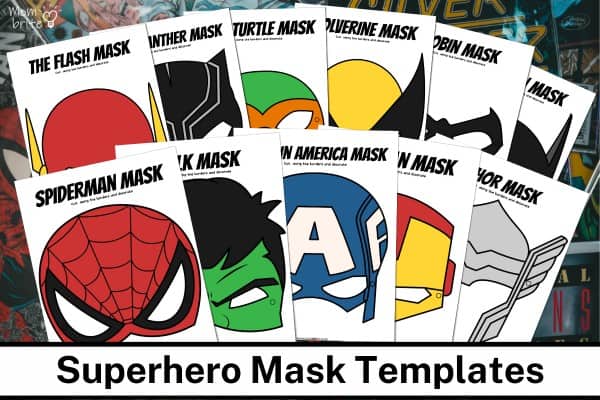 Calling all superhero fans! Time to dust off your capes, polish your shields, and flex those superpowers. It's time to add an extra dash of excitement to your creative projects with our free printable superhero mask templates.
Whether you're planning a themed birthday party, looking for a fun craft activity, or simply want to bring your favorite comic book characters to life, these superhero mask templates are just what you need.
Your kids will love transforming into superheroes, defeating bad guys, and saving the day. Ready to protect the innocent and make the world a better place? Let's dive in and create some extraordinary masks that even the Avengers would be proud of!
How to Make a Superhero Mask
With just a few basic craft supplies and our free printable superhero mask templates, you can make your own superhero mask and fight crime!
Materials:
Printable superhero mask templates (scroll down for download instructions)
Letter size cardstock
Scissors
Hole puncher
Elastic string
Glue or tape
Markers or colored pencils (optional)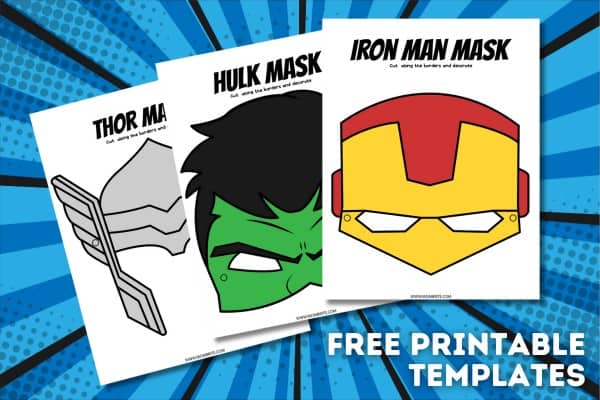 Instructions:
Step 1: Choose and Print Your Mask Template
First, browse through our collection of superhero mask templates and choose your favorite design. Remember, every superhero is unique, so pick the one that resonates with your inner superhero persona.
There is a variety of superhero masks to choose from, including:
Spiderman mask
Black Panther mask
The Flash mask
Iron Man mask
Thor mask
Captain America mask
Hulk mask
Wolverine mask
Batman mask
Robin mask
Ninja Turtle mask
For each superhero mask, there is a colored version and a black-and-white version.
Once you've made your choice, print the template onto cardstock for a sturdy mask.
You may need to adjust the scale on your printer settings and change the size of the mask to ensure that the mask fits well on your kid's face.
Step 2: Cut Out Your Mask
Next, carefully cut out your superhero mask along solid lines.
Don't forget the eyeholes! Since the eyeholes are more difficult to cut out, this might be a job for adults.
If you're making this mask for a small child, make sure you adjust the eye hole placement accordingly.
Step 3: Customize Your Mask
This is where you can really let your creativity shine. Use markers, colored pencils, or even glitter glue to decorate your superhero mask.
Want to channel your inner Spiderman with a red and blue mask? Or perhaps you prefer pink and purple? The choice is yours!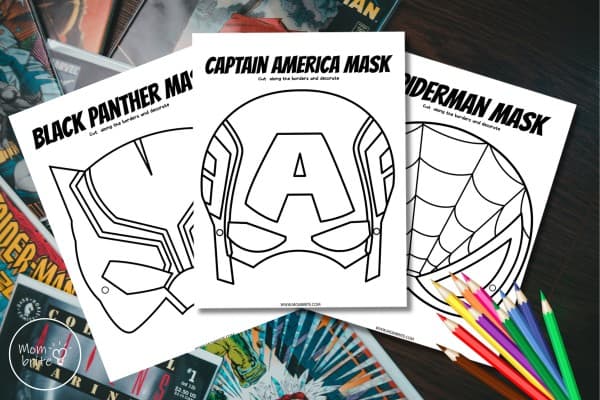 Even if you printed out the colored superhero mask templates, you can still embellish the masks with gems, puffy paint, or glow-in-the-dark glue.
Step 4: Punch Holes and Attach the String
Once your mask is decorated to your liking, use a hole puncher to make a hole on each side of the mask. Thread the elastic string through these holes and tie a knot at both ends to secure it in place.
Make sure the string is long enough to comfortably fit around your head, but tight enough to keep your mask in place as you fight off imaginary villains!
Step 5: Unleash Your Inner Superhero
And just like that, you're ready to don your mask and unleash your inner superhero! Whether you're flying around the living room or saving the backyard from evil, your new mask is sure to add an extra element of fun and excitement.
Creating your superhero mask is a fun and creative activity that allows you to step into the shoes of your favorite superheroes. So, go ahead, print out those templates, grab your craft supplies, and start creating your superhero identity today!
After all, the world needs more superheroes, and one of them could be you!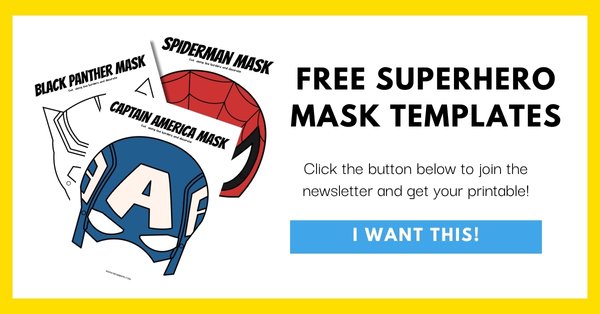 ---
YOU MAY LIKE: