Preparing your child for the first day of school can greatly reduce separation anxiety and fear of the unknown. Here are some helpful ways to prepare your child for the transition to school.
This post contains affiliate links. Please see my full disclosure policy for details.
The first day of school is a big day for you and your child. Whether your child is going to preschool, TK, or Kindergarten, the first day means a new environment, new friends, and new routine. Oh my!
The good news? You have all summer to get your child ready for the first day of school. Make sure you prepare your child emotionally and pay special attention to his social-emotional skills so that he can make friends and excel in a classroom setting. Being away from the comfort of home can be daunting, and we need to prepare our children as much as possible so that they can achieve this important milestone with a positive experience.
To avoid your child crying at your departure and clinging on to your leg for dear life, here are 15 great ways to help prepare your child for the first day of school.
Start Adjusting Your Child's Sleep Schedule
A sleepy child equals a grumpy child, and you don't want a groggy, exhausted child on the first day of school.
If your child is used to going to bed late and waking up late, start adjusting his sleep schedule a few weeks before the first day of school. Move bedtime up by 15 minutes each day until your child is able to wake up at the desired time in the morning.
A well-rested child is a happy child. Plus, an early wake time will allow your child enough time to eat a healthy breakfast and go through the morning routine (we will talk about this in 1 second) at his own pace.
Even though having your kid wake up early sounds like a horrible idea, it's better than rushing him through the morning routine and be sleepy and hangry by the time he gets to school.
Practice the New Morning Routine
Kids thrive on routines because knowing what to expect gives them a sense of security. A morning routine allows children to learn how to take care of their own responsibilities (e.g. get dressed, brush their teeth, etc.) without you bossing them around. The last thing you want to do is getting into an epic power struggle with your kid minutes before you need to leave for school.
Practice makes perfect! Establish the new morning routine at least a few times before school starts to get your child mentally prepared for school and establish healthy habits.
Click here for a handy visual Ready for School Checklist that you can post on your wall for your child to follow!
Practice Pick Up and Drop Off
Just because you are out the door doesn't mean you are done for the morning. Walk or drive your child to school and practice the drop-off. Show your child where you will be dropping him off and where he should go after mommy leaves. Then show him where you will be waiting for him after school is out for the day.
Practicing drop off is especially important if your child has separation anxiety – you need to prepare him so that he knows that getting dropped off at school means mommy is going to go away.
If your kid is going to school on a bus, it's important to rehearse getting to the bus stop and riding the bus. Many schools offer a "First-Time Rider" program that gives the children a chance to meet the bus driver, practice boarding the bus from the bus stop, and getting off the bus at the end of the day.
Remember, the less unknown, the more confident your child will be on his first day of school.
Shop for School Supplies
Permission to spend money? Yes, please! Your child will be thrilled that he gets a say in what school supplies he gets to use at school. Some essentials you want your child's input on include:
First Day of School Shirt
Your child will be so excited to use all his new things and show them off to his friends on the first day of school!
Act It Out
If your child loves to pretend play, this is the perfect opportunity to act out a typical day at school. Set up a pretend classroom at home and act as the teacher so your child gets used to sitting at his desk and listening to the teacher during school.
Instead of a typical lunch at home, pack your child's lunch in his lunchbox and pretend that you are having lunch at school. This way, your child gets to practice opening the lunchbox and getting out his food and eating independently.
Make Friends Before School
If you see neighbors with kids around your child's age, chances are the kids will be going to the same school. Introduce yourself and your child and set up a playdate. Your child will feel much more enthusiastic about school knowing that he has friends who will be there with him.
If you are having trouble finding neighborhood kids, try reaching out on social media. Your town or neighborhood may have Facebook pages where you can post a request for play dates. Don't be shy, a lot of moms who are in the same situation as you are will be happy you asked!
Play at the School Playground
You may not be able to get access to the classrooms or other indoor school facilities, but when school is not in session, you can take your child to the school playground for some afternoon or weekend fun. Better yet, make a play date with the new friends your child just made and play together at the school playground!
Associating school with positive emotions will boost your child's confidence and have him looking forward to the first day of school!
Tour the School
If possible, schedule a time for you and your child to visit the new school. Your child can take a peek at his new classroom, the gymnasium, the library, and other facilities he will be using throughout the school year. This will also give you a chance to ask the staff any questions or concerns you may have.
Touring the school should be exciting for your child! After all, schools are set up to provide a safe, supportive learning environment that promotes creativity and independence. Don't be surprised if your child asks to go back after the tour!
Meet the Teacher(s)
When people ask me how I choose a preschool for my kids, I always tell them the most important thing is the teacher. It doesn't matter if the school has state-of-the-art facilities or the most advanced teaching software. What makes or breaks how much your child will enjoy school comes down to the teacher.
Therefore, have your child meet his teacher at the new school either on the tour or set up another day when the teacher is available. Most schools have a back to school night or a teacher meet and greet event set up especially for this purpose.
Have the teacher take your child for at least a few minutes so that the teacher can get to know your child and vice versa. Perhaps ask the teacher to take your child into his future classroom and show him all the neat things he will be using during school. Encourage your child to talk to the teacher and ask any questions he may have.
You should also speak to the teacher as well because let's face it, you are probably more nervous than your child about the first day of school! Ask the teacher for any advice or tips to prepare your child for school. Knowing your child will be in good hands will put your mind at ease.
Read Books about the First Day of School
Read illustrated books about the first day of school will help your child imagine and prepare mentally for going to school. I encourage you to read these books throughout the summer so that your child will be well-prepared by the first day of school.

Countdown to the First Day of School
Just like counting down to Christmas, you can also countdown to the First Day of School with your child! Use this free printable calendar, mark the first day of school, and mark off each day as it passes.
I recommend planning special days and marking them on the calendar so that your child has a visual of what's to come. For example, plan one special day to shop for school supplies and throw that on the calendar. This way, you have a checklist of things to do and your child will for sure hold you accountable to doing them as scheduled on the calendar.
And of course, don't forget to mark the school tour and the teacher meet-and-greet on the calendar as well!
Here is a good book to read to your child about counting down to the first day of school: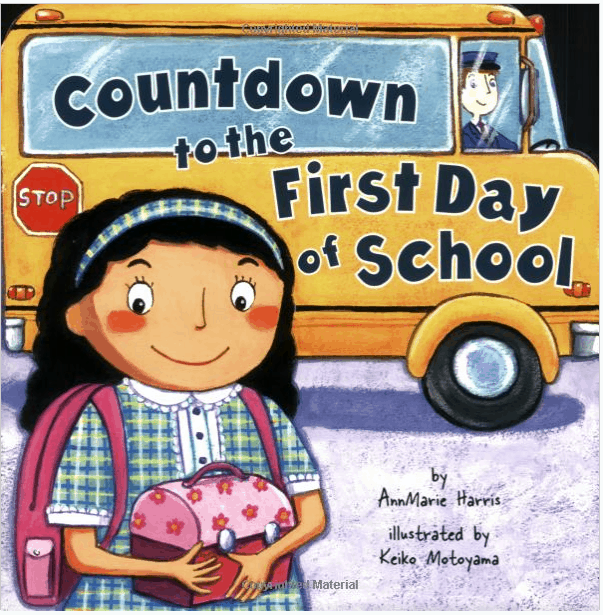 Prepare the Night Before
Having to rush to school the first day is no way to start off the school year.
Set up everything your child needs in the morning the night before to ensure that the next day goes off without a hitch. Make sure to involve your child in this process!
Things to do the night before include:
Laying out the first day of school outfit
Packing the backpack with school supplies
Prepare as much for breakfast and lunch as possible
Pack a Comforting Item
Your child may be anxious about being away from you. Have him bring something that will comfort him (a teddy bear, a family photo, etc.) in his backpack so that he can take it out whenever he misses you.
Make the First Day of School Special
The big day is here! Make it special by starting out the day with a breakfast of your child's choosing. Be positive (despite your own anxiety of sending your child off to school) and praise your child on how great he looks and how much fun school will be with his friends.
You can also start a "First Day of School" tradition by taking pictures with a personalized sign that captures your child's school information and current interests. Checkout these super adorable signs!
Or, if you prefer, you can always purchase a chalkboard and decorate it yourself!
Talk to Your Child
When all is said and done, what really matters is how your child feels about the first day of school. Talk to your child about his feelings about going to school. Ask him what questions he has about starting at a new school and meeting new friends.
Prepare Yourself
Sometimes, we are more nervous than our children about the first day of school. If you have done all the things mentioned above (and possibly more!), you have done all that you can to prepare your child for starting school.
Smile! Going to school is a big milestone and it's time for him to go and exercise his independence. Hey, do you hear that? That's right, there is finally silence in the house. Just relax and enjoy your alone time and check off some self-care items off your list. Before you know it, it will be time for pick-up!