Your kids will love launching St. Patrick's Day-themed marshmallows in this Lucky Charms Catapult STEM activity. Design a catapult and launch marshmallows into the pots of gold!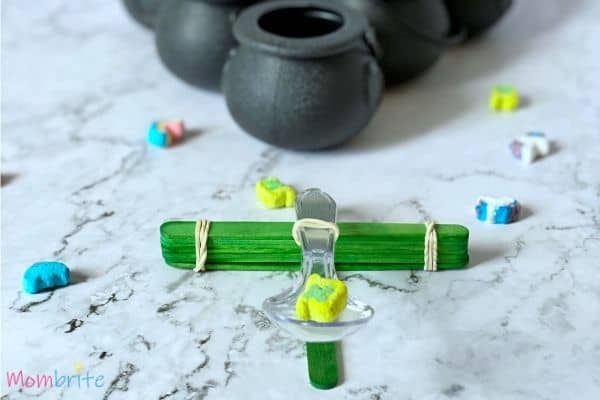 St. Patrick's Day is a great holiday to get creative with fun activities with the kids. And what better way to start your St. Paddy's day with a big bowl of Lucky Charms cereal? I know it's not the healthiest breakfast, but perhaps we can let loose and break the rules just a little for the Irish holiday.
As a kid, I remember digging into the cereal box, trying to find all the yummy marshmallows. With fun shapes like rainbows, shamrocks, and horseshoes, they are perfect for a simple STEM challenge.
We love building popsicle catapults because you can assemble one within minutes, and the kids love launching things with them for hours. To make this Lucky Charms catapult STEM activity even more exciting, we are going to aim at mini pots of gold and see who can get the most marshmallows in them.
This St. Patrick's Day activity is fun for kids of all ages. And if you do this popsicle stick catapult activity on a clean surface, the kids even get to eat the sweet marshmallows after.
Lucky Charms Catapults for St. Patrick's Day
Supplies:
9 popsicle sticks (green ones if possible for St. Paddy's Day)
Rubber bands
Plastic spoon
Lucky Charms marshmallows
Instructions:
1. There are many ways to build a popsicle stick catapult. I will provide step-by-step instructions for one of the easiest ways to build one. If you would like more popsicle stick catapult ideas, check out additional designs here.
Start off by stacking 7 popsicle sticks. Using 2 rubber bands, tie the craft sticks together on both ends.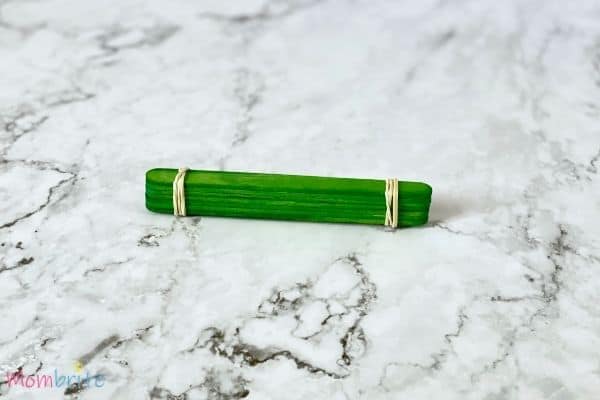 2. Tie the plastic spoon to a popsicle stick.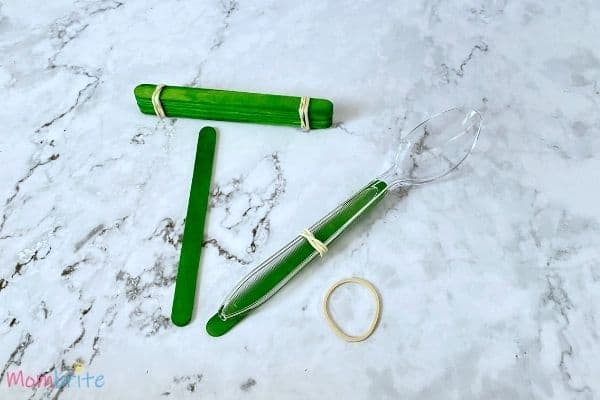 3. Tie another popsicle stick on one end to the one that has the spoon attached.
4. Insert the craft stick under the one that has the spoon attached in the stack of 7 popsicle sticks. It should be inserted right above the bottom popsicle stick of the stack.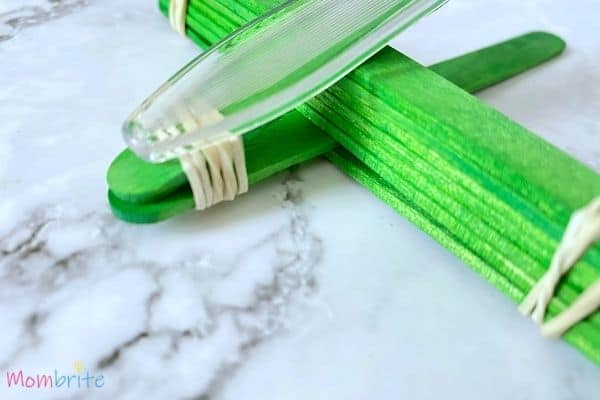 5. Load a Lucky Charms marshmallow on the spoon. Line the mini pots of gold in front of the catapult. We went with a triangle shape, similar to how you position the balls at the beginning of a game of pool.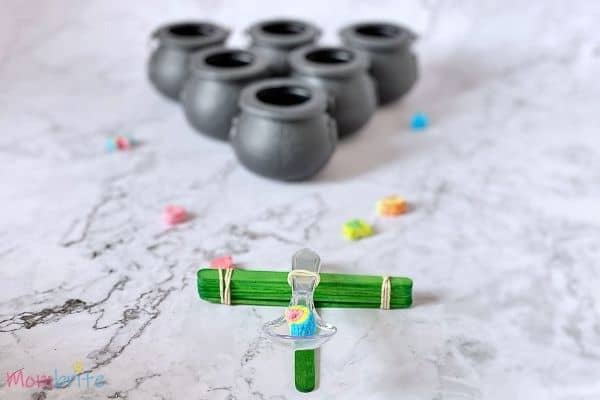 6. Hold the stack with one hand and push the top of the spoon downward with the other. Your kids will want to push down hard to try to make their marshmallows fly farther or higher. They will quickly discover that if they push down too hard, then the popsicle stick catapult might flip over, or that the marshmallow will go straight up instead of flying in a trajectory.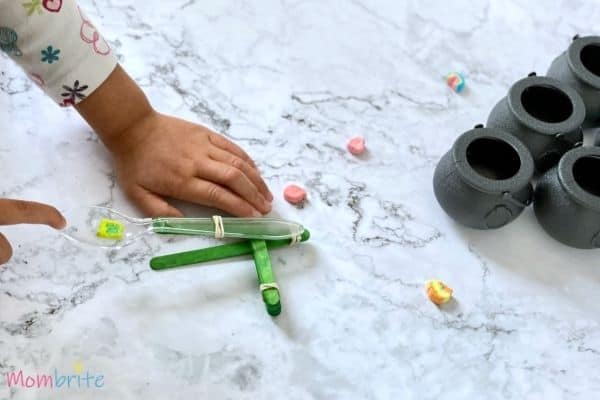 To make this St. Patrick's Day activity even more educational, you can have your kids sort the marshmallows before launching them. We just used whatever marshmallows we dug out of the Lucky Charms cereal box, but you can have one kid using only four-leaf clover marshmallows, and another using only rainbow marshmallows, etc.
You can also assign point values to each of the mini pots of gold. We just assigned 1 point every time someone gets a marshmallow in a pot. However, you can assign the farther pots more points or assign random points to the pots to make the game even more interesting!
Let your kids get creative and place the pots of gold wherever they want! If your kids are anything like mine, then you might find them putting a pot all the way across the room to see if they can shoot the marshmallows that far.
Whatever you decide to do with this fun St. Paddy's Day STEM activity, I hope you and your kids enjoyed it!
---
Related Posts