SeaWorld San Diego is the perfect family vacation when you have kids. They can touch sea life, get wet in the splash pad, watch animal shows, and much more!
This post contains affiliate links. Please see my full disclosure policy for details.
When visitors come to SoCal, San Diego is one of the top destinations on their list. However, when considering where to take our out-of-town guests, we really have to rack our brains over places that are fun for adults versus places that are fun for our young kids.
You don't want to go somewhere just for the kids and the adults are left bored out of their minds, or vice versa. SeaWorld San Diego is the perfect destination because it's family-friendly so that adults and kids can all enjoy their day together. That said, we are talking about taking a baby and a toddler on an all-day outing, so some careful planning definitely wouldn't hurt!
1. Plan your day around the shows.
The best part about SeaWorld is the shows – they are all fantastic! The family favorite here is Dolphin Days, so sometimes we even try and catch it twice in one day. Pets Rule! is a close runner-up and we definitely do not want to miss the adorable dogs, cats, and other animal friends show off their talents.
If you want good seats, I recommend getting to the shows at least 10-15 minutes early. Especially with young children, you don't want to get stuck sitting in the nosebleed sections where you can barely see anything.
2. Download the app.
With the SeaWorld Discovery Guide, you get access to an interactive map of the theme park, up-to-the-minute ride wait times, daily show times, and much more! The app also has the height limits for all the rides so you can plan accordingly with the little ones.
3. Go during the week.
SeaWorld is a popular destination, so you may want to consider taking a day off work to go during a weekday. Patience is not exactly a forte for babies and toddlers, so go when the park is not super busy and avoid frustrations waiting in line with the young kids. That being said, we have been on the weekend and the park never feels as crowded as some others.
What do babies and toddlers like to do? No, not sit down and eat an entire meal in one sitting – they rather snack all day long. Especially since you will be waiting in line or waiting for a show to start, you want to keep the kids busy by offering them something to munch on.
With the All Day Dining Deal, you can simply grab a fruit cup or even some fries as you pass the restaurants on the way to a show or a ride. I will caution you that it's tempting to eat all day to get more bang for your buck (and unlike typical theme parks, SeaWorld actually has pretty delicious food!), but for the sake of maximizing fun times with your kids and minimizing your waist line, stick with just the main meals at the restaurants with snacks in between.
There are a lot of people at theme parks like SeaWorld. Especially after a show when everybody rushes out of the stadium, it's unnerving to see how easily your toddler can get separated from you. And there is no way my toddler is going to let me put one of those leash bookbags on him (and I wouldn't want to anyway).
So, purchase a Travel ID Band just in case somehow your child gets away from you. This is especially important for toddlers who are too young to talk and therefore cannot convey important information to whoever finds him/her. Argh, it sends a shiver down my spine just thinking about losing my toddler!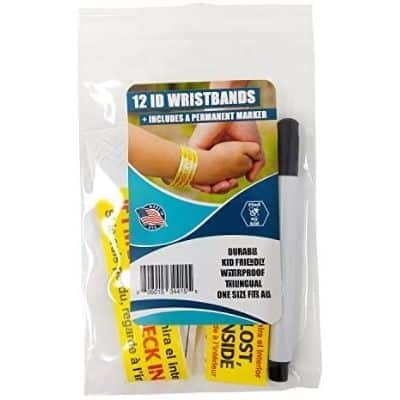 6. Visit Ocean Explorer.
Ocean Explorer is a family-friendly realm featuring 5 children's rides and 3 unique animal exhibits. My baby especially loved the Aqua Scout ride that gently bounces the riders up and down while turning them in circles, while my toddler liked the slightly more thrilling Sea Dragon Drop. Also, don't forget to try the Explorer's Cafe – I thought the Sustainable Fish Taco was delicious!
7. Bring a stroller or a baby carrier.
The most difficult thing about spending a whole day out with a baby and/or a toddler? Nap time! Chances are they are going to be so excited over all the attractions that they won't want to sleep according to their normal nap schedules. However, with how much they are running around, chances are they are going to nap at one point. So, bring a stroller for when they finally crash, or if you have kids like mine who hate the stroller, bring a baby carrier so you can continue being mobile while the little ones get their beauty sleep.
8. Re-think the soak zones.
Enjoy getting wet? Getting splashed on may be oodles of fun for you, but for a baby or a toddler, it may be a little frightening. I don't know how many times I have seen parents running out with a screaming baby after the dolphins soak the crowd with a huge tail slap.
If you don't want to miss the rest of the show, you may want to sit up higher. That being said, our toddler loves getting soaked by the dolphins, the whales or the pigs so we always sit in the soak zone. Being in SoCal, it will more likely than not be nice and warm outside so that the family can dry off quickly.
If you have a toddler who wants to get soaked but another kid who hates getting wet, I have a solution for you. We bought this adorable raincoat so that my daughter can stay dry while my son enjoys getting completely wet. You can also bring giant garbage bags to shield yourself and your belongings from the water.
9. Pack extra clothes and towels.
With soak zones, splash pads, and wet rides, you are bound to get wet at one point. So, pack extra clothes and towels in your diaper bag just in case. I would also recommend packing another set of clothes to leave in the car because you just never know with toddlers (especially if you are potty training!).
For example, my son leaned so far over to touch fish and sharks in tanks that he was practically swimming in it, and of course, his clothes ended up decently drenched.
10. Bring plastic bags.
This may be obvious, but bring several plastic bags for your clothes plus your diaper bag. Once our diaper bag got soaked during a dolphin show, and guess what? All the extra clothes we packed inside (and diapers!) got wet as well. So, put all your dry clothes in plastic bags, and consider putting a garbage bag over your diaper bag as well if there is a chance of getting soaked!
11. Don't forget sun protection.
The sun in SoCal is strong, so make sure that you pack hats and lots of sunscreen for the whole family. Especially with the baby's delicate skin, you want to make sure that he/she has enough sun protection on the whole day. And don't forget to reapply! I also try to sit in the shade when watching the shows and hit the indoor exhibits like Shark Encounter® when the sun is the hottest midday.
12. Drink lots of water.
With so much to do, the little ones tend to forget about hydrating. Bring a couple of water bottles with you into the park and refill them at the restaurants or water fountains and remind your toddler and baby to drink frequently, especially on a hot sunny day.
13. Locate the restrooms and amenities.
My toddler loves to tell me that he needs to go pee or poop when he can barely hold it in anymore, so it's always a rush to find and run to a bathroom. Therefore, knowing the whereabouts of bathrooms is always good so that you don't feel like you are running with a time bomb in your hands.
SeaWorld also offers nursing stations in case you are timid about nursing in public or rather nurse indoors with air conditioning.
14. Leave enough time for the Sesame Street Bay of Play.
Besides shows and marine animals, there are tons of rides for the children at the Sesame Street Bay of Play. Since we planned our day around the shows, we hit the rides before the first show on the agenda started, and after the last show ended. This way, you are not fighting your children to get off a ride in order to make it to a show on time.
Make sure you check out the height restrictions before you wait in line, but most rides just require an adult to accompany the kids, so even my 14 months old can tag along! The Bay of Play also has a huge jungle gym, splash pads, and even a "tidepool" for babies and toddlers! If your kids are into Sesame Street, make sure to check out the meet-and-greet schedule so that they can meet and take pictures with the characters!
15. Bring swim suits and water shoes
If you decide to visit the splash pads, you may want to pack swim suits and water shoes so they can get as wet as they want. Since you probably want to take off their sneakers so they don't get soaked, water shoes will protect their little feet from the hot ground. If the water shoes are comfortable, just have your kids wear them to the park instead of regular shoes.
Have fun at SeaWorld!
When was the last time you went to a theme park with your kids and actually enjoyed yourself? Do you feel like you always end up chasing after the kids or busy trying to keep the kids entertained to really have fun? SeaWorld San Diego is hands down my family's favorite theme park in SoCal because our whole family, adults and kids alike, can enjoy an entire day there. All it takes is a little planning! The only issue is, after getting home from SeaWorld, your little ones will be asking you, "when are we going again?"
What do you like most about SeaWorld?
YOU MAY LIKE: