Throwing a diaper party is a great way to celebrate your soon-to-be baby. They are easy to plan, stress-free, and a fun party for everyone who attends!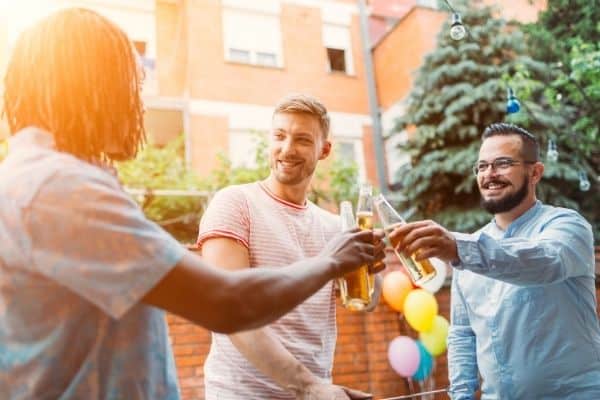 We all love baby showers, but they are usually hosted exclusively for moms and the women in their lives. So why not celebrate the dads by throwing a party just for them and their male friends?
Baby showers for men are becoming more and more common and for good reason. It is a fun way for the dad-to-be to celebrate the pregnancy with his friends, family, and co-workers. One of the best ways to celebrate is with a diaper party.
If you are new to the guy baby shower idea, as well as a diaper party, we break down the logistics of what is a diaper shower and all the how-tos on how to throw an awesome diaper party in no time.
What is a Diaper Party?
A diaper party is a fun and simple way for dads-to-be to celebrate their new bundle of joy. You might also hear people refer to diaper parties as "dadchelor parties," "man showers," or "baby stag."
A baby shower for men is all about celebrating the father-to-be with all his favorite things. Guests typically bring a pack of diapers and perhaps some wipes to help the future parents stock up on the important baby essentials.
This is a low-key gathering for guys to get together and have fun. A diaper party is straightforward in comparison to a baby shower, where the husbands celebrate with simple snacks and beer.
Why Have a Diaper Party?
A baby shower is not just for the mother-to-be. It's also for the father, who will have a hand in taking care of and raising the child. A diaper party is a great way to honor the father of the baby on his upcoming role as a parent.
Diapers are the most needed item for babies. However, they are also one of the most expensive. Given that on average babies wear about 3,000 diapers in the first year, the cost can be quite staggering.
That's where diaper parties come in! Instead of having the guys bring breastfeeding equipment, toys, or other baby accessories as gifts, they can bring boxes of diapers. Having this fun get-together will provide the expecting parents some financial relief as they stock up on diapers for the first few months.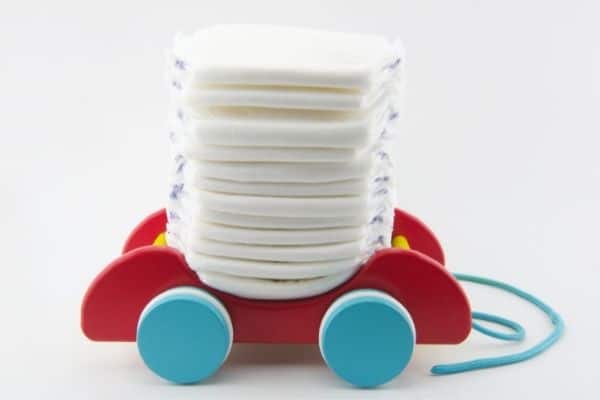 What is the Difference Between a Baby Shower and a Diaper Party?
There are some pretty distinct differences between a baby shower and a diaper party. The main difference is that guests bring diapers for gifts instead of other baby-related items such as pacifiers, washcloths, and receiving blankets.
Commonly baby showers have:
A party theme
Decorations
Favors
Baby shower games and activities
Prizes for games
Gifts from a registry that are wrapped. (Usually, this is the highlight of the shower where everyone watches the mom-to-be unwrap them.
Themed food or typical baby shower food
Invitations
Attended by women only, unless it specifically indicates on the invite that it is co-ed.
Diaper Parties have:
No party theme
Usually no decorations
Food is usually snacks, finger food, or a BBQ
They might have 1-2 baby shower games for men
Gifts are diapers and wipes that are unwrapped
Beer is usually the preferred drink at the shower
Invitations
Attended by friends of the dad, family, and some co-workers.
Who Should be Invited to a Diaper Party?
When it comes to who is invited to the diaper party the dad-to-be decides the invite list. This usually consists of friends, co-workers, and family.
Who Hosts a Diaper Party?
Typically diaper parties are hosted by the dad-to-be's family or close friends. Similar to a baby shower, it's not common etiquette for you to host your own diaper shower.
If you are a dad-to-be and want a reason to get together with friends to celebrate the last days before fatherhood, tell your close friends or family that you would like to have a men's baby shower. Introduce them to the idea of a diaper shower as your preferred celebration.
How to Throw an Amazing Diaper Party
1. Pick a Location
You will want to pick a location to have the party. This is typically at someone's home or in a backyard.
For more extensive celebrations, the diaper party can take place at a location where there are multiple activities. For example, if the father-to-be is a fan of golfing, consider having the diaper party at a country club where he can play a round of golf with his friends before dining at the restaurant.
Other great places are at a sporting event or at a favorite bar. The one thing to consider is if you will be drinking at the party you want to make sure that your location allows for this.
2. Choose a Theme
Baby showers for men usually are unthemed. They really are just gatherings to get together and have fun. If you would like to spice it up a little bit you can easily have a themed party! Some great options are:
BBQ and Beer
Pizza
Diaper Raffle
Poker and Pints
Dadchleor Party
Burgers, Babies, and Beer
Chuggies and Huggies
BYOD (Bring Your Own Diapers)
A Baby is Brewing
Diapers Brew and Shooting Too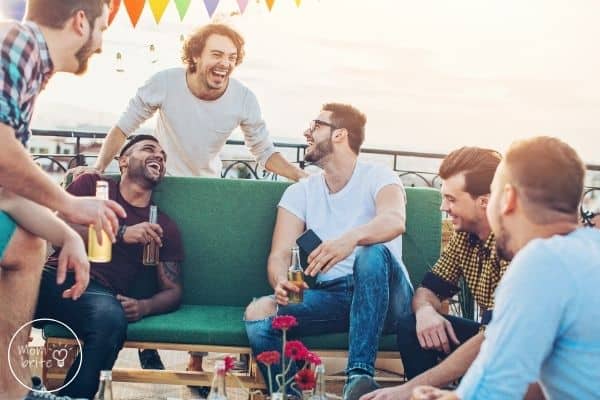 3. Compile a Guest List
Talk with the dad-to-be about who he wants to be at the party. Get phone numbers or addresses so you can let all the guests know.
4. Create Diaper Party Invites
You will want to let people know about the event. So grab some fun diaper party invites and send them, or if it is easier you can send a text to let them know about the party. You can even send the invites through email if this is more your style.
On the diaper party invite be sure to put the following information:
Dad-to-be's name
Date, time, location of the party
RSVP number so you know how many to plan for.
A reminder to bring diapers as some of the guests might not be familiar with a diaper shower.
Diaper Party Invitation Ideas
When it comes to diaper party invites, make it as stress-free as you can. If you decide to mail out invitations, there are many options on Amazon for you to choose from. Some are even customizable so you can mail them right out after you receive them!
Here are some of our favorite invitations that are perfect for a dadchelor party.
5. Prepare Food and Drinks
When planning a diaper party, consider simple food that you can eat easily with your hands. Hamburgers, wings, hot dogs, tacos, and pizza are the most common food choices, but you can do sandwiches, dips, or even just snacks.
Beer is the most common drink to serve, but you can also serve cocktails or hard alcohol if you choose. I always recommend having plenty of water and some soda on hand just in case friends and family choose not to drink.
When it comes to dessert, storebought cookies or a cake are a great choice. No need for fancy pastries!
6. Decorate for the Diaper Party
Diaper parties are low-key, so no decorations are necessary! A group of men probably won't even notice if you put up any decorations.
But if you want to spruce up the place a little, here are a couple of easy decoration ideas:
7. Set Up Diaper Party Games
Get your guests excited with fun and exciting games at the diaper party. There are some pretty fun games out there designed for men's baby showers that the guys will love.
Diaper party games can be as simple as playing the father-to-be's favorite board games. For example, you can have the guys gather around to play poker or Cards Against Humanity.
If the father-to-be is a gamer, you can throw a diaper party featuring various video games. Multiplayer games like Mario Kart and Super Mash Bros. for the Nintendo Switch are always super fun options. If there are guests who live out of state and can't make it to the party, you can always include them by playing online games like Among Us and Castle Crashers.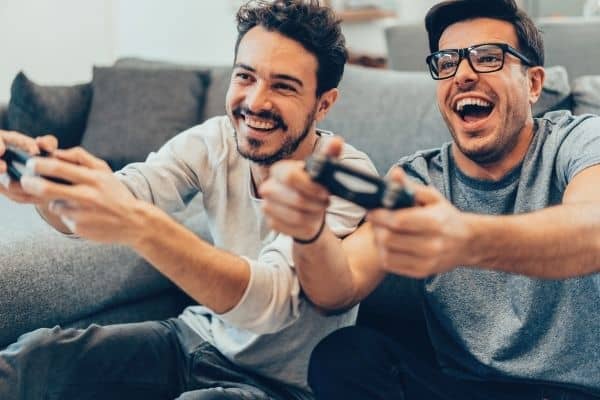 For diaper party game ideas that will get everyone up and moving, lawn games like cornhole or spikeball are easy to set up and fun to play.
If you want to have more baby-themed games at the dadchelor party, here are some great ideas:
Chugging Contest- Grab some baby bottles and fill them with beer to see who can drink it the fastest.
Diaper Changing Challenge- Blindfold the guests and give them all a baby doll and a diaper to see who can change their baby's diaper the fastest. We can all use more practice on changing a diaper with the baby coming.
Pop the Belly- Give the dads a chance to know what pregnancy feels like with this pop the baby game! Each guest puts a balloon under their shirt and has to figure out how to pop it without anything sharp. The first one that pops their balloon wins.
If you choose to have games at your dadchelor party, it is always fun to have prizes. These can be simple like an awesome beer flavor or a gift certificate to a restaurant.
8. Hold a Diaper Raffle
One fun activity that will ensure the dad-to-be gets as many diapers as possible while making the diaper party extra exciting is to hold a diaper raffle.
The rule of the diaper raffle is that guests that bring a pack of diapers are entered into the raffle. You can expand the acceptable items to baby wipes and other diaper-related essentials such as diaper rash cream.
Each pack of diapers counts for one raffle ticket. So if someone brings 10 packs of diapers, then he gets 10 raffle tickets and increases his chance of winning a prize.
You can cut up pieces of paper and write the guests' names on them for the raffle tickets. To save time, you can also purchase these diaper raffle tickets that match the beer theme:
If you are doing a diaper raffle, make sure you include the instructions on the invitations, especially if you have specific requirements such as organic or cloth diapers.
Of course, then you need to decide on a raffle prize! Some prize ideas include:
Gift cards or certificates
Subscriptions
Gift baskets
Alcohol
Movie tickets
Video games
Coffee mugs
Diaper Party Gift Ideas
If you are attending a diaper party, selecting a gift is easy. Unlike a baby shower, where you have a whole list of best pregnancy gifts for moms to choose from, you just need to stop by the store on the way and grab a pack or two of diapers and some wipes and you are all set. No need to wrap them either!
When selecting your diaper size, it is common to get newborn diapers, but try to avoid these as the baby only will wear these for a couple of weeks, and some won't even wear them at all. Try to choose sizes 1, 2, or 3 because these are the sizes that babies wear the longest.
Fun and Easy Diaper Party for the Father-to-Be
Baby showers are the perfect way to celebrate the birth of a baby. However, men often feel left out because the activities are often geared toward women. But dads are important too, and they deserve a special day to celebrate with their buddies before stepping into fatherhood.
Throwing an awesome diaper party is simple and fun! There is no reason to go crazy in the planning. It is a fun way to celebrate the dad-to-be, get together, and spoil the baby that will be here soon.
The parents-to-be will be so thankful for all their wonderful friends and family and all the diaper gifts they will receive. Having a large stock of diapers will at least mean one less thing to worry about when taking care of a newborn.
Trust me, nobody wants to be running out for a diaper run at 2 AM with an unexpected baby diaper blowout. Oh, the joy of parenthood.
---
Related Posts: