Want to work at home and earn money as a stay-at-home mom? Learn how to start a mom blog with this step-by-step guide.
This post contains affiliate links. Please see my full disclosure policy for details.
Are you a stay-at-home-mom needing a creative outlet for your thoughts? Or perhaps you are sick and tired of working the 9-to-5 job and missing all your baby's milestones? Whatever your reason is, congratulations, you have made the decision to start a mom blog! Blogging has changed my life and I am excited to start you on your journey to becoming a profitable blogger.
The thing with blogging is that it's FAST and CHEAP to start (you can start one for less than $4/month on SiteGround!), but with a huge potential upside. And I am not even talking about the money aspect. As a blogger, you have the opportunity to influence and change someone else's life and make it better. And the fact that you can potentially make enough money to replace your full-time income and more? To me, it was a no-brainer to give blogging a go.
LET'S GET STARTED!
1. CHOOSE YOUR NICHE.
A lot of bloggers started blogging because they want to write about everything under the sun. It may be difficult to narrow down which niche you want to focus on. I recommend taking a piece of paper and pencil and start brainstorming by answering these questions:
What do you love to talk about?
What do other people come to you for advice on?
What do you have previous experience in?
Identify the niches that helps people solve a problem.
Out of all the niches you wrote down, circle the ones that helps people make their lives easier or better.
Everything you blog about is for your audience. Sure, you can start a blog writing about topics that only you care about, but probably only your mom (because she loves you no matter what) will read your blog. Therefore, think about what your audience wants to learn and how you can help make their lives easier.
If you can't think of a problem, then start talking to your ideal audience. Ask them what issues are making it hard to get out of bed in the morning. You can do this by asking people you know or do market research by posting on relevant social media channels to get feedback.
For example, I belong to a couple of local mom groups on Facebook. I can post in the group, "Hey everyone, I am starting a blog and would love to know what are your biggest pain points about being a mom?" Then look through all the comments to determine how your blog can help your audience.
Determine the niches that can be monetized.
Finally, out of the niches you circled, star the ones that have solutions people are willing to pay for.
Sure, you can blog for fun and use your blog like a public diary, but I am guessing that's not why you want to start a blog. It would be nice not to worry about mortgage or even help your husband quit his job with a profitable blog.
There are many ways to monetize your blog, including sponsored posts, affiliate marketing, ads, selling products, etc. Have a monetization strategy in mind when you start blogging will help accelerate when you will see money rolling in.
Note: Do NOT pick a niche just because you know it's a profitable niche. If you don't have a passion for it or experience to back up your writing, people will see right through you and your blog will not succeed.
Now, you should have drastically narrowed down your list of topics. If they are related (for example, breastfeeding, parenting, pregnancy), then you have the option of starting a blog with an umbrella niche that covers all the topics or picking one specific one to focus on. If you are left with several unrelated topics, then you have to decide which one to start with and perhaps eventually starting separate blogs for the other topics.
Do I really have to pick a niche?
If you are really having trouble picking a niche, then you can start a blog with multiple topics. The topics will have to be semi-related, or else you are going to confuse your users on what your blog is about.
For example, you can blog about pregnancy, parenting, and being frugal. As you start to get more traffic and feedback from your readers, you can decide which niche to focus on. In this example, you may want to consider focusing on pregnancy and parenting if most of your traffic is going to the pregnancy and parenting posts and hardly anyone is reading the being frugal articles.
The only thing I would caution is not to cast your net too wide. For example, writing about pregnancy and fishing on the same blog will not make for good user experience. Plus, you will confuse Google on what your site is about and never rank in Google search results.
2. CHOOSE A DOMAIN NAME.
This is the most fun and most difficult part of starting a mom blog. I swear it's harder than naming my child because the possibilities are endless. It's going to be your site's identity and you want to do it right in the first place.
Here are some helpful tips for creating your domain name:
Reference your niche in your domain name.
Having your niche somewhere in your domain name gives people an idea what your blog is about before they even click on the URL. I made a mistake when I first started my blog and named it www.theterrificfive.com." If you don't know me and my blog at all, that name "The Terrific Five" does not mean anything to you. Therefore, when I rebranded, I decided to include the word "mom" in the domain name to make it more obvious that my blog is for moms.
That said, a lot of bloggers now use their names as the domain name, which is perfectly fine. In the end, YOU are the brand and if you build your brand right, the domain name doesn't really matter.
Have consistent name throughout your social media.
This may not always be possible, but when it is, have your social media handles be the same as your domain name. Doing so makes it easier for people to find you and establishes a stronger brand. You can use https://www.namecheckr.com/ to check the domain and social username availability across multiple networks.
Use the .com version of your domain name.
There are many different extensions you can get, like .net, .co, .biz, etc. However, the .com is considered the most authoritative and lends credibility to your brand.
4. CHOOSE A BLOGGING PLATFORM.
If you are not 100% sure about starting a mom blog, you may be tempted to go with a free blogging platform like WordPress.com. I strongly urge you to reconsider! A self-hosted WordPress.org blog is preferable for the following reasons:
1. You can monetize your blog.
Most of the free blogging platforms like WordPress.com places restrictions on monetization. Therefore, if your goal is to monetize your blog, you will want to go with a self-hosted WordPress.org site.
2. You won't have ads cluttering up your blog.
Free blogging platforms are free for a reason – they place ads on your websites to earn money. Therefore, with WordPress.com, your site's user experience may be compromised by unwanted ads that you cannot remove.
3. You can pick your domain name.
With free blogging platforms, you will have a subdomain attached to your domain name (for example, mywebsite.wordpress.com). That's a very long and cumbersome URL!
4. You get unlimited disk space.
After you blog for a while, you will appreciate the unlimited space to store all your media files and downloads for your blog.
5. You get to customize your site.
It's your blog, and you would want to customize it to exactly how you picture it. However, you can't do so with a free blogging platform because you are limited to their plugins and themes.
6. You will want to switch over eventually anyway.
If you are serious about blogging (and I hope you are if you are reading this), eventually you will want … and NEED … a self-hosted site anyhow. Therefore, save the time and money of paying someone to help you transfer everything by using a self-hosted site in the first place.
You can read more about the difference between WordPress.com and WordPress.org here.
5. CHOOSE A HOSTING SERVICE.
Picking the right hosting service can literally make or break your website. For most mom bloggers, choosing a blog host comes down to two options: Bluehost or SiteGround. When I first started blogging, I signed up with Bluehost and stayed with them for 2 years. Then when I decided to start Mombrite, I decided to switch over to SiteGround after all the good reviews I hear from other bloggers.
For me, SiteGround wins hands down for the following reasons:
1. 99.99% Uptime
When your blog is down, nobody can access your site. That means you are missing out on potential readers and clients. Even more importantly, downtime can significantly damage your blog's reputation and user experience. Think about it, if you tried to load a website and got a big fat error message instead, would you want to return to the site?
SiteGround's advanced web hosting security solutions allow the hosting service to achieve 99.99% uptime. Mombrite has not experienced any downtime yet with SiteGround and I am thoroughly impressed.
2. Faster Speed.
Your visitors (and Google) won't like a website that loads at a snail's pace. Most people will click out of the page and move on to other sites if your page is taking too long to load, and the epic posts you have written on your blog will never see the light of day.
Recently, I had a conversation with an expert brand and website designer, Dara, regarding using Bluehost versus SiteGround. She concurs that SiteGround is superior when it comes to speed: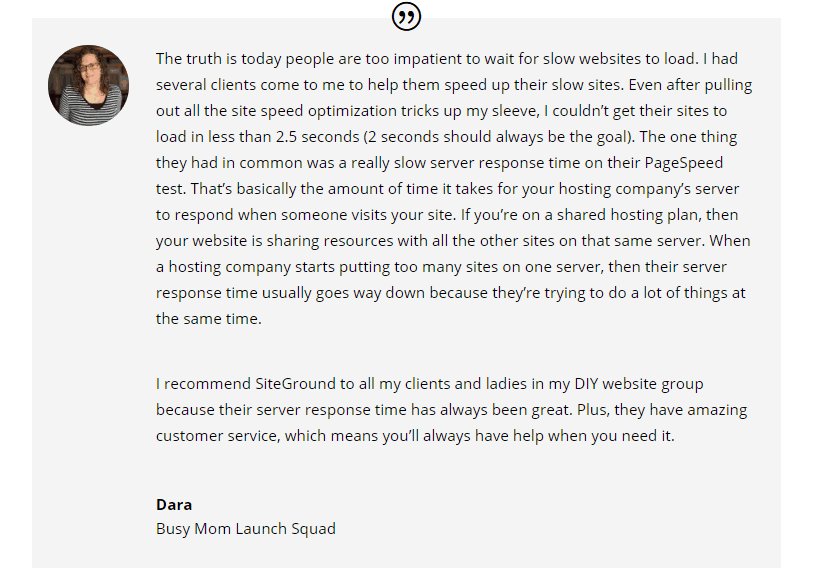 3. Excellent customer service.
As Dara mentioned above, SiteGround's customer service is simply ah-mazing! You can reach their support agents on live chat, phone, or ticketing support 24/7, which is great for mom bloggers because usually, we don't have the time to work until wee hours of the morning. When you use the chat or phone option, the tech support agent answer within seconds and jumps on finding a solution for your issue right away.
Now, I do want to mention that if you are on a tight budget, Bluehost is the more affordable hosting service. Here is a side by side comparison:
Note: The price comparison is not completely apples to apples because the companies offer slightly different features for each plan.
However, both Bluehost and SiteGround do offer significant discounts for introductory pricing. You can sign up using the introductory pricing for up to 36 months (3 years). With the discount, you can get started with SiteGround at the same price as Bluehost with the basic plan and only $1/month more with the middle plan. I signed up for the GrowBig plan (middle plan) with SiteGround – I will get into why in a little bit.
Still on the fence? For a more in-depth comparison between the two hosting services, click here.
Whew! There are lots to think about before getting to this point. Now it's just the technical stuff and it should take no longer than 5 minutes to complete the set-up process. Click over to SiteGround now and let's get started!
6. SET UP SITEGROUND.
Here is a step-by-step tutorial on how to get your blog started with SiteGround.
Step 1: Choose your plan.
SiteGround offers 3 plans to choose from: StartUp, GrowBig, and GoGeek.
For a detailed list of all the featured offered with each plan compared side by side, click here.
I know you might be a brand-new blogger and the thought of starting one website is already overwhelming for you, but I do recommend getting the GrowBig plan for the following reasons:
The GrowBig plan includes the SuperCacher, a powerful caching solution that accelerates website speed. According to SiteGround, it makes your website 4x faster and be able to "handle up to 100 times more hits." This means that once your blog traffic grows, your website is ready to serve all your visitors.
Unlimited websites! As you continue to blog, you may want to make more than one website. Perhaps another blog with a different niche, or maybe a website just for your product. Or you may want to rebrand and start a new website under a different domain name (like what I did!). GrowBig gives you the option to create as many websites as your little heart desires.
Whatever plan you decide to go with, click on "Get Plan" and move on to Step 2.
Step 2: Choose Your Domain.
Remember the domain name you chose before? Here is where you register your new domain. If you already registered the domain elsewhere, SiteGround offers FREE website transfer with the GrowBig and GoGeek plans. I had to transfer my old blog over from Bluehost to SiteGround and the process was so fast and easy with SiteGround's tech support, and I experienced no downtime on my blog during the transfer.
Step 3: Fill out your account and client information.
Step 4: Fill out your payment information.
Step 5: Fill out your Purchase Information.
The introductory price applies to any of the initial periods chosen during the sign-up process. Since I know that I will be blogging for many years to come, I picked 36 months to take advantage of the discounted rate for the next 3 years.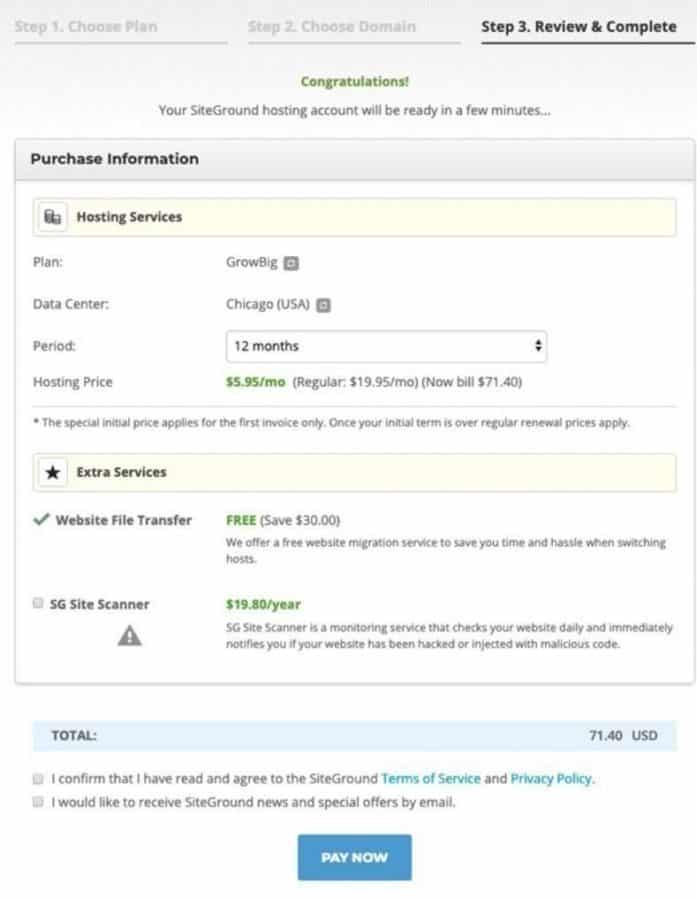 As for the extra services, it's up to you whether or not you want to select them. You can always add them later if you change your mind.
Check the box that says you agree to the SiteGround terms of service and privacy policy and click on "Pay Now."
Voila, you are done! You now have hosting for your blog! Now all you need is to install WordPress and then the fun starts.
7. INSTALL WORDPRESS.
Remember how amazing SiteGround's customer service is? If you don't feel like dealing more with the technical side of blogging, contact SiteGround's tech support and they will install WordPress for you!
However, if you want to set up WordPress yourself, it's really not that difficult. Let me show you.
First, after you log into SiteGround, go to the "My Accounts" tab and click on "Go to CPanel."
Next, click on the WordPress icon in the Autoinstallers section.
Click on the Install button.
Next, fill out the Software Setup section.
Choose the version you want to install – generally you want to install the latest version.
Choose Protocol – You should select https://. If you do not have SSL, then you need to get one immediately. Otherwise, Google will display a "Not Secure" in the URL bar. Luckily, SiteGround automatically issues and install a free certificate for the majority of the domains that are pointed to the SiteGround servers (some other hosting services charge extra for SSL certificates).
Choose Domain – Choose the domain you created before in the drop-down menu.
In the Directory – Leave blank.
Site Name – Whatever name you have decided to call your site. You can change this later.
Site Description – A short description of your site. You can change this later.
Admin Username – This is the name you use to log onto your WordPress blog.
Admin Password – As always, create a strong password.
Admin Email – Enter your email address.
The rest is self-explanatory, except the Easy setup section.
I recommend unchecking the WordPress Starter unless you plan on using it. You want to pick a theme that fits your brand the best and install your own plugins. When I installed WordPress I made the mistake of checking this box and ended up having to go through and delete all the themes and plugins.
Ta-da! You are done!
READY TO DIVE IN?
Now that you have the hard stuff completed and over with, time to work on the FUN stuff! Woohoo!
What do I mean by fun stuff? It's time to choose themes, logos, colors, etc. and start writing! Can you believe it? The world is about to learn about you and what's in your brain. How exciting!