Self-care is so important for moms to feel happy and refreshed. Here are tips on how to find time in your busy day for yourself so you can be a better mother.
Every mom knows that self-care for moms is important, and believe me, getting a massage or even taking a shower that's longer than "jump in, get wet, jump out" sounds heavenly. However, how many of us are actually taking the necessary time to pamper ourselves? *crickets chirping*
In the words of my frustrated (and rightfully so) husband, "You always say you want time for yourself, but when I offer to take the kids for a couple of hours you always end up running errands or coming with us instead." Oops. That's mom mentality for you. We want time for self-care, but when it comes down to it, the guilt of handing over the children to someone else and actually doing something for ourselves gets too overwhelming.
This is a guest post by Adrienne from Peace of Mom, a blog dedicated to ensuring all moms get the TLC they deserve. Adrienne is a mother of two, teacher of English, and lover of all things chocolate.
We've all heard the expression "Put on your oxygen mask first"—take care of yourself before taking care of others.  I'm sure we can all agree that it makes perfect, logical sense.  But, in reality, the idea of regular self-care probably seems too luxurious to be real, right?  As busy moms, we often put ourselves way down on our to-do list, which means our needs are often met last.  If you want to step up your self-care, but don't know how to make time for it, here are four easy steps to get you started.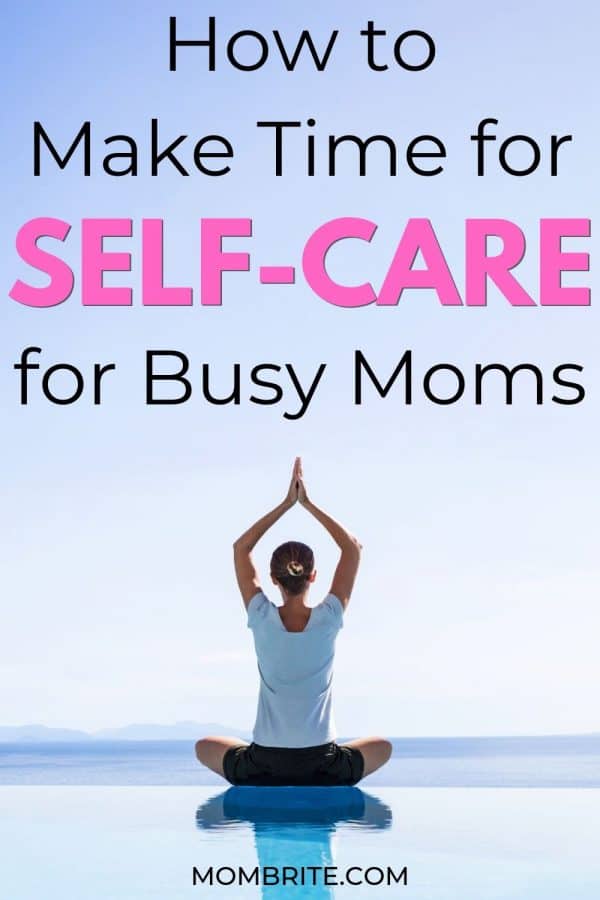 This post contains affiliate links. Please see my full disclosure policy for details.
Make Yourself a Priority
The first step towards better self-care is adopting the right mindset. Know that you matter just as much as your kids and husband and parents and pet parakeet.
Think of it this way, as the caretaker in your family, you need to take care of yourself. Nobody else is going to do it because care-taking is your job! Don't wait for somebody to say, "Hey, you look tired, let me take the kids for a couple hours so you can take a nap and shower!" (Spoiler alert: Nobody ever says that in real life.) It's time to advocate for yourself, mama!
Banish Guilt
Guilt is probably the biggest roadblock for moms who want to take better care of themselves. Self-care just feels, well…selfish. But, you can't feel guilty about making time for yourself. Here's why: when you're happy, your kids are happy. Period, end of story.
If you take one thing away from this post, remember this: making time for yourself makes you a better mother. Even a few minutes of self-care a day will help you to be more patient and happy—and isn't that what our kids need from us?
Set Goals
Once you've overcome the obstacles in your way, it's time to make a real decision: make the conscious choice to commit to yourself. That's right, it's like any other New Year's Resolution you might make (Except, this is way more fun!)
Be very clear about what your self-care goals are. Do you want a free afternoon every weekend? Ten minutes every evening? My advice is to make time for a little self-care every single day. Keep reading—it is possible!
2. Do What You Love
Ready to make time for yourself? OK! The next step is to decide what you will actually do for yourself. Make a list of your favorite self-care activities. That way, you have a whole arsenal of choices when you are blessed with some free time.
Still stumped? Here's a short list of nice things you can do for yourself. Pick a few (or even one) and start there.