Self-care is so important for moms to feel happy and refreshed. Here are tips on how to find time in your busy day for yourself so you can be a better mother.
Every mom knows that self-care for moms is important, and believe me, getting a massage or even taking a shower that's longer than "jump in, get wet, jump out" sounds heavenly. However, how many of us are actually taking the necessary time to pamper ourselves? *crickets chirping*
In the words of my frustrated (and rightfully so) husband, "You always say you want time for yourself, but when I offer to take the kids for a couple of hours you always end up running errands or coming with us instead." Oops. That's mom mentality for you. We want time for self-care, but when it comes down to it, the guilt of handing over the children to someone else and actually doing something for ourselves gets too overwhelming.
This is a guest post by Adrienne from Peace of Mom, a blog dedicated to ensuring all moms get the TLC they deserve. Adrienne is a mother of two, teacher of English, and lover of all things chocolate.

We've all heard the expression "Put on your oxygen mask first"—take care of yourself before taking care of others.  I'm sure we can all agree that it makes perfect, logical sense.  But, in reality, the idea of regular self-care probably seems too luxurious to be real, right?  As busy moms, we often put ourselves way down on our to-do list, which means our needs are often met last.  If you want to step up your self-care, but don't know how to make time for it, here are four easy steps to get you started.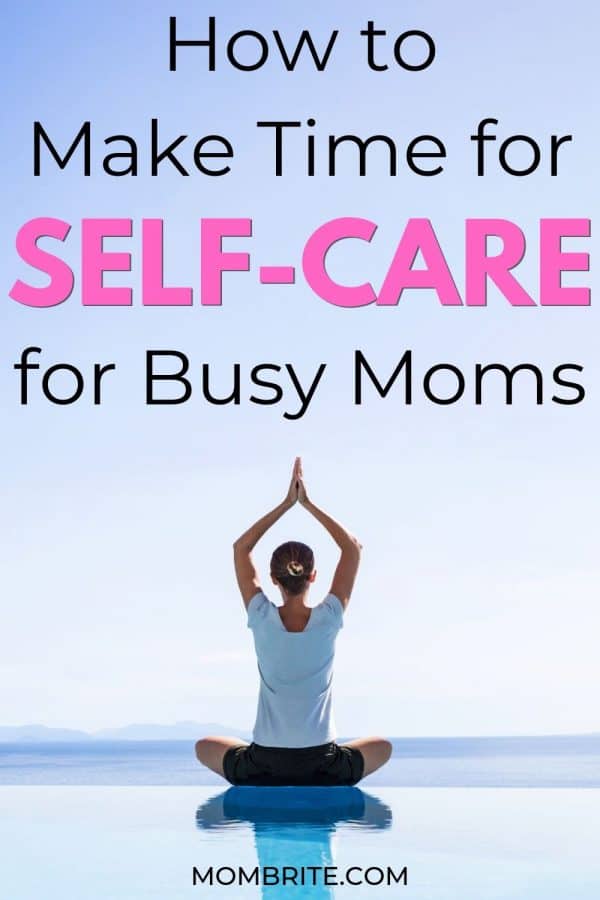 This post contains affiliate links. Please see my full disclosure policy for details.
1. Master the Right Mindset
Make Yourself a Priority
The first step towards better self-care is adopting the right mindset.  Know that you matter just as much as your kids and husband and parents and pet parakeet.
Think of it this way, as the caretaker in your family, you need to take care of yourself.  Nobody else is going to do it because care-taking is your job!  Don't wait for somebody to say, "Hey, you look tired, let me take the kids for a couple hours so you can take a nap and shower!"  (Spoiler alert:  Nobody ever says that in real life.)   It's time to advocate for yourself, mama!
Banish Guilt
Guilt is probably the biggest roadblock for moms who want to take better care of themselves.  Self-care just feels, well…selfish.  But, you can't feel guilty about making time for yourself.  Here's why:  when you're happy, your kids are happy.  Period, end of story.
If you take one thing away from this post, remember this:  making time for yourself makes you a better mother.  Even a few minutes of self-care a day will help you to be more patient and happy—and isn't that what our kids need from us?
Set Goals
Once you've overcome the obstacles in your way, it's time to make a real decision:  make the conscious choice to commit to yourself.  That's right, it's like any other New Year's Resolution you might make (Except, this is way more fun!)
Be very clear about what your self-care goals are.   Do you want a free afternoon every weekend?  Ten minutes every evening?  My advice is to make time for a little self-care every single day.  Keep reading—it is possible!
2. Do What You Love
Ready to make time for yourself?  OK!  The next step is to decide what you will actually do for yourself.  Make a list of your favorite self-care activities.  That way, you have a whole arsenal of choices when you are blessed with some free time.
Still stumped?  Here's a short list of nice things you can do for yourself.  Pick a few (or even one) and start there.
| | | |
| --- | --- | --- |
| A bath | Putting on makeup | Pursuing a hobby |
| A cup of tea | Going for a run | Savoring a decadent dessert |
| Reading a magazine | Giving yourself a manicure | Sitting in the sunshine |
| Having coffee with a friend | Cooking a favorite meal | Spending time with a pet |
| Meditating | Going for a walk | Doing yoga |
| Giving yourself a facial | Taking an exercise class | A cup of coffee |
| Reading a book | Calling a friend | Listening to music |
3. Make the Time
Schedule an Appointment with Yourself
Once you choose something that sounds nourishing and fun, it's time to schedule time in your planner.  That's right, you need to make a self-care appointment with yourself just as you would schedule any other appointment.  Self-care just as important as that OB-GYN appointment.  And, a lot more fun.  But, hey, what isn't?
If you're looking for a new planner for 2018, you can try The Happy Mom Planner, which makes it easy to schedule self-care each and every day.  You can download the free printable here.
Get Help
So, where do you actually find the time?  If you're frazzled and overwhelmed—as we all are sometimes, or even all of the time—you might say you have no time at all.  If you have a newborn at home, this may be the case.  That's when you have to ask for help— from your husband, mom, even a friend.
Talk to your partner about when he can take over for you.  Even if it's for an hour every week, it can help you immensely.  As an added plus, it gives him bonding time with the kids.  If your husband works or travels a lot, (like mine) this can be a little bit of a challenge.  Consider asking another family member for help, or setting up a babysitting share.  Ask a friend to trade babysitting with you—it benefits you both!
Create a Routine
Sometimes making more time for yourself is as simple as creating a routine that includes YOU.  I'm sure many of you have routines for your kids:  morning routines, getting ready for school routines, bedtime routines, but does any of that involve you?  I bet it doesn't.  Try to incorporate yourself into at least one of those routines.
Think about it:  what do you want to be doing during that time of day?  For example, do you want to be able to sit and have a nice, hot cup of coffee in the morning?  Arrange your kids' routines to make that happen for you.  Consider how you can occupy them for 10 or 15 minutes while you relax with your java.
Make Naptime Your Time
If you have kids that nap, make sure you take some of this time, if not all of it, for yourself.
Do not, I repeat, do not spend the entire time cleaning.  Yes, cleaning is important, but if you have little kids, your house is just going to be messed up again.  Why spend a full, delicious, kid-free hour vacuuming the living room that will be covered in Cheerios and god knows what other kinds of crumbs in another 42 minutes?  Yes, you need to get things done during naptime, that's for sure, but leave some of it for you.
I'm in a season of life now where my daughter goes to Pre-K in the afternoons and my 18-month-old son naps for about 1.5 to 2 hours while she's out.  I take the first half hour to do whatever chores or tasks I need to get done and then spend another hour doing something for me.  It might be an at-home workout and a shower or a hot lunch and a good book.  These little things make me feel endlessly better—way better than a spotless living room ever made me feel.
Banish Time-Wasters
A time-waster is anything that takes up your time that offers absolutely no return on your investment.  (And, yes, your time is an investment.  In my opinion, it's just as valuable as money). Some of these time-wasters are even detrimental to you.
I find that social media can be one of these time-wasters.  Sure, the first 10-15 minutes could be great and uplifting.  Maybe you'll see a picture of a friend's new baby or reconnect with an old high school friend (Hi, Betty!)  But, somewhere around minute 45 you might stumble on your Uncle Al's crazy political rant or see a friend of a friend of a friend's vacation photos that make you insanely jealous.  That doesn't make you feel good at all, does it?
My thought is this:  as a mom, you are super-busy and your time is incredibly valuable.  If you have any time to yourself at all, you should spend it doing something that makes you feel good after you do it.  Now, if Facebook always makes you feel good, more power to you, do it! Identify the things in your life that don't make you feel good.  If they're not a necessity, cut them out.
4. Get Creative
Institute Quiet Time
Have you bid naptime a fond farewell in your house?  My dear, I am so, so very sorry for your loss.  Chin up, though, you can still reap the benefits of nap time by instituting quiet time.  Pick a time during the day when you most need a rest.  If you have a younger child that naps, this is definitely the time.  Give your older toddler or preschooler something quiet she likes to play with.  It helps when she only gets to play with this toy during this special time of day.
Exercise with Your Kids
This can be tricky, depending on how old your kids are, but it's doable.  Exercise, with its release of feel-good endorphins, is one of the best self-care tricks in anyone's arsenal.  If you want a natural mood-boost in your day, even 10 minutes of exercise can be magic.  Consider your options:  could you sign up for a gym that offers free child care?  Take a class where you exercise with your baby?  Use a jogging stroller or go for a brisk walk with a regular stroller?
Personally, I'm a big fan of streaming online workouts. Barre 3, a mix of ballet barre, Pilates, and yoga, is one of my favorites. They offer a wide range of workouts on their streaming site, including quick, 10-minute workouts.  Even if my kids are playing, I can get away with 10 minutes.  Sure, my daughter will try to do it with me and my son might try to jump on me, but hey, that's what makes it more fun, right?
Here's a link to some streaming workout choices. And, while I haven't tried it myself, I've heard very good things about the site Moms into Fitness, which offers affordable streaming workouts made especially for moms.
Make a Busy Basket
I think busy baskets and boxes are the greatest things, especially if you have a toddler.  If you haven't heard of this concept, it's putting together a basket or box of toys that only come out for a certain time (like when you're on the phone and you'd rather not hear "Mommy, Mommy, Mommmmmy!! while you make a dentist appointment).  Fill the basket with some fun activities that you only take out when you want to do something for yourself (like exercise).  Need ideas?  The Toddler's Busy Book has great tips.
Make a Bedtime Routine (for You!)
I think routines are super-important for any mom. If you're still stumped about finding time for yourself, the best route is reserving the half-hour or hour after the kids go to bed for you.  My absolute favorite thing to do is draw a nice, hot bubble bath, light a candle, and pour a glass of wine.  This only takes about 20 minutes to a half hour and I look forward to it all day.
And, honestly, sometimes looking forward to this time gets me through the before-bed craziness of putting a stalling preschooler to sleep.  When I'm pressed for time, even a nice shower feels great.   Think about what you'd like to do every night before bed.  Maybe it's reading a few pages of a book or meditating for a few minutes.  Pick a nice, relaxing, peaceful activity.
Make the Time for Self-Care Today
It's a new year, mama!  It's time to make room for you.  Remember, all you need is 10 or 15 minutes every day.  Even that small amount of time will help you feel better and be a better mother.  So, put on your oxygen mask first—you and your family deserve it.