This post may contain affiliate links. That means if you click and buy, I may receive a small commission (at zero cost to you). Please see my full disclosure policy for details.
Have a blast playing this Roll a Cupcake dice game with your kids in the classroom, at parties, or at family game night. This is a fun and simple game for kids of all ages!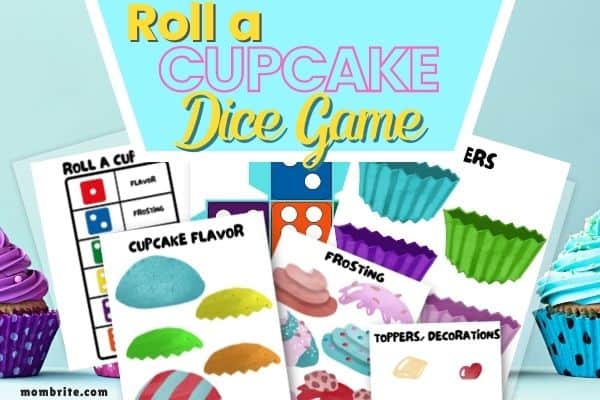 Kids love cupcakes, and they are a popular item at birthday parties and other family events. Not only are they yummy, but they are also fun to bake!
Since we can't have this sweet treat all the time (well you can, but I wouldn't recommend it!), they can enjoy making one instead with this Roll a Cupcake dice game!
This free Roll a Cupcake game combines the fun of a simple board game with the joy of decorating a cupcake. And with the printable die included in the printout, you have everything you need to play the game in the PDF file.
Roll a Cupcake Printable Game
The game is easy to set up and younger kids will have no problem understanding the rules. You can play it solo, but it's definitely more fun with more players.
Preschoolers and kindergarteners can work on number recognition by counting the number of dots on the die. And like playing any board game, your child will learn good sportsmanship, turn-taking, and patience.
The Roll a Cupcake printable comes with:
One Roll a Cupcake mat to build your cupcake on.
One die key.
5 cupcake flavors.
5 frostings.
5 different colored liners.
6 toppers or decorations.
One printable die to assemble and use.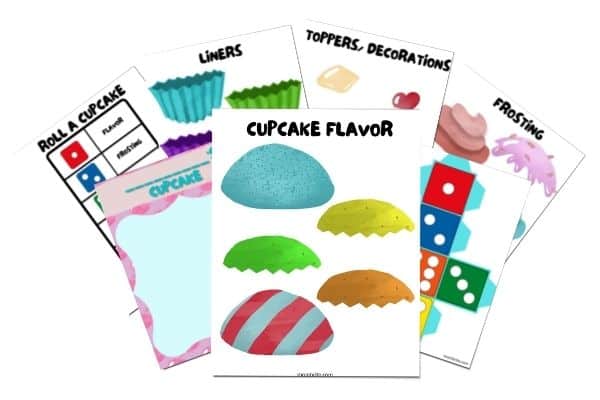 How to Play the Roll a Cupcake Game
Once you download the file for the printable Roll a Cupcake game, print out everything with your color printer. The only exception is if you want to use your own die instead of the printable die.
You can print as many copies as you need, so this is a great game to play in a classroom with your students or on a play date with a group of kids. Each player will need a mat to make their cupcake. If you have less than 5 players, then just one copy of the cupcake flavors, frostings, liners, and toppers is necessary. However, feel free to print as many as you would like to give the players more choices.
I recommend printing on white cardstock, or if you want to use regular printer paper, then laminating the paper after. Chances are your kids are going to play this dice game over and over again so you want the pieces to last longer.
After you print out everything, cut out all the cupcake flavors, frostings, liners, toppers, and if using, the die. This is a good opportunity to have your little ones practice their scissor skills.
There are a couple of ways to play this cupcake game depending on how competitive you want to be:
Cooperative Cupcake Building:
You only need one cupcake mat and die for this game. Players take turn rolling the die and matching the number that they rolled to the die key. The player that rolled the die can pick the element that he or she likes the best, but he or she also has the choice to consult the rest of the team for suggestions.
This type of cooperative activity is excellent for teaching kids about teamwork and the importance of communication. You can even set up the cupcake game virtually so the kids can socialize while playing the game.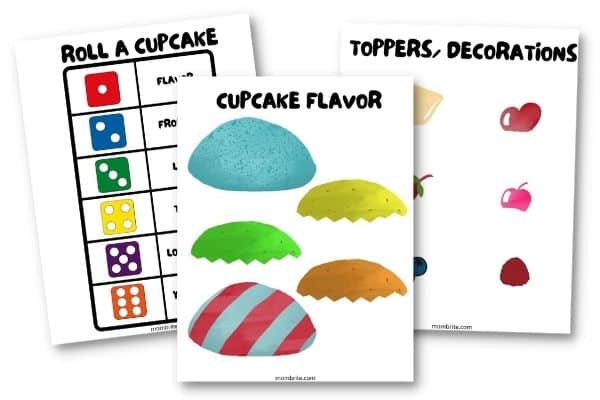 First to Build a Cupcake Wins:
In this version of the game, all the players get their own cupcake mat. There are two ways to go about this competitive game:
1. You will need a die for every player. Everyone starts at the same time and rolls his or her die and assembles the cupcakes as fast as possible. The first person to put together a complete cupcake wins.
2. Everyone shares one die and takes turns rolling. This will slow down the game and make the pace easier for younger kids. Note that in this case "lose a turn" means the player forgoes his or her chance to pick a cupcake part the next time the die gets passed around. The first person that finishes his or her cupcake wins.
How to Download the Roll a Cupcake Game
Simply fill out the form below to get your own Roll a Cupcake game that you can play at parties or use as a boredom buster on a rainy day!
Please note that all printables you download from Mombrite are for personal or classroom use only. Do not redistribute or repost these materials elsewhere.
---
Related Posts: